'Either Russia is a sovereign country, or there is no Russia' – Putin on relations with the West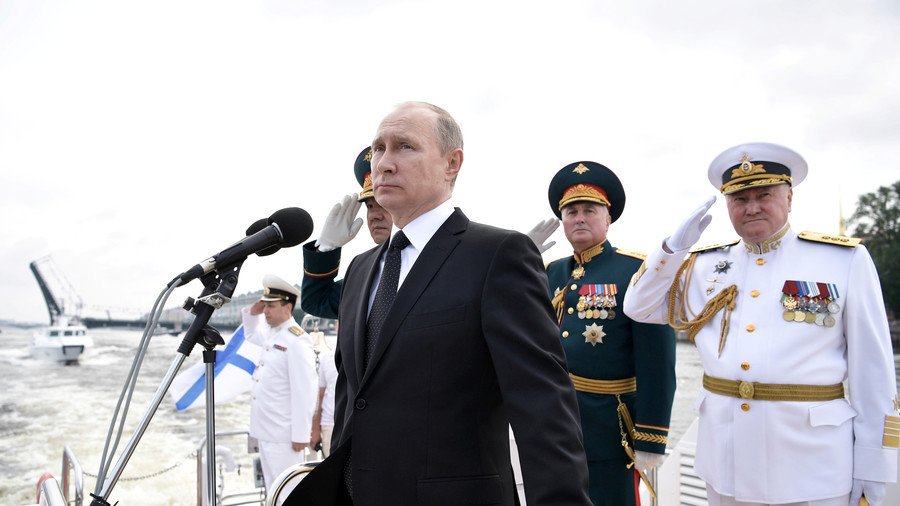 Sanctions, however harsh they may be, will not force Russia to abandon its independent stance in the world, President Vladimir Putin said, adding that Russians will never accept trade-offs at the expense of sovereignty.
Speaking to Chinese TV, Putin said that he believes the rounds of sanctions imposed on Russia by the US, its allies and the EU have only one goal – to hamper its economic development. He went on to stress that no amount of sanctions and punitive measures will ever be enough to make Russia cave in and change its policy.
"I believe that either Russia will be sovereign, or there will be no Russia at all. And, of course, the Russian people will always opt for the first. I think the Chinese people will too. We have no other option," Putin said.
The Russian president argued that all attempts by the West to wreck the Russian economy will eventually backfire on those who followed the US' lead in 'punishing' Russia.
"Those who followed the US lead, they themselves are beginning to suffer from what the United States is implementing with regards to these countries," Putin said.
While Putin does not refer to anything in particular, it has been reported that the US government is mulling sanctioning European corporations that are engaged in the Nord Stream 2 gas pipeline, which is expected to deliver 55 billion cubic meters of Russian natural gas to European consumers per year.
Germany is one of the key beneficiaries of the project.
Ukraine-linked sanctions, introduced after Russia's reunification with Crimea and an outbreak of civil conflict in eastern Ukraine, are taking their toll on European economies. Calls to lift the sanctions have been coming from several European capitals, including Austrian Vice-Chancellor Heinz-Christian Strache and the new Italian government.
READ MORE: 'We must respond to US tariffs, end sanctions on Russia' – Austrian vice chancellor
Apart from Russia-related sanctions, the EU has been forced to deal with a steep increase in import tariffs on steel and aluminum, which were introduced by US President Donald Trump and took effect last week.
Noting that the countries that sided with Washington on Russia are now themselves starting to feel the burn, Putin said that he points it out not because he likes to rejoice at others' misfortunes, but because it proves that sanctions are detrimental to all the parties, "including those who initiated them."
Speaking on the chances that relations between the West and Russia, which are now hitting rock bottom, will improve, Putin said he hopes for "positive," mutually beneficial ties.
"Eventually, I believe that we will manage to improve the relations one way or another."
You can share this story on social media: