Top quotes from Putin's Austrian interview – so tense he had to resort to German to make his point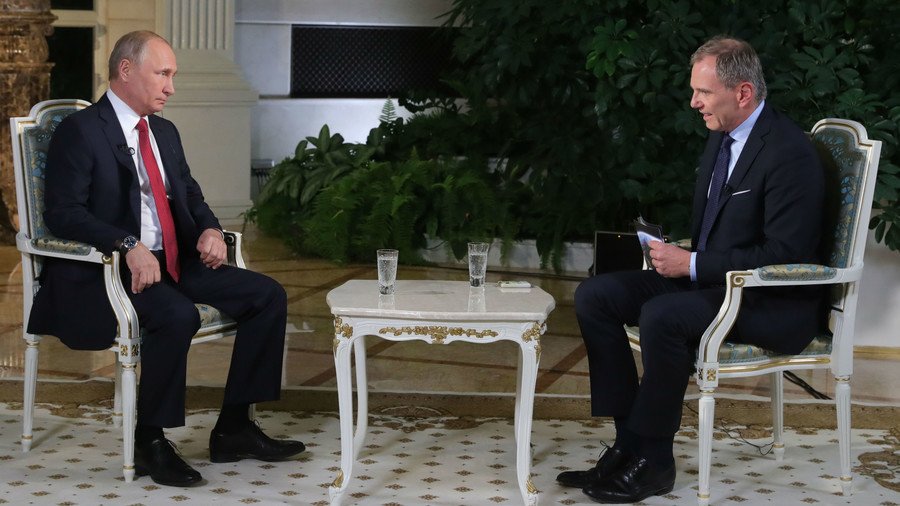 Vladimir Putin's extensive chat with Austrian TV got so heated that he had to switch to German to ask the interviewer not to interrupt. The president deflected lunges at "Kremlin trolls," MH17 and even his bare-chested photos.
Putin is meeting Austrian Chancellor Sebastian Kurz and Vice-Chancellor Heinz-Christian Strache on Tuesday. The visit to Vienna will be his first trip abroad since his inauguration for the second consecutive term – and the fourth in total – in March. Before arriving in the Austrian capital, Putin spoke to Armin Wolf from the state ORF channel. The conversation quickly became tense, with hardball questions and straightforward answers.
Wolf interrupted Putin several times, prompting the Russian leader to ask him to "be patient," before eventually switching to Wolf's mother tongue. "Seien Sie so nett, lassen Sie mich etwas sagen (Please be so kind as to let me say something)," he said in German, a language he speaks fluently.
'Why rock Europe?'
"It is not our aim to divide anything or anybody in Europe," Putin told the interviewer, addressing one of the things of which Russia is persistently accused by some Western politicians and media. People in Austria and elsewhere in Europe should "put this idea out of their minds" that Moscow supposedly wishes to sow distrust and discord within the EU, the president said.
READ MORE: Russia doesn't seek to divide EU, our biggest trade partner – Putin to Austrian TV
"Why rock the European Union in order to suffer further losses and incur costs or miss possible benefits from cooperation with the European Union?" asked Putin, noting that the EU is, in fact, Russia's largest trade partner, so Moscow wants it to be "united and prosperous."
'Only 2-way road for Korea'
Putin finds the prospect of a full-scale military conflict with Pyongyang especially "dreadful" since North Korea is Russia's immediate neighbor, and some Korean nuclear test sites are situated near the Russian border. Although Russia "pins great hopes on the personal meeting between [US] President Trump and North Korean leader Kim Jong-un," the path to the denuclearization of the Korean peninsula is a "two-way road," Putin explained. "If the North Korean leader is backing up his intentions with practical actions, for example, giving up new tests of ballistic missiles, new nuclear tests, the other side should reciprocate in a tangible manner," he said, calling regular US military drills in the area "counterproductive."
'Russia blocked from MH17 probe'
Putin criticized the ongoing international investigation into flight MH17, which was downed in Ukraine in 2014. He said Russian experts "have been denied access to the investigation," while Russian arguments are "not taken into consideration," and nobody on the investigation team "is interested in hearing us out." Ukraine, on the other hand, being a "party interested in the results," has been given access to the probe, Putin added.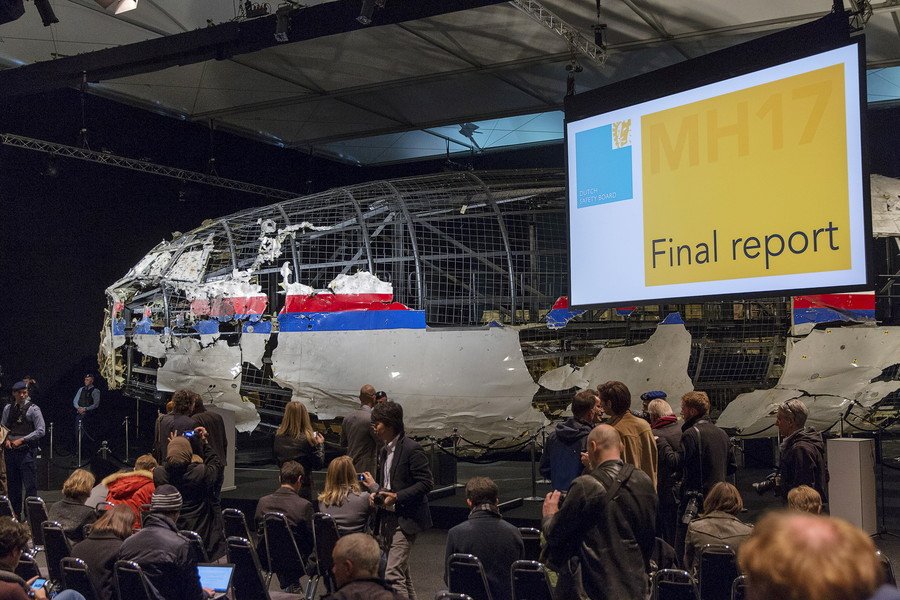 'Crimea never coming back'
Crimea became one of the most contentious issues during the talk. Responding to a question about what should happen in order for Russia to hand the region over to Ukraine, the president firmly stated: "There are no such conditions and there can never be." Crimea opted to rejoin Russia in 2014 after a popular vote showed overwhelming support for the move. Putin stressed that the referendum was arranged after an "unconstitutional armed coup" in Ukraine's capital Kiev, and it was the Crimeans themselves who ultimately decided their own fate. "Crimea gained independence through the free will of the Crimeans, expressed in an open referendum, not as a result of an invasion by Russian forces," he stated.
READ MORE: 'Is this not democracy?': No conditions will make Russia return Crimea to Ukraine rule – Putin
'Ask State Dept about Soros'
Moscow "has nothing to do" with the so-called internet "troll farms" and it is ridiculous how Western media claims that a single Russian businessman, Yevgeny Prigozhin, managed to influence election results in the US, Putin said. He added that, while he is familiar with Prigozhin personally, he's unaware of his activities online.
The president then hit back, bringing up the controversial American-Hungarian billionaire George Soros, who has supported numerous NGOs in different countries. "There are rumors circulating now that Mr Soros is planning to make the euro highly volatile. Experts are already discussing this. Ask the [US] State Department why he is doing this," Putin said. "The State Department will say that it has nothing to do with them – rather it is Mr Soros' private affair."
'Tsar? Not true'
Presenter Armin Wolf noted that Putin has been either president or prime minister since 2000, and some are calling him a "tsar" of Russia. Putin responded that comparing him to a royal figure is "false and completely detached from reality." He stressed that he governs strictly in accordance with the Russian constitution.
"International observers had no serious criticism as to how the election was organized or regarding the election results," Putin said of his most recent election victory. "Therefore, there is no doubt that democracy has taken hold in Russia."
'Not hiding in the bushes'
The conversation did end on a lighter note, though. When asked about his world-famous bare-chested photos from vacations and various outdoors activities, which often captivate the press and social media, the Russian leader replied in a lighthearted manner. "You said 'half-naked' not 'naked,' thank God," Putin joked. "When I am on vacation I see no need to hide behind the bushes, and there is nothing wrong with that."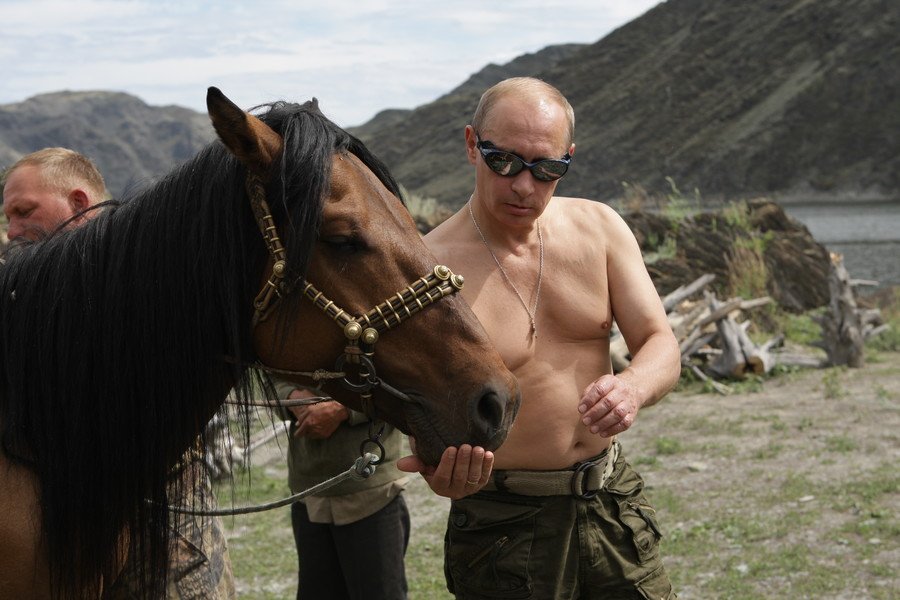 If you like this story, share it with a friend!
You can share this story on social media: