Russia interested in lifting of EU sanctions, like everybody else – Putin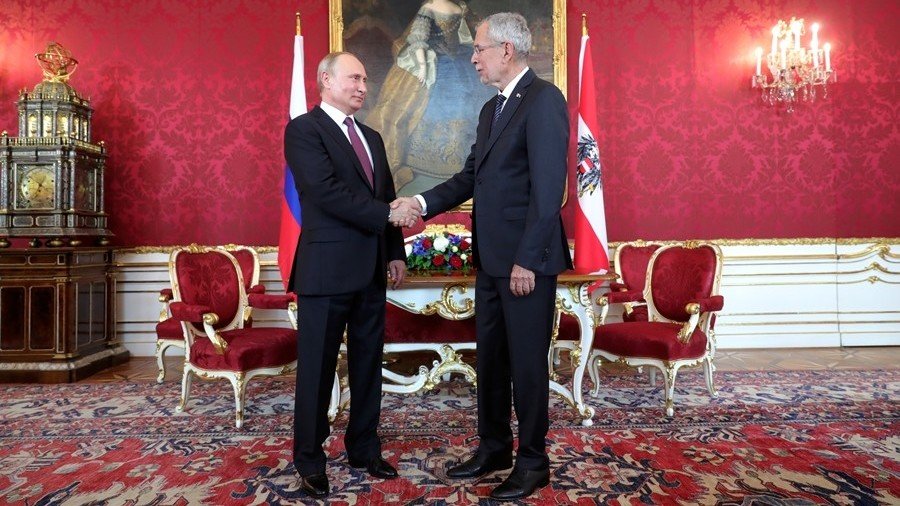 Sanctions are mutually harmful and Russia is interested in lifting EU restrictions against it just like the countries that introduced them, Vladimir Putin said after talks with Austrian President, Alexander Van der Bellen.
"Sanctions, political restrictions, protectionism… they are methods of resolving political issues that are ultimately unsuitable for achieving the final result, they are harmful - both for those who initiate them, and for those whom they are directed against," the Russian President, who is on an official visit to Austrian capital Vienna, said.
Putin said that Russia was able to overcome the difficulties caused by the EU restrictions and "managed not only to maintain macroeconomic stability, but strengthen it."
However, he acknowledged that "it was difficult for us a couple of years ago as we simultaneously faced a substantial – two-fold – drop in prices on the goods of our traditional exports."
"It seems to me that those actions, which we call sanctions, are harmful to everyone and therefore I think that everyone is interested in their abolition, including us," the Russian President said.
Van der Bellen said that, with regards to sanctions against Russia, Austria will "act in line with the decisions of the European Union." Putin, however, stated that economic restrictions didn't hamper the development of relations between Moscow and Vienna.
The US and EU introduced numerous waves of sanctions which target individuals, companies and various sectors of Russian economy after Moscow's reunion with Crimea in 2014 and the outbreak of the military conflict in Eastern Ukraine.
Think your friends would be interested? Share this story!
You can share this story on social media: