'Free the nipple': Facebook restores nude photos after women stage topless protest in Seoul (PHOTOS)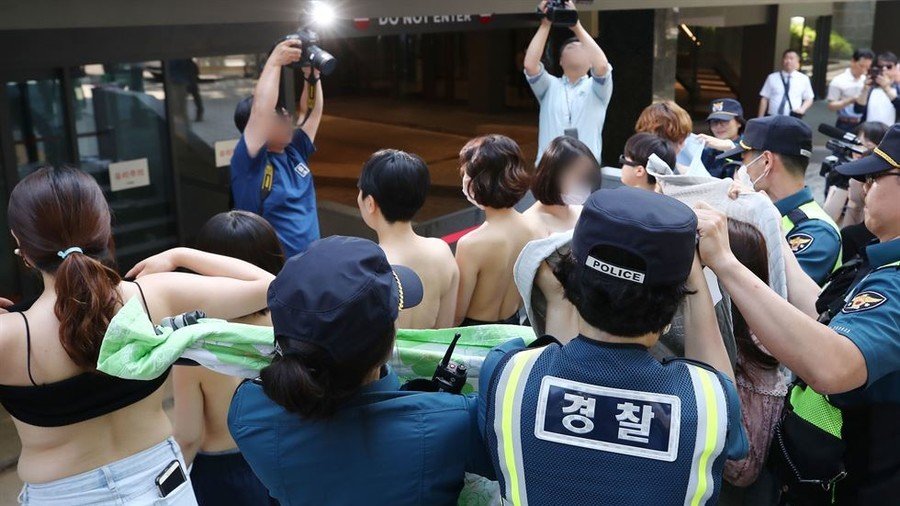 A group of women staged a topless protest in front of Facebook's headquarters in Seoul after the social media giant deleted revealing photos of their previous rally. The activists insisted their bodies "are not porn."
The women from Fire Femi Action group, some wearing masks and sunglasses, lined up at Facebook's head office in the upscale Gangnam District area of the South Korean capital, on Saturday.
They held banners reading: "Why do you delete posts in which I willingly showed my breasts?" and "Set me free from what is virtually a modern corset."
The demonstrators had slogans written on their bodies: "My body is not pornographic material." Some of the protesters were heard shouting "Free the nipple."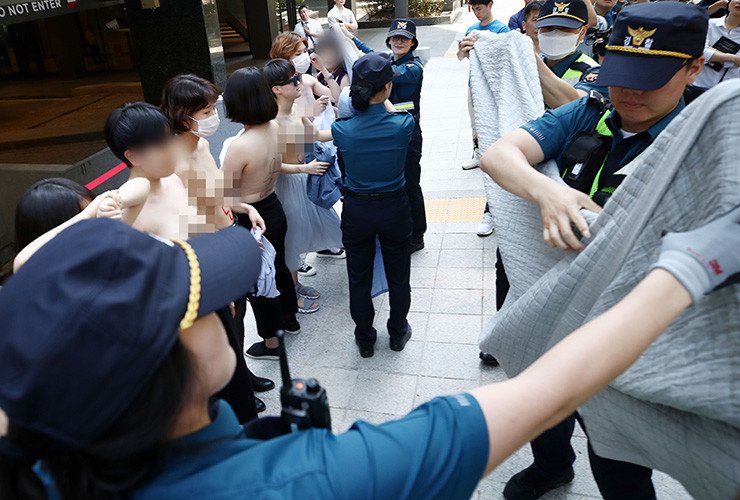 After the women bared themselves, police at the scene attempted to cover them with blankets. The rally comes in response to Facebook suspending the account and deleting photos of topless women taken in May at a "menstruation festival", celebrating a woman's period. That event was also hosted by the Fire Femi Action group.
READ MORE: Women photoshop men's nipples onto breasts to protest 'sexist' social media policies
Facebook said the post violated the policy on depicting naked body parts, saying that the site is "used by all age groups, which is why we need to create an environment where a majority of people feel safe," South Korean media cited.
But the activists from Fire Femi Action don't agree, saying they want to alter social perceptions that objectify the female body. Pictures of naked women are often perceived "as obscene material and are deleted from online sites, or become content for public shame among men, with the nipples blurred," their post read.
It added that "We can easily and often see men playing sports with their shirts off in basketball courts and soccer fields. But for women, it is socially demanded that our bodies be sexily revealed and be hidden for chastity at the same time."
On Sunday, Facebook Korea restored the photos and apologized, saying "photographs that show much of a bare body are automatically deleted by the algorithm. The pictures [posted by Fire Femi Action] carry social messages, so we restored them," Facebook Korea said in a statement.
Think your friends would be interested? Share this story!
You can share this story on social media: