Women photoshop men's nipples onto breasts to protest 'sexist' social media policies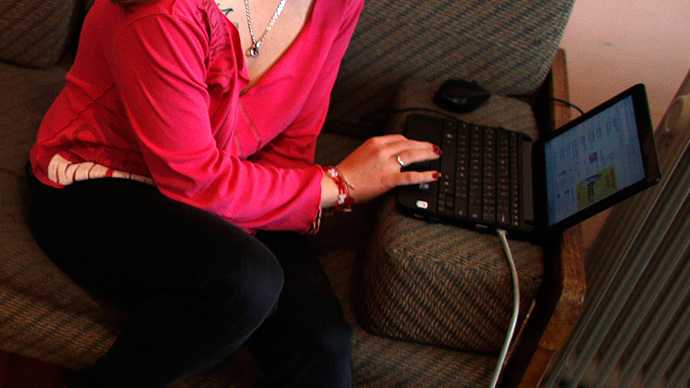 Activists are posting pictures of themselves bare-chested with male nipples photoshopped in place of their own to protest social media policies that allow pictures of men showing their nipples but prohibit similar images of women.
The campaign, operating under the hashtag #freethenipple, kicked off last June when artist Micol Hebron posted an image of a male nipple on Facebook and suggested that women replace their nipples with the template to make them allowed under the rules of social media.
One thing I can never understand is the fact that men's nipples are fine to show but women's nipples are not? #explainthisshit #freethenipple

A photo posted by !.....Indigo (@awaken_the_souls) on Jul 4, 2015 at 5:21am PDT
The absurdity of the policies lies in the fact that the photoshopped male nipples are indistinguishable from the female ones that they have covered, leading the idea to spread around social media networks with these policies, such as Instagram.
@freethenipple #Freethenipple #Equality #JuggaloLove #Tattooed #MaleNipple #Aviano #Fitness #LoveLife #Freedom #IndependenceDay #Veterans #Adventure #Mountains

A photo posted by SGT Nip(ple) © (@nipple313) on Jul 5, 2015 at 1:37pm PDT
According to Facebook's community standards, they "restrict some images of female breasts if they include the nipple, but we always allow photos of women actively engaged in breastfeeding or showing breasts with post-mastectomy scarring."
Instagram's community guidelines sing the same tune, prohibiting "some photos of female nipples, but photos of post-mastectomy scarring and women actively breastfeeding are allowed."
Instagram is owned by Facebook Inc., which would explain the remarkable similarity between the policies of the two websites. Twitter, on the other hand, doesn't have any such policies regarding nudity or nipples.
The Facebook and Instagram campaign is part of the larger "free the nipple" movement, which extends its scrutiny to the nudity laws in 37 US states that don't allow women to be topless in public. It's garnered support from other big names such as Courtney Love, Lena Dunham and Miley Cyrus.
Last week a topless photo of model Chrissy Teigen was removed from her Instagram account, prompting her to get around the rules by posting more artistic-looking shots of her topless. Those pictures were removed as well, prompting her to respond with a tweet and an image with strategically placed objects blocking view of her nipples on Instagram.
the nipple has been temporarily silenced but she will be back, oh yes, she will be back

— christine teigen (@chrissyteigen) June 29, 2015
A photo posted by @chrissyteigen on Jun 30, 2015 at 2:38pm PDT
You can share this story on social media: