AfD wants Merkel's refugee policy probed in parliament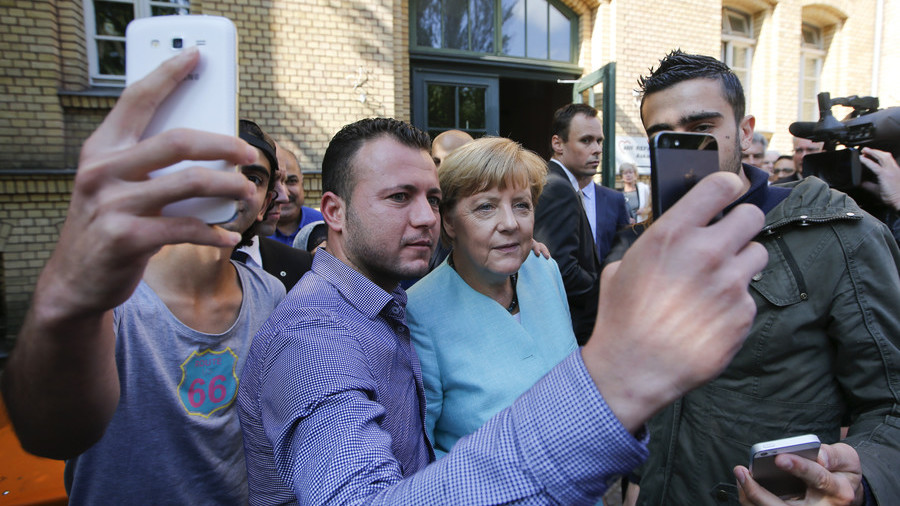 The right-wing Alternative for Germany (AfD) party is pushing for a parliamentary inquiry into Chancellor Angela Merkel's migrant policy. It comes amid reports of asylum fraud at migration offices across the country.
The party filed the motion for the inquiry, which would require 25 percent support of lawmakers, on Thursday. AfD co-leader Alexander Gauland said it would rally other parties for their support.
The probe should include the years starting with 2014 and particular point of interest would be the question on what precautions the German government had taken to deal with the migration influx. AfD also wants to know what "legal grounds" allowed Merkel and Co to let refugees in.
An inquiry into Merkel's migration policy was a major campaign promise of the AfD in 2017 and a matter which helped it gain a significant amount of support from German voters who felt frustrated that the 2015 refugee crisis - and Merkel's open door policy - brought an influx of more than a million refugees into the country.
The filing of the motion comes amid a scandal involving migration offices across Germany. "The cases with Bamf [Federal Migration Office] and the migration policy cannot be viewed separately," Gauland insists.
That scandal first broke in April, with reports that a former German Federal Office for Migration and Asylum (BAMF) official at the Bremen department was under investigation on suspicion of taking bribes from at least 1,200 asylum seekers between 2013 and 2016. Five other officials at the workplace are also being probed for possibly taking part in the scheme.
The situation worsened earlier this month, when BAMF announced that it would be reviewing some 18,000 refugee cases in Bremen dating back as far as 2000, stating that it had discovered the approval of up to 2,000 applications between 2013 and 2016 that didn't match the government's sanctuary criteria. Days later, the office added 10 additional field offices to its investigation list.
Although news of the scandal only just emerged, the AfD and other critics of Merkel have been criticizing the chancellor's open-door policy since it was introduced in 2015.
Concerns among German citizens intensified on New Year's Eve of the same year, when a spate of sexual assaults took place in Cologne, a number of which were committed by migrants. Numerous other attacks committed by refugees have been reported since then, including the Berlin terrorist attack which saw a Tunisian asylum seeker drive a truck into a Christmas market in 2016, killing 12 people. In January 2018, a study found that Germany's refugee influx had significantly contributed to a rise in violent crimes in the country.
Even the German government appeared to eventually acknowledge it was over its head, striking a deal with Turkey which involved Ankara agreeing to stop the flow of refugees across its border and to take back migrants rejected for asylum in Europe. In exchange, Turkey was promised billions of euros in refugee assistance and accelerated talks on joining the EU.
While Merkel took a more liberal stance towards migration, other European Union members did the opposite. Hungary and Poland have rejected EU quotas laid out by Brussels, with the former building a razor wire fence on its border in 2015 in an effort to stop asylum seekers from entering the country while in transit to western Europe. Balkan countries also closed their borders, preventing asylum seekers from crossing through their countries.
Like this story? Share it with a friend!
You can share this story on social media: