Roads submerged as severe flash flooding hits Maryland (VIDEOS)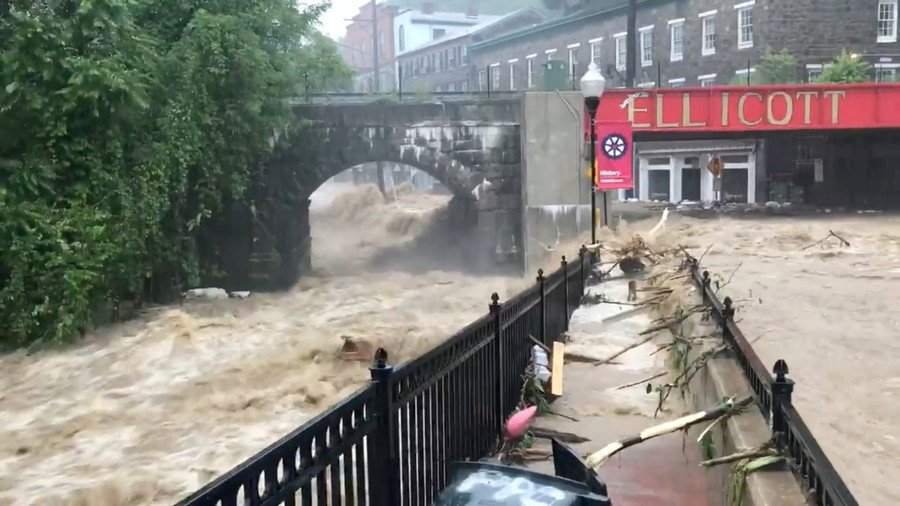 Residents in the cities of Ellicott and Baltimore scrambled for safety as heavy rainfall brought flash flooding to the area. Videos posted on social media show raging torrents of water deluging neighborhoods.
A flash flood emergency was declared in Ellicott City on Sunday. Videos posted by locals show the city's Main Street awash with muddy water. (WARNING: EXPLICIT LANGUAGE)
"This is an EXTREMELY DANGEROUS AND POTENTIALLY CATASTROPHIC situation and you must move to HIGHER GROUND IMMEDIATELY AND STAY AWAY FROM ANYWHERE WHERE WATER IS MOVING," National Weather Service Baltimore said in a Twitter statement.
READ MORE: Most dramatic images of Maryland's catastrophic flash flood (VIDEOS)
Ellicott City, which is situated just 55 meters (180ft) above sea level, is experiencing flooding on the same scale as it saw in 2016, the Howard County government said. The 2016 Maryland flood caused severe damage to the historic center of the city, affecting many homes, businesses and famous sights. Two people perished at the time.
As of Sunday evening, the flash flood emergency has been extended to include areas along the Patapsco River in Anne Arundel County, as well as the entirety of Howard and Baltimore Counties.
Authorities in Maryland are warning locals not to cross roads with standing water, as the flood has caught some of them midway in traffic. Governor Larry Hogan urged residents to "use extreme caution" and "avoid travel as possible."
Governor Hogan says he has declared a state of emergency in Maryland, instructing the local emergency agency "and numerous other state agencies" to assist in mitigating the aftermath of the disaster. Hogan said he is on his way to Ellicott City, the worst to be hit by the flooding.
There have been reports of buildings crumbling as result of the continuing flash flood, Howard County Fire and Rescue reported, saying that collapse rescue teams are heading to the scene.
Howard County Fire and Rescue urged residents to assist them by evacuating, warning that more rain is expected to hit the city.
"If you are in downtown Ellicott City now watching the rescues, please help us by evacuating. More rain is expected, and conditions are rapidly changing," it wrote on Twitter.
The Community Action Council of Howard County has announced it will be accepting donations to assist those affected by the flood, calling on the locals to bring water, hygiene products and flashlights.
The Ellicott City Partnership said it would also be collecting donations to help business owners, property owners and residents in Ellicott City.
You can share this story on social media: