Over 100 killed in Havana airport crash after plane 'struck power line' (VIDEO)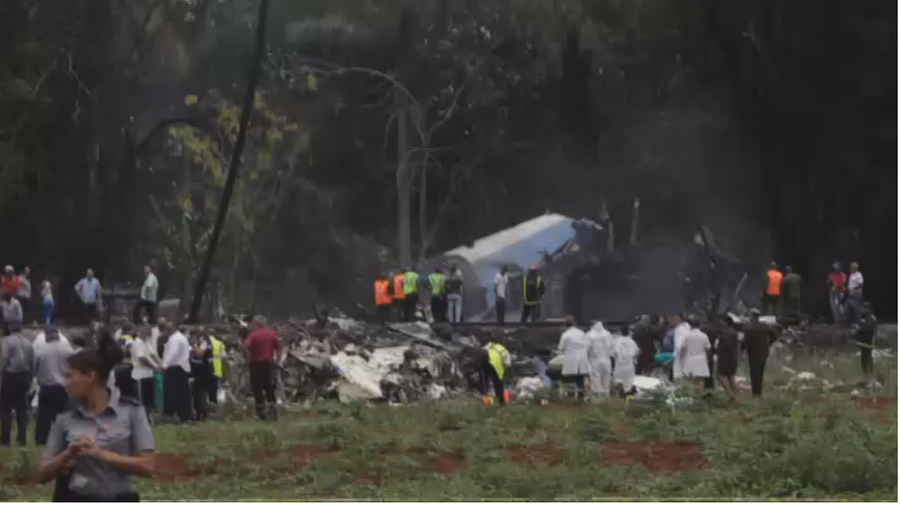 More than 100 people died and three others are fighting for their lives after a Boeing 737 leased by a Cuban state airline crashed after takeoff, reportedly while making a U-turn to an airport in Havana.
READ MORE: Boeing 737 with over 100 on board crashes at Cuban airport
The aircraft was carrying 110 passengers and crew, and was heading to Holguin in eastern Cuba from the nation's capital. It crashed shortly after takeoff, killing almost everyone on board. While the cause of the fatal incident remains unclear, eyewitnesses said that the plane tried to return to the airport after ascending and apparently hit a power line.
Emergency services rushed to the scene within minutes of the crash. Footage from the crash site obtained by RT's Ruptly video agency showed rescue workers and medics being helped by locals to carry one of the passengers on a stretcher towards an emergency vehicle.
READ MORE: First footage from Cuba plane crash as rescuers look for survivors (PHOTO, VIDEO)
Only four people were pulled out alive from the wreckage, but one of them, a man, died on the way to hospital. Three female survivors remain in a critical condition at the Calixto Garcia hospital.
"It has been confirmed that the majority of passengers on the plane were Cuban," Granma, the official newspaper of the Cuban Communist Party, said, noting that the crew members were foreigners.
READ MORE: 3 survivors in Boeing 737 crash in Cuba (VIDEO)
It was not immediately clear how many foreigners were among the passengers. Argentina's Foreign Ministry said two of the country's citizens died in the crash.
The 30-year-old Boeing 737, piloted by a Mexican crew, was being leased by the Cubana de Aviación airline from a small Mexican airline called Damojh, or Global. After initial confusion surrounding the number of passengers, Global Air confirmed that a total of 110 people, including 103 passengers, were aboard the B737-200 Boing aircraft, license plate number XA-UHZ. The company said that the aircraft was piloted by Jorge Luis Nunez Santos, with Miguel Ange Arreola Ramirez serving as the first officer.
Think your friends would be interested? Share this story!
You can share this story on social media: