Boeing 737 with over 100 on board crashes at Cuban airport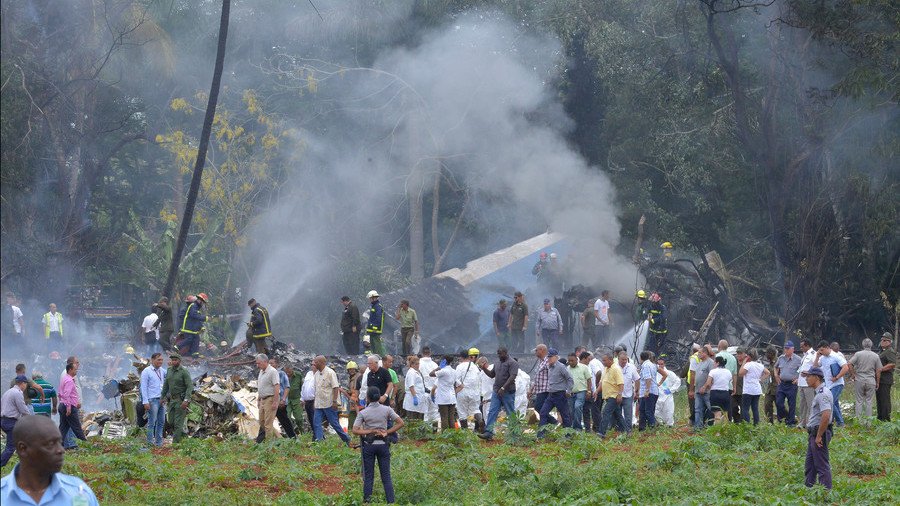 A Boeing 737 has crashed after takeoff from José Martí International Airport in Havana. The plane was reportedly leased by Cubana de Aviación and was reportedly carrying over 100 on board.
The plane reportedly crashed shortly after takeoff. It was bound for Holguin, a domestic flight of about one hour and 20 minutes.
Cuban President Miguel Diaz-Canel, who arrived at the scene, has said that there are "a high number of victims," reported AFP. Three survivors of the accident were taken to hospital in a critical condition, where one reportedly died from severe burns and trauma.
The first photos of rescue efforts showed workers combing through the wreckage of the plane, which appears to include a detached and deformed tail.
READ MORE: First PHOTOS from Cuba plane crash as rescuers look for survivors (PHOTOS)
In a picture supposedly taken from inside the airport moments after the crash, a plume of black smoke can be seen rising from the end of a runway, as firefighters responded to the incident.
According to state media, the jet was leased by Cuba's national airline, Cubana de Aviación, and flown by a foreign crew.
Russian President Vladimir Putin has sent a message of condolence to the Cuban leadership over the fatal plane crash, conveying "words of sympathy and support to the relatives and friends of the deceased, as well as wishes of a swift recovery for those who managed to survive," the Kremlin said.
In 2017, a Cuban military aircraft crashed in the province of Artemisa, killing eight troops on board. The last tragedy involving a passenger aircraft occurred in the country back in 2010, when 68 people died after an AeroCaribbean flight from Santiago to Havana crashed in central Cuba in bad weather.
There had been no crashes involving Cuban airlines flights since 1989, the year a plane flying from Havana to Milan, Italy, went down shortly after takeoff. All 126 people on board were killed and 24 others on the ground also lost their lives.
Think your friends would be interested? Share this story!
You can share this story on social media: