EU leaders brace for 'defending' against Trump's trade war threats
Published time: 29 Apr, 2018 19:17
Edited time: 30 Apr, 2018 06:00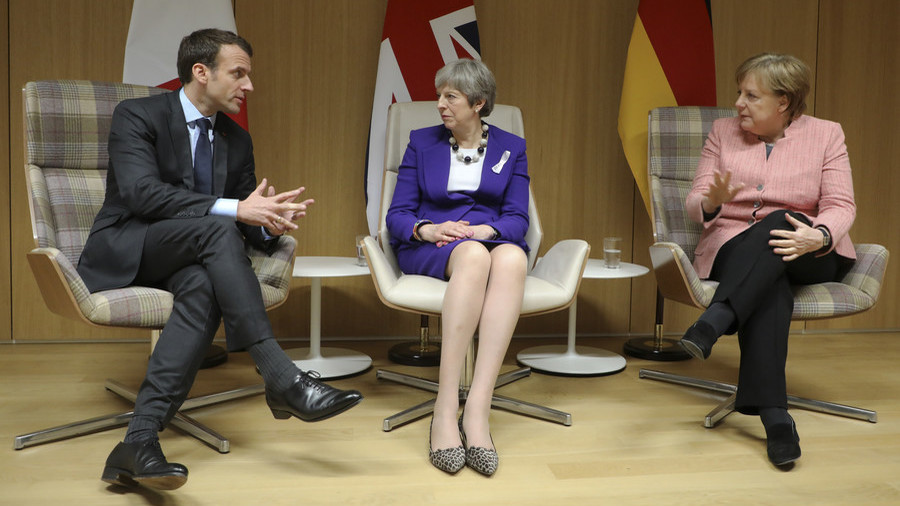 Be it warm hugs in Washington or unity over Syrian strikes, it all fades when money talks, and the leaders of Germany, France and Britain say they will "defend" against any US unilateral trade measures against the EU.
German Chancellor Angela Merkel, French President Emmanuel Macron and UK Prime Minister Theresa May had a joint phone call on Saturday and mulled potential retaliatory measures against Washington's protectionist practices.
"They agreed that the United States should take no trade measures against the European Union or else the European Union should be ready to defend its interests within the framework of the multilateral trade order," a German government spokesman said in a statement.
The press release from the UK government looked somewhat weaker, only stating that the leaders "noted the vital importance of our steel and aluminum industries" and "pledged to continue to work closely with the rest of the EU and the US Administration with the aim of a permanent exemption from US tariffs."
US President Donald Trump imposed a 25 percent import tariff on steel and 10 percent one on aluminum in March, providing a temporary exemption for the EU until May 1. Trump, who is known for his unpredictability, is yet to decide on its extension. Both Macron and Merkel met with Trump in Washington this week, with the atmosphere during the French president's visit turning into a bromance. Both leaders also seemed to show a less stern defense of the Iran nuclear deal, to the satisfaction of their host, but the trade war seems to be looming.
On Saturday, Trump reiterated his threats against the EU, claiming that the bloc was designed from the very beginning to "to take advantage of the United States."
READ MORE: Trade wars lead to real wars where the strong prey on the weak – economists to RT
"Not anymore, we told them that yesterday, actually the exact same words, not anymore, those days are over," Trump said during a rally in Michigan, promising to end the unfair trade practices with the bloc, China and Japan. The US president, however, apparently tried to soften the threats a bit, stating that it was not personal against the leaders of the said countries.
He routinely pinned the blame on predecessors instead. "I don't blame them, I don't blame the heads of these countries for taking advantage of us, I blame past presidents and past leaders of our country," Trump said.
If you like this story, share it with a friend!