'French connection': Macron & Trump's political bromance blossoming after Syrian strikes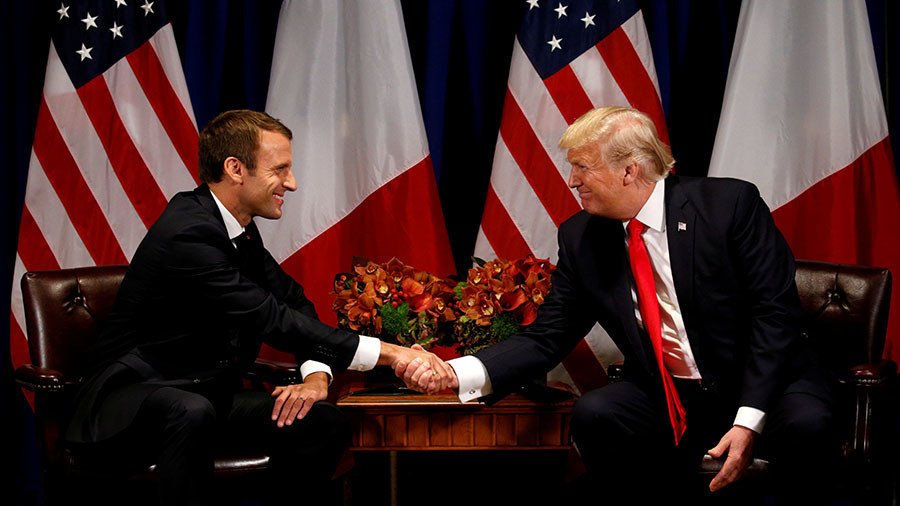 Long gone are French snorts at the US. Despite disagreeing on the Iran deal and climate change, Emmanuel Macron is the first foreign leader to be indulged with a full state visit by US President Donald Trump in the White House.
United in their recent crusade against Syrian President Bashar Assad, the two leaders are expected to iron out their differences on other international policy questions, including Trump's threats to ditch the landmark nuclear deal with Iran.
Watch RT's report on the Trump-Macron bromance
While Macron, 40, trolled Trump, 71, over climate change a year ago, they now seem to be on much better terms, with the French leader claiming it was he who had convinced Trump to keep troops in Syria "for the long term." The White House maintains, however, that US troops will get out of Syria as soon as possible, after they crush ISIS.
While the grande dame of German politics, Chancellor Angela Merkel, struggles to find common ground on reforming the Eurozone with Macron, Trump looks like the French president's new best friend. Both were elected on their first try and have high hopes for being reelected while facing an increasingly loud chorus of public disapproval.
If you like this story, share it with a friend!
You can share this story on social media: