Kosovo has no foreign policy, 'led by America' – PM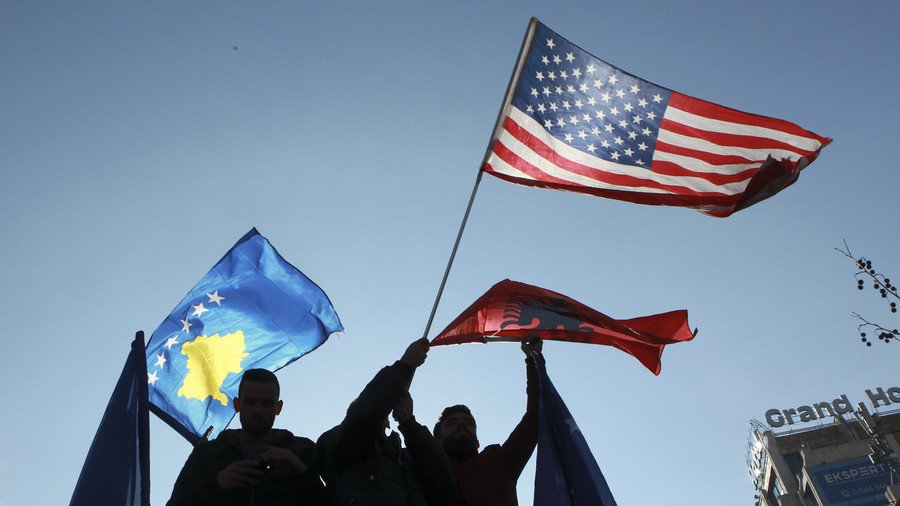 Kosovo is "part of a club led by America" and is happy to have Washington manage its foreign policy, the prime minister of Serbia's renegade province said in a TV interview.
"We are part of Europe and cooperate with Brussels and Berlin," Ramush Haradinaj told Serbia's Happy TV in a three-hour recorded interview aired this week. "However, when it comes to foreign policy we're part of a club of countries led by America. We don't have a problem with admitting that. We don't have time for the world's problems."
Haradinaj's admission was related to the case of six Turkish nationals arrested at the end of March in Kosovo over alleged links to schools funded by the exiled cleric Fethullah Gulen. They were quickly extradited to Ankara, but Haradinaj claimed he was not informed of this, and sacked the director of Kosovo's intelligence service and the minister of security.
"I respect Turkey and we have good relations, but I work for Kosovo," Haradinaj said.
Ankara has accused Gulen of being behind the July 2016 coup attempt, and has sought his extradition from the US, where he currently lives.
Much of the interview concerned the position of Serbs in Kosovo and the March arrest of a senior Serbian government official during his visit to the contested province. Happy TV host Milomir Maric also asked Haradinaj about Kosovo's reported reliance on profits from drug smuggling and organized crime, however.
Haradinaj shrugged off the accusations, saying that no narcotics are grown in the province.
"We grow no drugs here, only corn and beans," he said. "Life is very hard here."
In February, a court in Kosovo sentenced the Bosnian crime lord Naser Kelmendi to six years in prison for drug trafficking. US authorities accused the Kosovo-born Kelmendi in 2012 of heading a family network distributing heroin and other narcotics from Afghanistan through Turkey and into Europe, Reuters reported. Kelmendi was wanted in Bosnia for the murder of a warlord turned crime boss.
Haradinaj was one of the commanders of the 'Kosovo Liberation Army,' a militant group aided by NATO during the 1999 war against Serbia. After NATO occupied Kosovo following the 78-day war, Haradinaj became a politician. Kosovo declared independence in 2008, and was recognized by the US and most of its allies, but not by Serbia, Russia, and China, among others.
Like this story? Share it with a friend!
You can share this story on social media: