Trump boasts he changed Macron's stance on Iran deal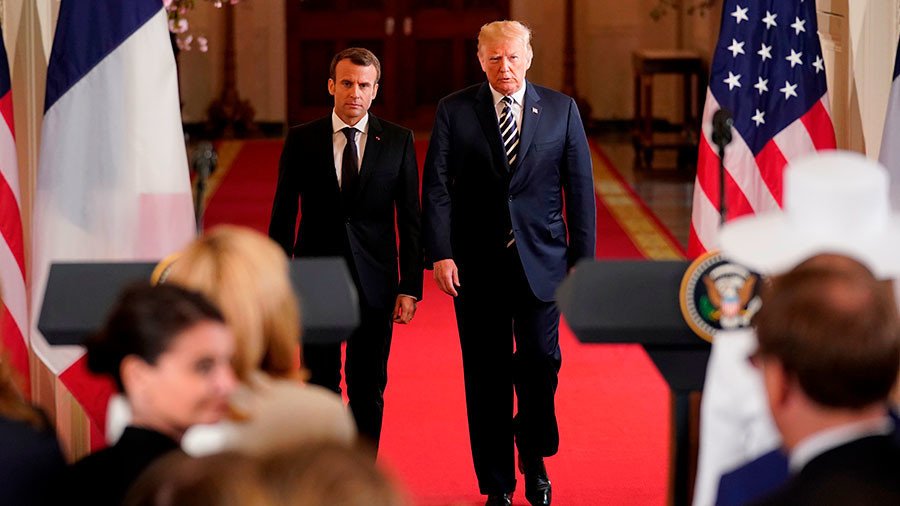 President Donald Trump said on Thursday that his hardline approach may have changed how French President Emmanuel Macron views Iran, and credited that same approach with bringing North Korea to the negotiating table.
"He is viewing Iran a lot differently than he did before he walked into the Oval Office," Trump said. "He understands where I am coming from with respect to Iran, and that's important. Iran is a real problem for this country."
Speaking on Fox and Friends on Thursday morning, the president talked at a rapid-fire pace for 20 minutes, but offered no further hints whether he would pull America out of the Iran deal. He did, however, reiterate his long-standing opposition to the 2015 deal, which restricts Tehran's nuclear program in exchange for sanctions relief.
"The president – and when I say 'president,' I'm talking about the past administration – made a horrible deal, giving $150 billion, giving $1.8 billion in cash...it's inconceivable.
"All they [Iran] do is scream 'Death to America," Trump said. "By the way, they're not screaming it so much anymore. They were screaming it with him [Obama] but they're not screaming it with me."
Trump has until May 12 to renew a sanctions waiver on Iran. If he does not renew the waiver, the Iran deal is void. The Iranian foreign minister said last week that Iran would not remain in the deal if the US pulls out, and the Iranian president warned the US of "severe consequences" if it abandoned the deal.
In a speech to Congress yesterday, however, Macron said that France would remain in the Iran deal. "We should not abandon it without having something substantial, or more substantial instead," he said. "That is my position."
Trump went on to savage the Obama administration's negotiating skills, and credit his own tough talk with bringing North Korea's Kim Jong-un to the table.
"I'm not like Obama, where you have Kerry, who's the worst negotiator I've ever seen. He goes in for the Iran deal and he never leaves. He should have left," Trump said. John Kerry negotiated the final deal with Iran in spring 2015, even as international weapons inspectors raised concerns about their ability to properly inspect and verify Iranian military sites.
Trump described his war of words last year with Kim as "very, nery nasty," but stood by his approach.
"Everybody said 'This guy is going to get us into nuclear war,' but let me tell you, the nuclear war would have happened if you had weak people. This should have been settled long before I came into office. This is a much more dangerous ball game now, but it's going very well."
As before, President Trump could not offer a date for a meeting with Kim Jong-un, or a concrete assurance as to whether the meeting would definitely go ahead. It is provisionally slated to take place towards the end of May.
You can share this story on social media: