'Evil, Russian style': Fake Putin ice-hockey conspiracy theory combusts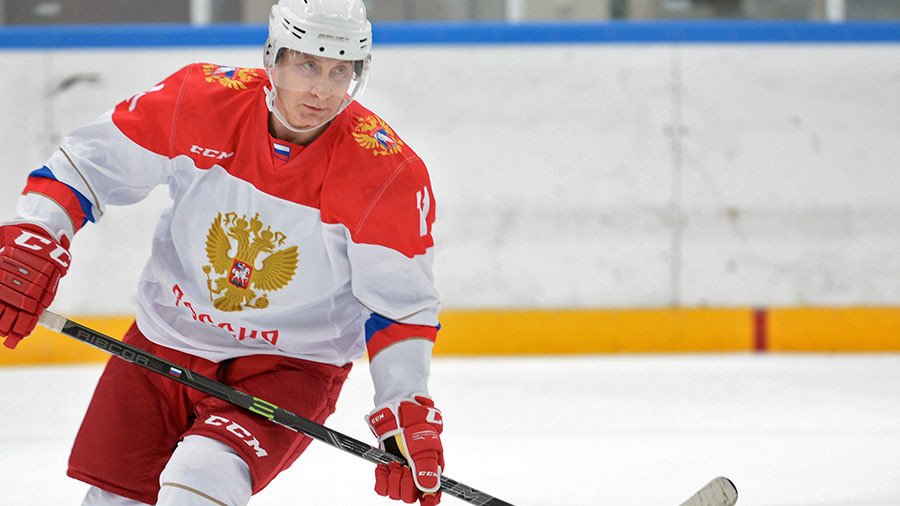 A viral Twitter thread about "evil, Russian style" was ostensibly a harmless, and bogus, sporting conspiracy theory. But the media reaction it inspired exposes how so many people want to believe the worst about Russia.
For the benefit of the uninitiated, the KHL is the world's second-most prestigious ice-hockey competition after the famous NHL. It's also a bit more international because, while its North American cousin is restricted to Canadian and US teams, the KHL features clubs from Belarus, China, Finland, Kazakhstan, Latvia and Slovakia.
However, the dominant nation is Russia, and teams compete for the Gagarin Cup – a trophy which is obviously named after the legendary Soviet cosmonaut.
Last month, a US-based sports journalist flew a KHL-related kite on Twitter, which received a stratospheric reception, garnering thousands of retweets. However, unlike Yuri the spaceman, who enjoyed a safe landing, this particular projectile crash-landed. And its author, normally a prolific tweeter, has failed to correct the record.
The chap concerned, one Slava Malamud, alleged that the outcome of this season's KHL had been pre-determined. And that SKA, of St. Petersburg, was practically guaranteed to win the championship because they were "(Vladimir) Putin's team, (and) this is Putin's election year."
1/ So, here is what's happening in the KHL, for those who still can't quite grasp the banality of evil, Russian style... The entire league has been set up this year to allow SKA to win. It's Putin's team, this is Putin's election year, it's chock full of OAR Olympians...

— Slava Malamud (@SlavaMalamud) March 8, 2018
Tall tales
This was only the tip of the iceberg, however, because the rant was dedicated to those "who still can't quite grasp the banality of evil, Russian style" and couldn't fathom how "SKA must win. It's not an option." And the reason? Because "most of its players are rabid Putin supporters who took part in his campaign rally last week. I repeat: SKA must win. It's not an option…"
Malamud did concede that (henceforth to be known as 'tweet three') "there is a slight possibility of a loss, if the opponent is CSKA, owing to the Moscow team's legacy and the "patriotic value" of their potential victory, but it's a small chance. Putin wants SKA, and SKA it shall be…"
The thread goes on to allege that SKA's last-16 game with Severstal Cherepovets was fixed and that officials bent the rules to ensure a victory for the St. Petersburg outfit, likening the smaller club to the Charlestown Chiefs from the 1997 movie 'Slap Shot.'
Malamud's 21-tweet tale garnered over 5,000 retweets for its first salvo, right down to around 580 for its final blast. And, as well as being shared by Russia focused journalists who should know better, it was picked up by the wider media. For instance, Paste Magazine told its readers "How Vlad (sic) Rigged the Russian Hockey Season for His Favorite Team" and Irish sports site balls.ie went with "Russian Journalist Claims That Putin Has Rigged Russian (sic) Hockey League."
Perhaps more incredibly, Canadian state broadcaster CBC granted the author a 24-minute interview to deliver his conspiracy theory to a huge audience. And Kevin Rothrock, an editor at Meduza (a Latvia-based Russian news site which won't reveal its funding), conducted a particularly grating interview with the hockey delusionist, the gruesome twosome luxuriating in a fog of fantastical Kremlin nefariousness.
Real world
Right from the start, I was suspicious of the thread. For a variety of reasons. Among them, the ferociously competitive nature of the KHL, allied to the fact that there's no evidence Putin is some sort of SKA super-fan, nor, indeed, much to suggest he's a supporter of the St. Petersburg outfit at all. Furthermore, it also struck me as ludicrous how the president, during an election year, with the war in Syria and economic challenges at home, would be bothered to manipulate the outcome of a professional sports league.
Thus, I kept an eye on the play-offs and wasn't hugely surprised when CSKA eliminated SKA in the semi-finals by four games to two. At this point, I called out the thread on Twitter, only to be met with an emotional response from the author.
Me: "Last month this thread got 5,000+ retweets. It suggests that Russia's KHL hockey league was set up this year to allow SKA (St. Petersburg) to win. Because it is 'Putin's team.' SKA lost the playoff semi-finals to CSKA (Moscow) yesterday."
Malamud: "Reading all the way to Tweet number 3 was hard, I suppose." (Tweet three, as noted above, stated that CSKA had "a small chance").
It's not about you. It's about how people love to believe the worst about Russia. Hence the number of retweets. i found your thread amusing. Still do.

— Bryan MacDonald (@27khv) April 9, 2018
Me: "It's not about you. It's about how people love to believe the worst about Russia. Hence the number of retweets. I found your thread amusing. Still do."
Malamud: "There isn't anything there that isn't true. And Russia's current regime is quantifiably evil, inasmuch as it promotes and perpetuates lack of freedom, supremacy of state, intolerance to minorities, and aggressive, conquest-focused militarism."
It's fair to say the exchange escalated quickly. But it also betrayed the conspiracy theorist's motives. Because, clearly, this tall tale wasn't really about the KHL, it was rather the ideologue venting his animosity, enmity and aversion to Russia, with hockey merely providing a useful backdrop.
But this didn't stop thousands of Twitter users spreading the disinformation, and mainstream media outlets jumping on the bandwagon. This backs up my belief that a great many people will latch onto anything showing Russia in a bad light. And, luckily for them, there's a substantial pool of activists, masquerading as journalists and academics, ready to feed their prejudices. And these goons have poisoned the information space to such a degree that casual observers can't separate distortions from accurate reportage.
Anyway, CSKA didn't win the final. Instead, they were crushed (4-1) by AK Bars of Kazan, who earned their third title in 10 years, last weekend. Which means the Tatarstan outfit clearly also forgot about the importance of "tweet three."


The statements, views and opinions expressed in this column are solely those of the author and do not necessarily represent those of RT.
You can share this story on social media: