Existing Iran deal 'not sufficient' to curb nuclear program - Merkel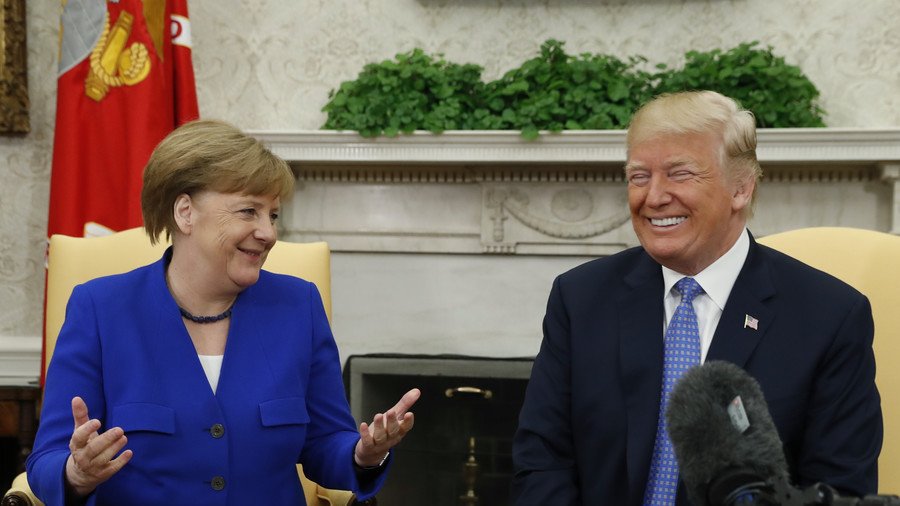 German Chancellor Angela Merkel has said that the existing deal with Iran was not sufficient to curb its nuclear program, while Tehran's influence must be contained.
"We are of the opinion that the JCPOA is the first step that has contributed to slowing down their activities in this particular respect, that also established a better verification and monitoring process. But we also think, from the German perspective, that this is not sufficient in order to see the Iranian ambitions curbed and contained," Merkel said, adding that Tehran's "geopolitical influence in Syria, Lebanon and Iraq" must be countered.
Merkel stated that the Iranian issue is way more important for Germany than it is for the US, since the country is "right on our doorstep."
"I believe that, obviously, this agreement is anything but perfect. It will not solve the problems with Iran. It's just one piece of the mosaic, one building block, on which we can build the structure," Merkel said during a joint press conference with Trump.
Merkel, who arrived in the US to hold talks with the US President Donald Trump, has apparently given in to Washington's pressure and changed her stance on the landmark nuclear deal with Tehran.
Germany has repeatedly warned the US against pulling out of the 2015 nuclear deal with Iran, officially known as Joint Comprehensive Plan of Action (JCPOA). Merkel herself has consistently urged all the parties to stick to the agreement and implement it fully.
Merkel's statement comes as French President Emmanuel Macron, who visited Washington this week, also changed his mind about the Iran agreement after meeting with Trump. He said on Tuesday that discussions with Trump have made it possible to forge a new agreement on Iran.
"He is viewing Iran a lot differently than he did before he walked into the Oval Office," Trump boasted while speaking on Fox and Friends on Thursday.
Like this story? Share it with a friend!
You can share this story on social media: