Castro stepping down: What comes next for Cuba?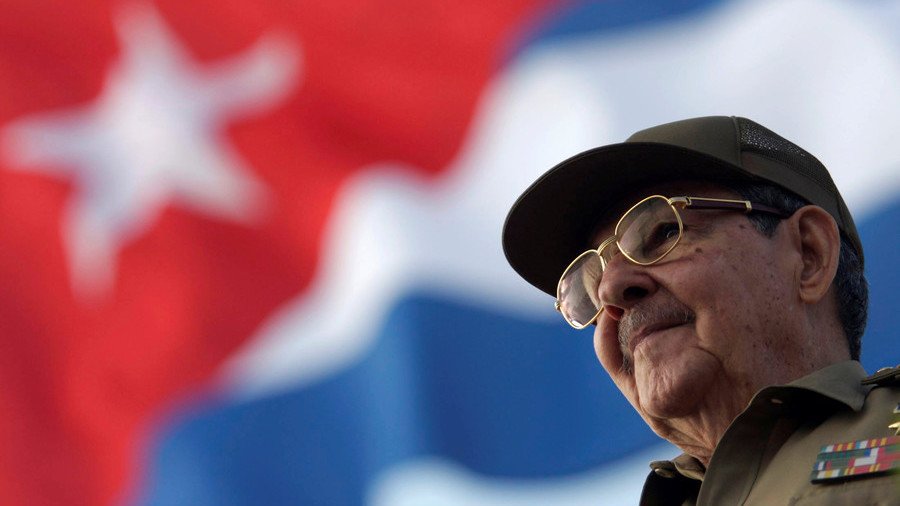 Cuba's president Raul Castro is expected to step down this week after two 5-year terms. RT looks at what may change under Vice President Miguel Diaz-Canel, the only official replacement candidate, after six decades of Castro rule.
Since the revolution of 1959, the Castro family has held power in the socialist nation. After Fidel retired from office in 2008, his brother Raul took up the reins. Now, the party's hand-picked successor, Diaz-Canel is all but assured to succeed him when the party votes on Thursday.
READ MORE: Trump administration curtails travel & trade with Cuba
Diaz-Canel will face economic difficulties, as well as the challenge of maintaining relations with US President Donald Trump, who took steps last year to undo the diplomatic thaw between the two nations under the Barack Obama administration.
'No turning point in Cuban policy'
However, while the sun may be setting on Castro's direct rule, his political involvement is not over. Castro will remain the head of the ruling Communist party until 2021, working to shape policy from behind the scenes.
"Raul Castro is turning into Cuba's own version of Deng Xiaoping and, as such, he remains at the helm of the party and will keep the situation under control," Zbigniew Ivanovsky, head of the Center for Political Studies at the Russian Academy of Sciences' Institute for Latin American Studies, told RT.
Ultimately, Cuba's new leader is unlikely to steer the country in a radically new direction, Salim Lamrani, Professor of Iberian and Latin American Studies at the Paris IV-Sorbonne University, noted.
"There will be no turning point in Cuban policy because the people of the island wish to maintain [Castro's] model of society," Lamrani told RT."Cubans want to preserve their independence and all the social gains, such as free education and healthcare, culture for all, the security that the Cuban Revolution brought."
Cuba's healthcare system ranks 23rd in the World Health Organization's rankings, ahead of first world countries like New Zealand (40) and South Korea (58). Cuba's literacy rate also ranks joint third in the world.
Can Diaz-Canel kick-start Cuba's economy?
While Cubans enjoy free access to healthcare and education, as well as subsidized food and housing, consumer goods are hard to come by. A state salary in Cuba is just $20 per month, and there are only 173,000 cars between the country's 11 million people. Economic growth has slowed in recent years, since an initial spike after Raul Castro introduced some free market reforms in 2011. Diaz-Canel will need to work towards remedying Cuba's stagnant economy – but is unlikely to find relief from Washington.
"Cuba needs to improve the economic situation, even if the principal obstacle to Cuban development are US economic sanctions," Lamrani told RT. "Cuba also has to face the hostile policy of the Trump administration, who canceled the small progresses made by Barack Obama, and got back to a policy of confrontation."
Since 1962, the United States has maintained a comprehensive trade embargo on Cuba. After attempts by Barack Obama to normalize relations with Cuba, President Trump tightened sanctions even further last November, and prohibited most Americans from visiting the island nation.
In the absence of free trade with the US, Cuba will have to improve agricultural production so the country can be more self-sufficient. Cuba currently imports 80 per cent of its food – so Diaz-Canel certainly has his work cut out for him.
"Cuba's economy can be said to be going through a transitional stage, with small businesses and small-scale trade actively developing," Zbigniew Ivanovsky told RT. Like Lamrani, he sees the economy as one of Diaz-Canel's primary challenges. "Overall, the public opinion is divided: Part of the society and of the party leadership believe that reforms must be pushed, while the more conservative circles believe there is no need for the rush and that it would be a deviation from socialism."
Will US attempt another invasion?
Relations with the United States will largely depend on Washington's position, Lamrani noted. "Cuba always expressed its will to have normal and peaceful relations with the US as long as these relations are based on sovereign equality, reciprocity and no interference in internal affairs," he told RT.
For Havana, US relations revolve around two critical issues. Cuba wants the US naval base at Guantanamo Bay returned, and the US-imposed trade embargo lifted. Washington's position is that Cuba must undergo 'democratization' and make sweeping free-market reforms. Ivanovsky cautions that neither side is likely to get what it wants.
"Most likely, the relations will remain on the same level, as the key issues remain unresolved," he said.
The American government has made many attempts to either overtly or covertly overthrow the Castro government since the 1959 revolution. In 1961, the CIA funded and orchestrated the Bay of Pigs invasion, during which defectors from Castro's regime attempted to mount a coup with US military support.
The invasion was a complete failure and a major diplomatic embarrassment for Washington. Since then, Fidel Castro survived several hundred assassination attempts, according to Cuban officials. The CIA allegedly recruited a former lover to poison Castro, rigged a cigar to explode in his mouth, and planned at one point to dispatch the Cuban leader with a poisoned milkshake.
According to Lamrani, the United States is unlikely to attempt another reckless intervention – choosing instead a less direct approach.
READ MORE: US mulls embassy closure in Cuba with historic thaw in relations under threat
"The Trump administration will try to subvert Cuban society," Lamrani told RT. "But the results will be the same as those of the other administrations: A total failure."
Will human rights record improve?
While Diaz-Canel has previously voiced support for LGBT rights, expanding internet access, and loosening state control of Cuba's media, he has given no indication that he intends to implement any fundamental human rights reforms.
The Cuban government routinely punishes dissent. Critics, independent activists, political opponents, and others are often subjected to arbitrary detention, harassment and beatings. Cuba has the world's seventh-highest incarceration rate, and prison conditions there have been described as overcrowded and inhumane.
If you like this story, share it with a friend!
You can share this story on social media: