US mulls embassy closure in Cuba with historic thaw in relations under threat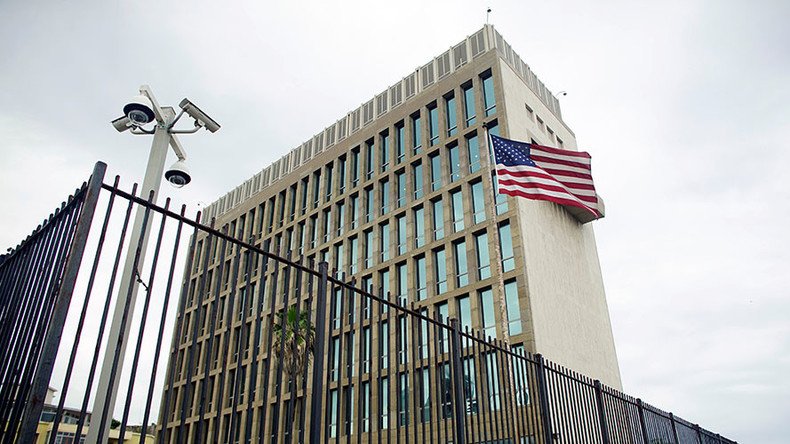 Two years after the US made the historic step to re-open its embassy in Cuba, Washington says a new closure is "under evaluation" – the latest move in a fragile relationship which has seen claims of "health attacks" on US diplomats.
"We have it under evaluation," Secretary of State Rex Tillerson said on Sunday on CBS' Face the Nation regarding the possible closure of the embassy in Havana. "It's a very serious issue with respect to the harm that certain individuals have suffered. We've brought some of those people home. It's under review."
The "harm" Tillerson was referring to surrounds the mysterious cases of 21 Americans – diplomats and their families – who have reported bizarre health symptoms after being stationed in Havana.
It was not long ago that the US was without any diplomats in Cuba, with both countries closing their embassies in 1961, shortly after the US imposed an economic embargo on Cuba following Fidel Castro's overthrow of the US-backed regime in Havana and establishment of a socialist state.
'Historic' moment between US & Cuba
In 2014, decades of tense relations and accusations from both sides gave way to Havana and Washington announcing that they would restore full economic ties, following 18 months of closed-door talks brokered by Pope Francis. Then-US President Barack Obama stated in July of the next year that there was "enormous enthusiasm" over the new approach towards Cuba.
"This is a historic step forward in our efforts to normalize relations with the Cuban government and people," Barack Obama said at the time. And it was indeed a significant move, one which was followed by the re-opening of both countries' embassies in 2015.
Obama made another historic step in March 2016, when he visited Havana in what was the first trip to Cuba by a sitting US president since Calvin Coolidge toured the country in 1928.
Just months later, the US resumed commercial passenger flights to Cuba, with the first plane – a Jetblue flight from Ft. Lauderdale, Florida – landing in Santa Clara on August 31, 2016.
New shift in relations
The mood, however, has changed since Obama's predecessor, Donald Trump, was elected to office. In June 2017, Trump announced that his administration would be reinstating some restrictions on trade and travel which were eased by Obama, calling it a "terrible and misguided deal."
That threat began almost immediately after Trump was elected, and while Obama was still in the White House. "If Cuba is unwilling to make a better deal for the Cuban people, the Cuban/American people and the U.S. as a whole, I will terminate deal," Trump tweeted on November 28, 2016.
The tweet came just days after Fidel Castro passed away at the age of 90. Trump reacted to his passing by calling him a "brutal dictator who oppressed his own people for nearly six decades."
Cuba fired back, saying: "The United States is not in a position to give us lessons" on human rights.
Now, it appears the thawing of relations that came with the embassy re-openings may be short-lived, after 21 Americans – diplomats and their families – reported bizarre and unexplained symptoms while being stationed in Havana.
The symptoms, previously referred to as "health attacks" by Tillerson, range from permanent hearing loss to concussions, nausea, headaches, and ringing in the ears. Some of the victims also struggle with concentration and recalling specific words, according to AP.
Multiple people reported feeling vibrations or hearing loud sounds, sometimes only in certain parts of rooms. Others did not feel or hear anything at the time, but still reported symptoms. But the "health attacks," which the US government is now vaguely referring to as "incidents," remain a mystery to US intelligence services, the medical community, and sound experts.
Although the symptoms initially pointed to sonic devices being used on the victims, experts have concluded that no single device could lead to the combination of symptoms, and searches for devices in the homes of US diplomats have been fruitless.
The lack of evidence that Havana is behind the "incidents" did not stop Washington from expelling two Cuban diplomats earlier this month, with State Department spokeswoman Heather Nauert saying that Americans were brought home as a result of the incidents, leading the US to "ask two Cubans to leave the United States."
Still, some lawmakers are pushing for more of a response, with five Republican senators writing to Tillerson on Friday, urging the US to close the embassy and kick all Cuban diplomats out of the country.
"Cuba's neglect of its duty to protect our diplomats and their families cannot go unchallenged," said the lawmakers, who were led by Senator Tom Cotton of Arkansas. Cuban-American politician and former presidential candidate Marco Rubio (R-FL) also signed the letter.
READ MORE: US expels 2 Cuban diplomats over mysterious 'physical symptoms' reported by US personnel
Although the future remains uncertain regarding US-Cuba relations, a Republican majority in the US Congress seems to at least indicate that the trade embargo will continue, as conservative lawmakers have previously blocked bills which would loosen it.
Cubans are focused not only on Washington's political maneuvers, but also on their own domestic political situation, gearing up for an election as Raul Castro prepares to leave office in February 2018.
You can share this story on social media: