More mystery surrounds 'health attacks' on US diplomats in Cuba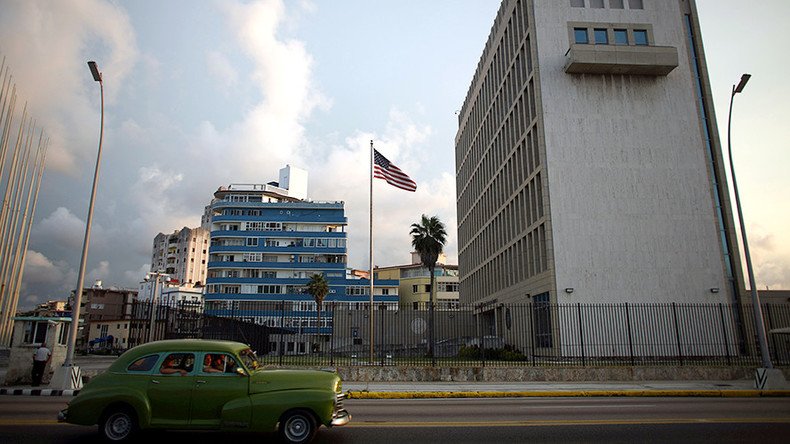 The mysterious stories of US diplomats in Cuba falling victim to bizarre "health attacks" including hearing loss and brain injuries have become even more bizarre, with AP discovering that some symptoms were limited to specific rooms or parts of rooms.
Details surrounding what the White House has only described as "incidents" are sparse, and the causes are even less existent. All that is really known is that US diplomatic employees experienced a "variety of physical symptoms" while serving in Cuba.
Those symptoms include hearing loss and speech problems, with some victims having trouble concentrating or recalling certain words, according to officials cited by AP. Some have experienced brain swelling, dizziness, nausea, severe headaches, balance problems and prolonged ringing in the ears.
The officials said the incidents occurred in the homes of the US officials, and in at least one hotel: the recently renovated Hotel Capri.
A new layer of the cases was revealed by AP on Thursday, but appears to only add to the confusion.
According to the news agency, some of the symptoms were limited to certain rooms, or parts of rooms.
AP recalled the case of an American diplomat who experienced a "blaring, grinding noise" while lying in his bed. When he moved just a few feet away, there was silence. The peculiar noise began again after he climbed back into bed.
"It was as if he'd walked through some invisible wall cutting straight through his room," the AP article reads.
It notes that the diplomat - who refers to the incidents as "health attacks" - also experienced hearing loss and speech problems, like so many of the other victims.
While some felt vibrations and heard sounds such as a loud ringing or a high-pitch chirping similar to crickets, others heard the grinding noise. Many said the attacks seemed to come at night, with several reporting they came in minute-long bursts.
Some awoke with ringing in their ears and reached for their alarm clocks, but then discovered the ringing stopped when they moved away from their beds.
However, others heard nothing and felt nothing, yet experienced the symptoms.
Fulton Armstrong, a former CIA official who served in Havana, admitted he's clueless as to what has caused 21 Americans - a number confirmed by the US on Tuesday - to experience such symptoms.
"None of this has a reasonable explanation," Armstrong told AP. "It's just mystery after mystery after mystery."
There is perhaps no better word to describe the situation than "mystery." Although suspicion initially fell on the possibility of a sonic device, the diagnosis of mild brain injury has confused all the authorities involved in the investigation, as such a symptom is unlikely to result from sound.
Investigators have also tested conspiracy theories ranging from an intentional attack by Cuba's government, a rogue faction of its security forces, a third country like Russia, or some combination of those possibilities. They're also considering that it could have been an advanced espionage operation that didn't go as planned.
But despite the theories and investigations, there's still no explanation. Sound and health experts are just as confused as the US government, as no single, sonic instrument seems to explain such physical responses.
"Brain damage and concussions, it's not possible," Joseph Pompei, a former MIT researcher and psychoacoustics expert, told AP. "Somebody would have to submerge their head into a pool lined with very powerful ultrasound transducers."
Possible motives are just as unclear, particularly because "fewer than 10 diplomatic Canadian households" were also affected, a Canadian official told AP. Unlike the US, Canada has maintained pleasant ties with Cuba for decades.
Both the FBI and the Royal Canadian Mounted Police traveled to Havana to investigate the situation earlier this year, sweeping rooms and looking for devices. However, they found nothing, according to several officials briefed on the investigation.
Although the US has stopped short of accusing Cuba of perpetrating the attacks on its citizens, Washington expelled two Cuban diplomats last month, charging Havana with failing to protect Americans serving in the country.
Meanwhile, Cuba's Foreign Ministry stated last month that it "has never, nor would it ever, allow that the Cuban territory be used for any action against accredited diplomatic agents or their families, without exception." It vowed its full cooperation and said it was treating the situation "with utmost importance."
President Donald Trump ruffled Cuba's feathers in June, when he announced that he would be rolling back much of the Obama administration's policies to open Cuba to American investment in travel, calling it a "terrible and misguided deal" that only benefits the "repressive" Castro regime.
In response, Cuba said the US is "not in a position to give us lessons," adding that Havana has "serious concerns about the respect and guarantees of human rights in that country..." and calling Trump's allegations against Havana a case of "double standards."
You can share this story on social media: