Fidel Castro's name & image to be kept off Cuban streets to avoid cult of personality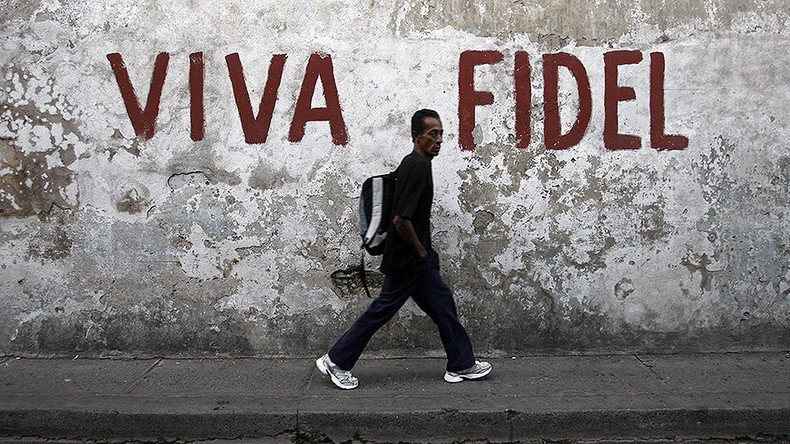 The cremated remains of Cuban revolutionary leader Fidel Castro are to be interred on Sunday, the day after his brother Raul announced that there will be no statues of Fidel or streets and public buildings named after him.
The ashes of Fidel Castro are to be laid to rest in a mausoleum in Santiago's Santa Ifigenia cemetery alongside Cuban independence hero Jose Marti. Marti, who was a poet, journalist, political activist and revolutionary philosopher, is a widely revered figure – including for Cuban nationalists who oppose the current Socialist government in Havana.
Marti's monuments appear everywhere in Cuba, and Havana's international airport is named after him. However, such posthumous honors will not be reserved for Fidel after his death, his brother and successor as Cuba's President told a mourning crowd on Saturday.
"The leader of the revolution rejected any manifestation of a cult of personality and was consistent in that through the last hours of his life, insisting that, once dead, his name and likeness would never be used on institutions, streets, parks or other public sites, and that busts, statutes or other forms of tribute would never be erected," Raul Castro told a massive crowd gathered in Santiago in the east of Cuba.
The decision is in line with Fidel's attitudes both during his time as Cuba's leader and his decade of retirement. He handed power over to Raul in 2006 because of a life-threatening illness and formally stepped down two years later. In contrast, the images of Fidel's fellow revolutionary fighters, Camilo Cienfuegos and Che Guevara, have become common across Cuba since their deaths.
The entombment ceremony will end a nine-day period of morning in Cuba. Over the past few days, Fidel's remains have been carried along a 1,000-kilometer route to the east of the country, retracing the path that his revolutionary forces took after ousting the pro-American regime of dictator Fulgencio Batista in 1959.
Hundreds of thousands of Cubans flocked to plazas and highways to pay tribute to their late leader, chanting "I am Fidel" as the solemn procession passed by.
During Saturday's rally in Santiago, Raul Castro pledged to uphold Fidel's socialist legacy.
"In the unipolar world, the one of transnationals that arose after the fall of the socialist bloc, the permanent lesson of Fidel is that, yes, it can be done – man is capable of overcoming the most difficult conditions," he said.
Several Latin American leaders and personal friends of Fidel arrived in Cuba for the funeral, including Bolivian President Evo Morales, Nicaraguan leader Daniel Ortega, Venezuelan President Nicolas Maduro, and former Brazilian presidents Dilma Rousseff and Lula da Silva.
You can share this story on social media: