Oxygen mask backlash: Image from Southwest flight sparks social media frenzy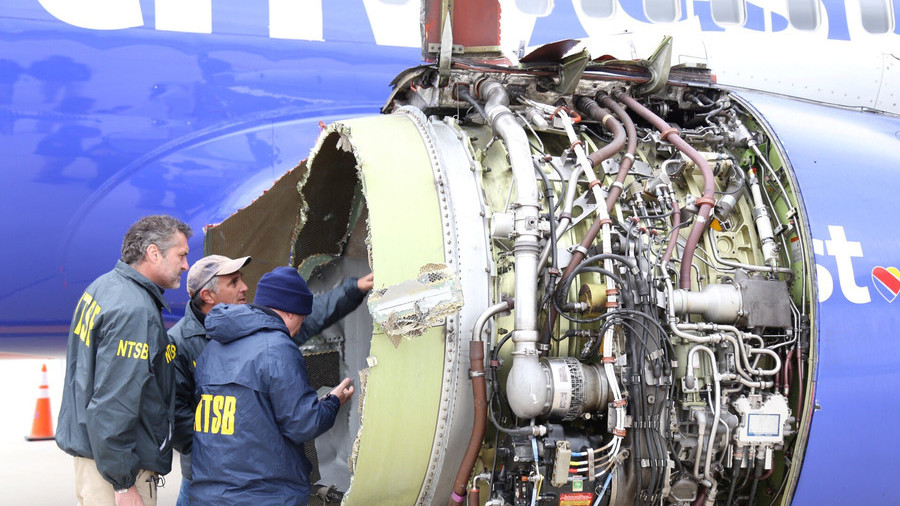 A photo showing passengers from Southwest Airlines flight 1380 apparently wearing their oxygen masks incorrectly has sparked a social media furore. One passenger died after an engine explosion blew out a window mid-flight.
The image posted by passenger Marty Martinez on Facebook shows three passengers, including Martinez, only covering their mouths with the mask. Safety demonstrations typically performed by crew at the start of flights state that passengers should "place the mask over your mouth and nose, secure the elastic band and breath normally."
READ MORE: 1 killed, passenger nearly sucked out of plane after engine explosion on Southwest flight
The flight was en route from New York's LaGuardia Airport to Dallas with 149 passengers on board when one engine apparently exploded mid-air. A woman was killed when she was almost sucked out of a shattered window and seven other people were injured. The plane went on to make an emergency landing in Philadelphia.
Social media users sharply criticized passengers seen in the photo posted by Martinez, suggesting they did not pay attention to the attendants' safety briefing.
Seriously though... I've flown a lot and can hear the flight attendant spiel in my head... they definitely say "place the oxygen mask over your mouth AND nose." #flight1380#southwest#wn1380

— Becky DePodwin (@wx_becks) April 17, 2018
It's not clear though at what point the photo was taken, with some Facebook users suggesting it could have been taken when the plane was brought down to a safer altitude. Meanwhile, others argued that the face masks would not possibly cover both the mouth and nose due to its apparently small size.
This argument was quickly dismissed by other Facebook users who pointed out that the mask is made of flexible rubber or silicone material and can be adapted to fit all passengers.
Martinez was himself chastised for posting a Facebook Live video while he was putting on his own oxygen mask. In his video, Martinez can be seen holding the oxygen mask just over his mouth, attracting criticism from Facebook users.
The Southwest Boeing 373 blew an engine at about 30,000ft. According to the Federal Aviation Administration"phase-sequential continuous-flow" masks can be safely used at emergency altitudes up to 40,000ft.
The National Transport Safety Board is investigating the engine failure and says it could take up to 15 months to complete. Part of the engine's covering, called a cowling, was found in Bernville, Pennsylvania, about 70 miles (112km) from the Philadelphia International Airport. NTSB Chairman Robert Sumwalt said: "It is very unusual so we are taking this event extremely seriously."
Like this story? Share it with a friend!
You can share this story on social media: