Passenger dies after getting sucked through window as engine explodes on Southwest flight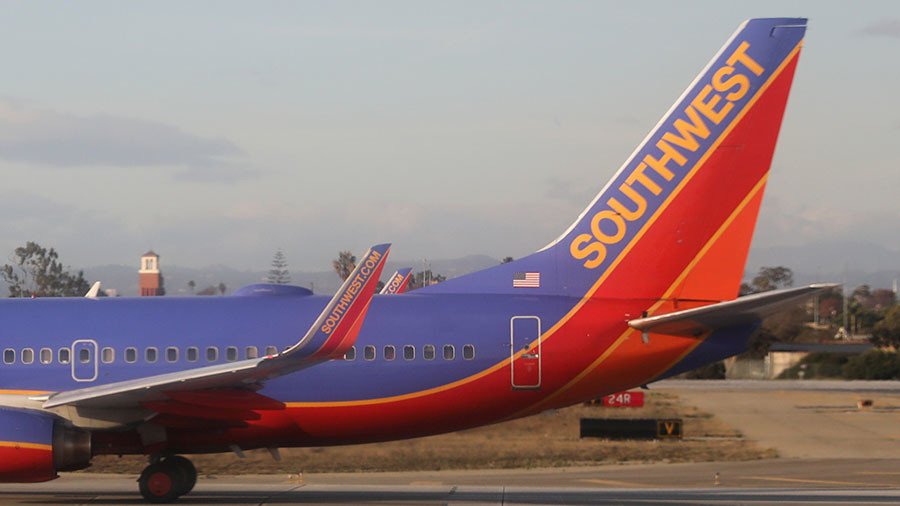 One person has died after being almost sucked out of a shattered window after a Southwest Airlines flight suffered a critical engine malfunction and was forced to execute an emergency landing in Philadelphia.
Passengers on Southwest Airlines Flight 1380 had their worst fears materialize on Tuesday morning when their aircraft was nearly torn apart in midair following an engine explosion. At the time of the incident, the Boeing 737-700 had 143 passengers and five crew members onboard when the plane bound for Dallas left LaGuardia Airport.
One passenger was taken to a hospital in a critical condition and at least seven more people were treated at the scene for minor injuries, fire officials noted.
A 43-year-old vice president of community relations for Wells Fargo, Jennifer Riordan, died in the accident.
The pilot, who managed to land the plane in almost impossible circumstances, was identified as Tammie Jo Shults, one of the first female fighter pilots in the US Navy and the first woman to fly F-18 fighters.
While the cause of the fatal incident is still under investigation, it is believed that the engine blew apart less than an hour after taking off at 10.27am local time. Part of the engine then shattered one of the cabin windows – through which a female passenger was nearly sucked out.
Passenger Marty Martinez shared photos and videos taken during the flight and described his terrifying experience. "Engine exploded in the air and blew open window 3 seats away from me," Martinez wrote on Facebook.
"There's evidence of metal fatigue where the blade separated," the National Transportation Safety Board (NTSB) chairman Robert Sumwalt told reporters, revealing that one of the engine's 24 fan blades had broken off and was missing. The engine's covering, or cowling, was found about 70 miles from the Philadelphia airport, the official noted.
Think your friends would be interested? Share this story!
You can share this story on social media: