Legendary Nazi hunter endorses far-right German party, then changes his mind (VIDEO)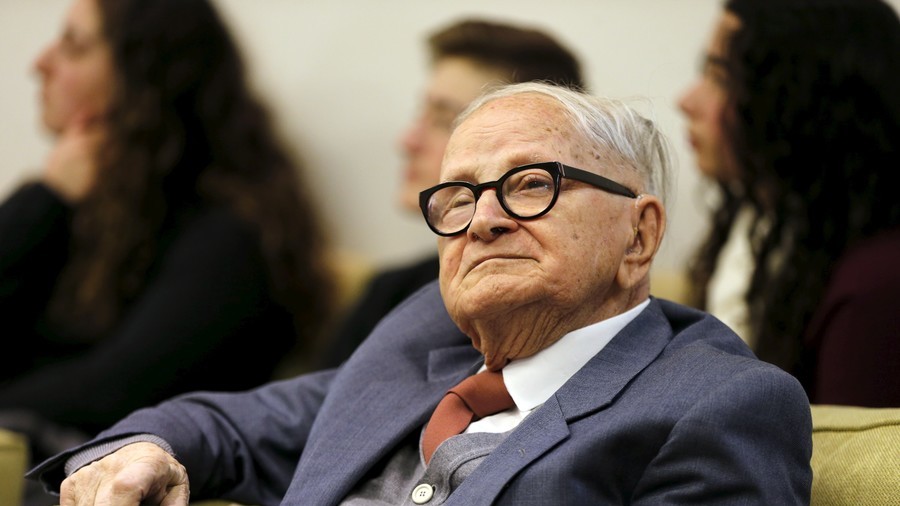 The Mossad spy who masterminded the capture of Adolf Eichmann, one of the architects of the Holocaust, controversially declared his support for a German far-right party Saturday, only to change his mind Sunday.
Rafi Eitan led an Israeli operation to track down and bring Eichmann to justice after the Nazi lieutenant fled Germany to Argentina following World War II.
As an ex-Mossad agent and Israeli politician, Eitan courted controversy Saturday by appearing in a promotional video for the Alternative for Germany Party (AfD). Members of the far-right political outfit have been accused of racism and anti-semitism in the past, with AfD politician Bjoern Hoecke last year slammed for describing the Holocaust memorial in Berlin as a "monument of shame."
READ MORE: 'Anti-Semitic and inhuman': Outcry as AfD branch leader calls to forget Holocaust
Eitan praised AfD for its recent efforts to mark Holocaust Memorial Day in a message posted online. A full speech released by the AfD and attributed to Eitan describes the party as a "great hope for many people."
The 91-year-old called on Germany to close its borders "against Muslim mass immigration."
"The immense influx of Muslim immigrants to Germany in recent years is worrying many people – not only in Germany, but also in neighboring countries and among Germany's political allies," his speech reads.
"I wish you with all my heart that you will be strong enough to end the policy of open borders, stop the further islamization of your country and protect its citizens from terrorism and crime. Security and sovereignty need and want for our countries. In Israel, in Germany, in Europe. Let's do this together," Eitan said.
The former intelligence agent apparently believes the AfD, which entered the Reichstag for the first time last year, will grow into a bigger force throughout Europe. "Instead of Alternative for Germany, you might become alternative for Europe," he said.
Israel's ambassador to Germany labelled Eitan's message of support for the AfD as "sad and shameful."
"I fully object to Rafi Eitan's statement made earlier," Jeremy Issacharoff said in a Twitter post. "I find it hard to imagine how the man who caught Eichmann bringing him to trial in Israel, would praise Germans that are proud of the Nazi past and hope that such views could be an alternative for Europe. Sad and shameful."
Following the backlash, Eitan said Sunday he was "backing off" from endorsing the AfD. "This is a certain concept that I thought was correct, but in light of the reactions I'm backing off it," Maariv radio quotes Eitan as saying, as reported by Israel's Haaretz newspaper.
"Thank you, I don't want to deal with it," he reportedly added.