'Anti-Semitic and inhuman': Outcry as AfD branch leader calls to forget Holocaust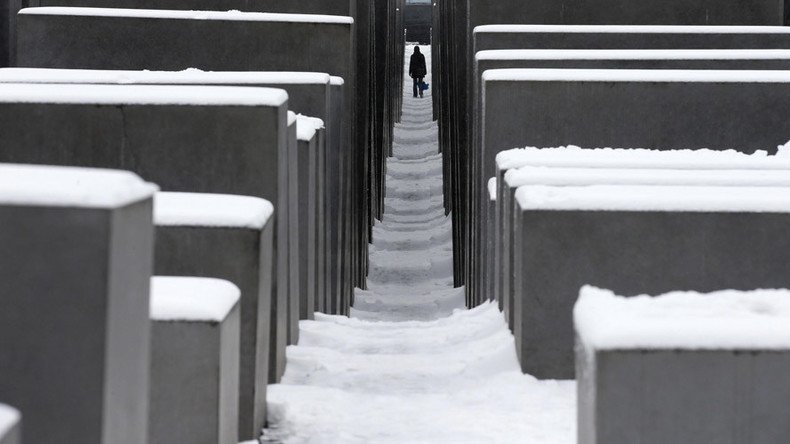 The Jewish community and political party leaders in Germany have expressed outrage following remarks by a senior AfD leader, which suggested Germany should rethink its policy of remembering Nazi crimes and Berlin's Holocaust Memorial.
Bjoern Hoecke, AfD leader in the German federal state of Thuringia is now trying to excuse himself by saying that his words were misinterpreted.
Hoecke remarks came while addressing the "Young Alternative Dresden" group in Dresden on Tuesday. He urged to put an end to Germany's culture of remembering Holocaust, calling for a significant change in the way the country sees its past, German media reported.
He described the well-known Holocaust Memorial in memory of to the murdered Jews of Europe in Berlin a "monument of the shame in the heart of the capital."
He also compared the bombing of Dresden during the WWII to the atomic bombings of Hiroshima and Nagasaki to loud applause from the cheering crowd. According to Hoecke, bombings of German cities should have "rooted out our [German] roots."
Instead of bringing up the new generation with the great philanthropists, the world famous, groundbreaking philosophers, the musicians, the ingenious explorers and inventors, the German history is represented as "something rotten and ridiculous", Hoecke said, according to Junge Freiheit.
Josef Schuster, the chair of the Central Council of Jews in Germany, said he was shocked by the statement, according to AP.

"With these anti-Semitic and inhuman words, the AfD shows its true face," he said.

"I would not have dared to think that 70 years after the Shoah such remarks by a politician in Germany would be possible."
AfD is going full neo-Nazi. A few quotes from AfD parliamentarian floor leader in Thüringen, Björn Höcke: "I want you as a new Prussia!"

— (((Charles Hawley))) (@charles_hawley) January 18, 2017
Germany's vice chancellor, Sigmar Gabriel, has also harshly condemned the speech of the AfD leader. "This is not just some kind of provocation. We must never let this kind of demagoguery be undisputed," Gabriel wrote on Facebook.
His comments also drew criticism from his own party. Frauke Petry, AfD chairwoman, was quick to distance herself from Hoecke's statements, calling him "a burden to the party."

"It confirms what I said a year ago. Bjoern Hoecke has become a burden to the party with his self-activities," Petry told Junge Freiheit.
Simone Peter, Green party leader, has described Hoecke's statements as "unspeakable".

"The AfD must unmistakably distance themselves from this and apologize to our Jewish friends," she said.
Following the outcry, Hoecke issued a statement, stressing that the idea of him criticizing the Holocaust memorial or German history was "a malicious and deliberately denigratory interpretation of what I actually said."

"In my Dresden speech I wanted to ask how we Germans look at our history," he said, explaining that he wanted to highlight other aspects of German history, that include many prominent poets, composers and others, according to Reuters.
Diether Dehmn, a member of the radical Left party, said he was reporting Hoecke to the police for incitement, Reuters reported. He also added that Hoecke was inspired by a Constitutional Court ruling against a ban on the far-right National Democratic Party (NPD) which had been rendered hours before his speech in Dresden.
READ MORE: German court rules far-right group 'too insignificant' to ban
This is not the first time AfD members have stirred controversy by seemingly speaking in favour of Germany's Nazi legacy or downplaying the Holocaust. In September, Kay Nerstheimer, newly elected to the parliament, called civilian victims of the Nazis as "guerilla fighters" and said that killing them was "legal".
You can share this story on social media: