Pakistan 'drops military & intel ties' with US after Trump's aid cuts – minister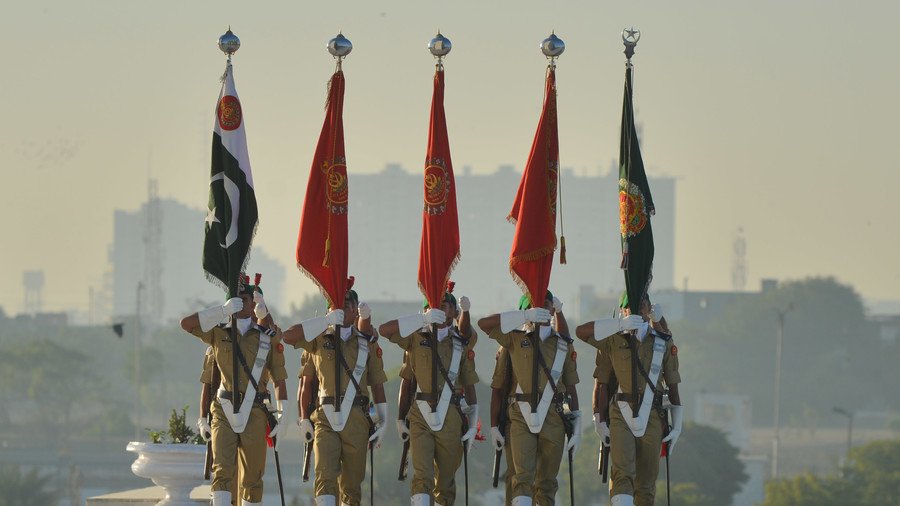 Islamabad is suspending military ties and intelligence sharing with the US, the Pakistani defense minister said, following accusations and aid cuts by President Donald Trump.
Speaking at a public event set up by the Institute of Strategic Studies Islamabad (ISSI) on Tuesday, Defense Minister Khurram Dastgir Khan told the gathering that "there is also a wide field of intelligence cooperation and defense cooperation which we have suspended," according to the Pakistan Tribune.
He did not go into specifics but said the suspension of military and intelligence ties comes on the heels of a recent announcement by US President Donald Trump that Washington was going to curb aid flows to Pakistan.
"Now all veils are off… It is time for a courteous yet ruthlessly candid dialogue between Pakistan and the United States," Khan said.
Meanwhile, the US embassy in Islamabad denied Pakistan's claims of military or intelligence ties being suspended, Voice of America reported. "We have not received any formal communication regarding a suspension," embassy spokesman Richard Snelsire said.
The defense minister had previously vowed a "cold-blooded response" to Washington's stated intention to withhold an aid package worth $255 million to Pakistan. Speaking earlier with BBC Urdu, Khan said the US ought to "prefer" cooperation over confrontation, noting that half of Pakistan's airspace and land routes – crucial for American operations in Afghanistan – were still open to the US.
READ MORE: Islamabad summons US envoy, calls emergency meetings after Trump's 'no more' tweet
The US State Department officially cut security funding for Pakistan earlier in January, saying financial assistance would only be resumed if Islamabad takes action against the Afghan Taliban and the Haqqani Network. In another sign of worsening relations between long-standing allies, the department put Pakistan on a watch list for what it called "severe violations of religious freedom."
Washington and Islamabad have been close allies since the Cold War, when the US utilized Pakistani territory to supply Islamist mujahedeen fighting Soviet troops in neighboring Afghanistan. After the 9/11 attacks, the two countries forged a strategic alliance to help the US fight against the Taliban and Al-Qaeda militants. Pakistan has also been added to a list of US "Major Non-NATO Allies."
However, relations between Washington and Islamabad began to sour after Trump took office. Last August, he unveiled the US strategy for Afghanistan and South Asia, which criticized Pakistan for "sheltering terrorists" and threatened to reduce aid to the country if it continued to "harbor criminals and terrorists."
President Trump's Twitter statements fueled the spiraling tensions between Pakistan and the US. In his first series of tweets of 2018 on January 1, he accused Islamabad of offering a "safe haven" for terrorist groups who are directly engaging US troops stationed in Afghanistan.
"The United States has foolishly given Pakistan more than 33 billion dollars in aid over the last 15 years, and they have given us nothing but lies & deceit, thinking of our leaders as fools," tweeted Trump, referencing total US aid transfers to the country between 2002 and 2017.
The Twitter threat prompted Islamabad to call an emergency cabinet meeting and summon the US ambassador to the country, with Foreign Minister Khawaja Asif saying: "We will reveal the truth to the entire world. We will separate fact from fiction."
You can share this story on social media: