Pakistan fires back at US, asks not to be made 'scapegoat' for Afghan failures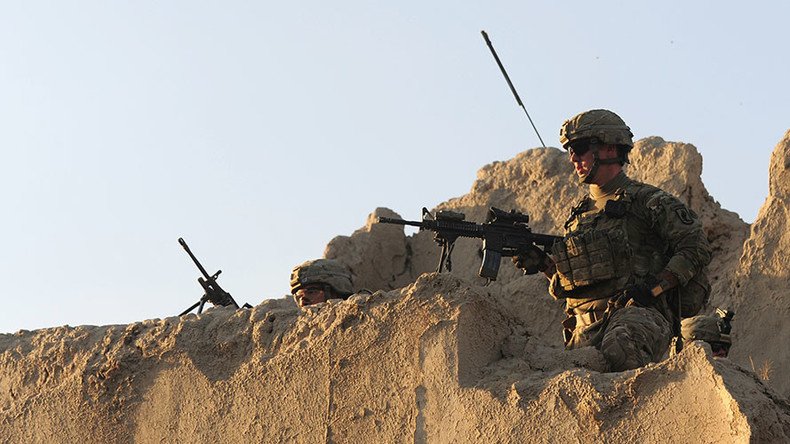 Pakistan has hit out at Donald Trump's allegations it is sheltering terrorists, made as the US leader announced a new Afghanistan strategy. Islamabad says Washington is making it a "scapegoat" for its own failures.
On Monday, Trump presented a new strategy for Afghanistan at the US Army's Joint Base Myer-Henderson Hall. During his speech, the US leader criticized Pakistan by saying it has "safe havens" for terrorists. Trump added that the US is running out of patience and wants to see more commitment to peace from the Pakistani government.
US Secretary of State Rex Tillerson later followed Trump's line, saying aid to Pakistan might be reviewed, as well as Islamabad's status as a major non-NATO ally.
"The amount of aid and military assistance we give them, their status as non-NATO alliance partner – all of that can be put on the table," he said.
Islamabad condemned the US criticism of its fight against terrorism, accusing Washington of shifting the blame for its own failures.
"They should not make Pakistan a scapegoat for their failures in Afghanistan," Pakistani Foreign Minister Khawaja Asif said on Tuesday in an interview with Geo TV, as cited by Reuters. He added that its "commitment to war against terrorism is unmatched and unshaken."
Pakistan had earlier called Trump's claims of "safe havens" for the Taliban and other terrorist groups a "false narrative."
"No country in the world has suffered more than Pakistan from the scourge of terrorism, often perpetrated from outside our borders. It is, therefore disappointing that the US policy statement ignores the enormous sacrifices rendered by the Pakistani nation in this effort," the Pakistani foreign minister said in a statement.
Islamabad also said the protracted war in Afghanistan had failed to bring peace to the country and was not likely to succeed soon.
"The military action during the last 17 years has not brought peace to Afghanistan, and it is not likely to do so in the future. Only an Afghan-led, Afghan-owned politically negotiated solution can lead to sustainable peace in Afghanistan," it stated. The ministry added that any "exclusive military solution to the crisis in Afghanistan" would be fruitless.
China backed Pakistan, urging other nations to "fully recognize" its efforts in fighting terrorism.
"Pakistan is at the forefront of the counterterrorism efforts. For many years, it has made positive efforts and great sacrifices for combating terrorism and made important contributions to upholding world peace and regional stability," Chinese Foreign Ministry spokeswoman Hua Chunying stated on Tuesday.
At the same time, Trump called on another key player in the region, India, to "help more" with Afghanistan, as it "makes billions of dollars in trade with the United States."
"We appreciate India's important contributions to stability in Afghanistan, but India makes billions of dollars in trade with the United States, and we want them to help us more with Afghanistan, especially in the area of economic assistance and development," Trump said Monday.
The necessity to pressure India over Afghanistan was also voiced by the US envoy to the UN, Nikki Haley.
"We've got to put the pressure on India that they have to be part of the political solution," Haley told CNN.
The US campaign in Afghanistan has long been criticized, having continued under three American leaders, including Trump. When Trump took office, the Taliban controlled more territory than it did at any time since 2001 and Islamic State (IS, formerly ISIS/ISIL), which didn't even exist before the invasion, already had a foothold in eastern Afghanistan.
Richard Becker from the anti-war Answer Coalition told RT: "We must recall that the rise of these organizations [Al-Qaeda, Islamic State] to prominence really came about because of the US invasion in Iraq, the destruction of the government of Libya and the war sponsored by the outside forces against the government of Syria. That is an open space for the real growth and development."
During the last 12 months the US-backed government in Kabul has lost another 5 percent of the country's territory, and now controls about 60 percent of Afghanistan.
Trump did not promise to withdraw US personnel any time soon, saying "conditions on the ground – not arbitrary timetables – will guide our strategy from now on."
From now on, it's "Trump's war," says former US diplomat Jim Jatras.
"Whatever happens for good or for ill, he will get the blame… If something gets wrong it will be [Trump's] fault now, not Barack Obama's, not George [W.] Bush's," Jatras told RT.


You can share this story on social media: