US urges Pakistan to 'redouble' counter-terrorism efforts – or let CIA do it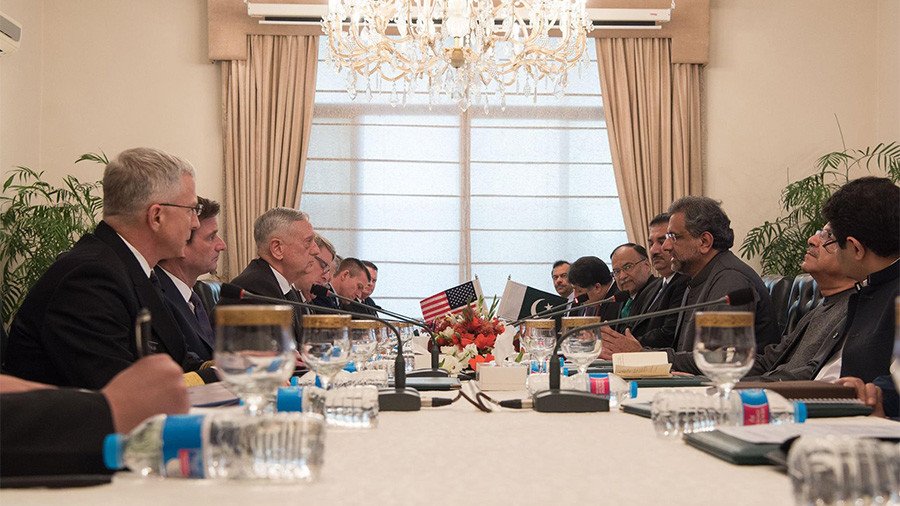 Washington has urged Islamabad to "redouble" its efforts in fighting terrorists. And while Pakistan insists that "no safe heavens" exist in the Central Asian country, the CIA over the weekend vowed to fight terrorism with or without Islamabad.
On Monday, US Defense Secretary James Mattis arrived in Pakistan, seeking to convince Islamabad to get onboard with the Trump administration's "Afghanistan strategy." In a speech in August, President Donald Trump slammed Pakistan for "sheltering terrorists" and threatened to reduce the aid to the country if it continues to "harbor criminals and terrorists." While Islamabad has repeatedly rejected such accusations, on Monday Mattis once again called on Pakistan to do more to fight jihadists.
"The Secretary reiterated that Pakistan must redouble its efforts to confront militants and terrorists operating within the country," the Pentagon said in a statement after Mattis met with a number of Pakistani officials, including Prime Minister Shahid Khaqan Abbasi and Defense Minister Khuram Dastgir.
This is Mattis's first trip to Pakistan as Defense Secretary. The majority of his meetings on Monday focused on Pakistan's fight against extremism and mutual points of interests where Washington can find common ground for cooperation with Islamabad.
Mattis is the second senior US official, after Secretary of State Rex Tillerson, to have visited the country in recent months as the US revamps its counter-terrorism strategy in the region. Pakistan enjoys certain privileges as one of 16 nations that Washington introduced to a "Non-NATO Major Allies" club. As a member of this group, Pakistan receives billions of dollars in aid and access to US military technology. Pakistan may, however, potentially lose such privileges if it diverges from the US course.
READ MORE: US wants Pakistan military force in Afghanistan but won't pay the cost – former intelligence chief
On Monday, the government in Islamabad reiterated that it does not protect or harbor extremists, less than a week after the Pentagon accused the country of doing almost nothing to fight the Afghan Taliban, including the Haqqani Network.
"The prime minister reiterated that there are no safe havens in Pakistan and the entire nation was committed to its resolve on eradicating terrorism once and for all in all its forms and manifestations," the Pakistani government said in a statement.
Prime Minister Abbasi also noted that no other country "benefits more" from stability in Afghanistan than Pakistan. He stressed that both the US and Pakistan have "common stakes in securing peace and security in Afghanistan for the long term stability of the broader region."
Chief of Army Staff General Qamar Javed Bajwa told Mattis that the Pakistani military and security forces "have eliminated safe havens from Pakistan's soil," but added that the Pakistanis are "prepared to look into the possibility of miscreants exploiting Pakistan's hospitality to the Afghan refugees to the detriment of our Afghan brothers."
Statements made by Pakistani officials contradict the assessment voiced by the commander of US and international forces in Afghanistan, who last week accused the Taliban fighters of "living in comfort outside of the country with plenty of drug money."
Gen. John Nicholson told reporters Tuesday that the US has not seen Pakistan implement any changes, despite being pressured by Trump to do so.
"We are hoping to work together with the Pakistanis going forward to eliminate terrorists who are crossing the Durand Line," Nicholson said. "The offensive operations against sanctuaries would be in other areas that we've identified with the Pakistani leadership on a number of occasions."
READ MORE: No troop pullout, threats to Pakistan in Trump speech on new Afghanistan strategy (VIDEO)
Reassurance voiced by the Pakistani officials comes just days after Mike Pompeo, director of the Central Intelligence Agency (CIA) explained that the US "will do everything it can to ensure they don't exist anymore."
"In the absence of the Pakistanis achieving that, we are going to do everything we can to make sure that that safe haven no longer exists," Pompeo said, according to the Voice of America.
Speaking at Reagan National Defense Forum in Simi, California, on Saturday, Pompeo noted that Mattis would cordially ask Pakistan to yield to US demands. Mattis did just that, after recognizing "Pakistan's sacrifices in the war against terrorism," and the country's "vital role" in facilitating peace in the region.
You can share this story on social media: