Islamabad summons US envoy, calls emergency meetings after Trump's 'no more' tweet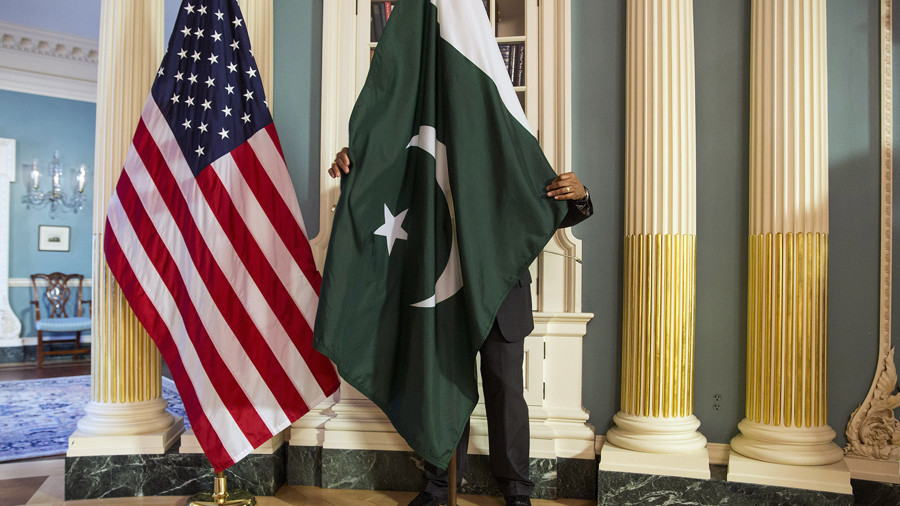 Islamabad called an emergency cabinet meeting to establish the "difference between facts and fiction," and summoned the US ambassador after Trump targeted Pakistan in his first tweet in 2018, accusing it of "lies and deceit."
The Pakistani government, led by Prime Minister Shahid Khaqan Abbasi, is set to convene the emergency meeting shortly after US President Donald Trump said in a tweet that Pakistan had provided "nothing but lies and deceit" in return for vast amount of financial aid from Washington over the past 15 years.
READ MORE: 'Trump's support will not be welcomed by Iranian protesters'
In the tweet, Trump said the US "has foolishly given Pakistan more than 33 billion dollars in aid over the last 15 years, and they have given us nothing but lies & deceit, thinking of our leaders as fools." The government in Islamabad gives "safe haven to the terrorists we hunt in Afghanistan, with little help," the US president stated, adding: "No more!"
Apart from the emergency cabinet meeting, there will also be a parliamentary meeting to craft a joint strategy over the issue, Pakistan Today reported, citing sources familiar with the matter.
Pakistan's army leadership is also set to meet soon, as the National Security Committee convenes an emergency meeting to be attended by top military officials, as well as high-ranked civil officials, according to the newspaper.
Meanwhile, Foreign Minister Khawaja Asif took to Twitter to fire back at Trump's outburst, saying that Pakistan would soon respond. "We will reveal the truth to the entire world. We will separate fact from fiction," he wrote.
Speaking to local media, he accused the US of aiding and abetting terrorists that were making incursions into Pakistan. "US forces based in Afghanistan also overlooked safe havens of the banned Tehreek-e-Taliban Pakistan (TTP) which has killed thousands of Pakistanis," he told a private TV channel, referring to a Taliban-affiliated militant group based in Pakistan's volatile region bordering Afghanistan, as cited by the newspaper.
On Tuesday, Pakistan also summoned US Ambassador David Hale, the Deccan Herald reported, citing an embassy spokesman who confirmed that the diplomat had visited the Foreign Ministry but offered no details, adding: "We don't have any comment on the substance of the meeting."
After the 9/11 attacks, Washington forged a strategic alliance with Islamabad to help its fight against the Taliban and Al-Qaeda militants. Pakistan also enjoys certain privileges as one of 16 US 'Non-NATO Major Allies.'
However, relations between Washington and Islamabad began to sour after Trump took office. Last August, he unveiled the US strategy for Afghanistan and South Asia, which slammed Pakistan for "sheltering terrorists" and threatened to reduce aid to the country if it continues to "harbor criminals and terrorists."
At that time, Washington also decided to withhold $255 million in military assistance until Pakistan did more to combat terrorism. Islamabad responded to the move, saying it did not need the US aid.
Islamabad also dismissed US accusations of turning a blind eye to Islamist insurgency and lambasted Washington for neglecting civilians who have been killed on its soil because of American drone strikes.