No fresh start? Trump lashes out at Pakistan, Iran in his first 2018 tweets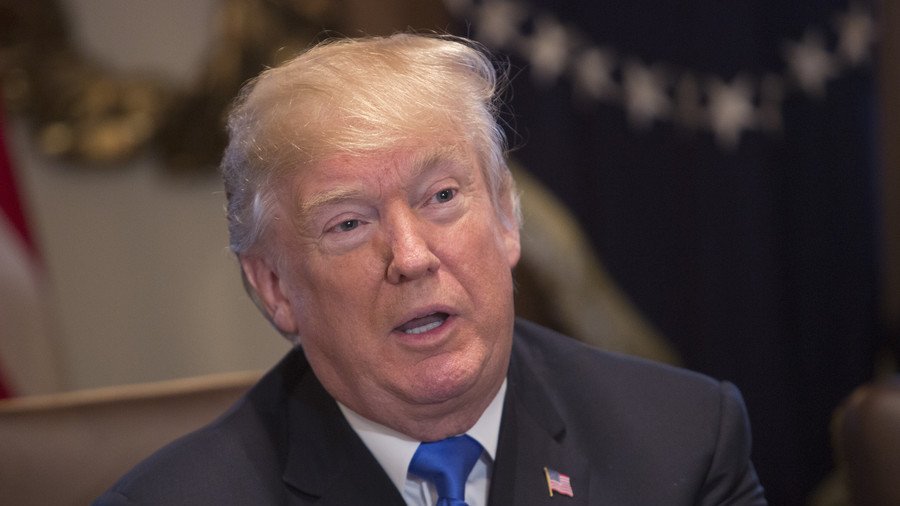 US President Donald Trump apparently decided not to start the New Year with a clean slate, opting to re-ignite old disputes instead. In his first 2018 tweets, the US leader hit out at Iran and Pakistan.
Islamabad was the first to attract the anger of the US leader, as Trump accused it of giving the US "nothing but lies & deceit" in exchange for billions of dollars worth of aid. The president also accused Pakistan of providing safe haven to terrorists that the US is fighting in neighboring Afghanistan.
The United States has foolishly given Pakistan more than 33 billion dollars in aid over the last 15 years, and they have given us nothing but lies & deceit, thinking of our leaders as fools. They give safe haven to the terrorists we hunt in Afghanistan, with little help. No more!

— Donald J. Trump (@realDonaldTrump) January 1, 2018
Pakistan enjoys certain privileges, including financial aid and access to military technologies, as one of 16 nations that the US designated as 'Non-NATO Major Allies.' According to the US media, it has received $33 billion in aid since 2002. However, relations between Washington and Islamabad soured in 2016.
In an August speech in which he unveiled the US strategy for Afghanistan and South Asia, Trump slammed Pakistan for "sheltering terrorists" and threatened to reduce aid to the country if it continues to "harbor criminals and terrorists." At that time, the US also decided to withhold $255 million in military assistance until Pakistan did more to combat terrorism.
Islamabad responded to Trump's tweet by saying it does not need the US aid, and by denouncing Washington's financial assistance as "paltry." "We do not need any financial assistance from the United States. We do not care about it. If America wants to stop it, we will loudly say go ahead," Pakistani Foreign Ministry spokesman Muhammad Faisal said, as cited by the local daily The Nation. He added that, if the US withheld its aid from the Coalition Support Fund, it would "hardly make any difference."

Islamabad also dismissed US accusations that it harbors terrorist and is doing too little to fight extremists. Pakistani Prime Minister Shahid Khaqan Abbasi, as well as high-ranking military officials, repeatedly stated that "there are no safe havens in Pakistan and the entire nation was committed to its resolve on eradicating terrorism."
Minutes after lashing out at Pakistan, Trump turned to Iran, saying that the Islamic Republic "is failing at every level." He also took the opportunity to once again hit out at the 2015 agreement on the Iranian nuclear program, which he called a "terrible deal."
Iran is failing at every level despite the terrible deal made with them by the Obama Administration. The great Iranian people have been repressed for many years. They are hungry for food & for freedom. Along with human rights, the wealth of Iran is being looted. TIME FOR CHANGE!

— Donald J. Trump (@realDonaldTrump) January 1, 2018
He also commented on the ongoing massive protests that engulf Iran, saying that Iranians "are hungry… for freedom" and "it is time for change." He already made a series of similar comments just a day earlier, which provoked an angry reaction in Tehran.
At that time, President Hassan Rouhani slammed Trump for his comments, saying that those who call Iranians terrorists have absolutely no moral right to pose as defenders of their rights. On January 1, Rouhani said that the protests in the Islamic Republic were partially a result of foreign interference by forces seeking to destabilize Iran.
"The enemies of the Islamic Republic of Iran are angry with the glory, success, and the progress of the Iranian nation and they have vowed to get the regional troubles into Iran, but, sure, the people and officials of the Islamic Republic of Iran will respond to them," he said, as cited by Mehr news agency. At the same time, he noted that "the people on the streets are not those commanded by foreigners" and the developments of the recent days are "a threat which has to be converted into an opportunity" by finding out the "deep causes" of the existing problems.
Iran has been gripped by nationwide protests since December 28, both anti- and pro-government. According to local media, at least 10 people have been killed. Over 400 people have reportedly been arrested following the protests, AFP reports.
You can share this story on social media: