'Nuclear alien UFO from N. Korea!' 5 times rocket launches triggered UFO frenzy (VIDEOS)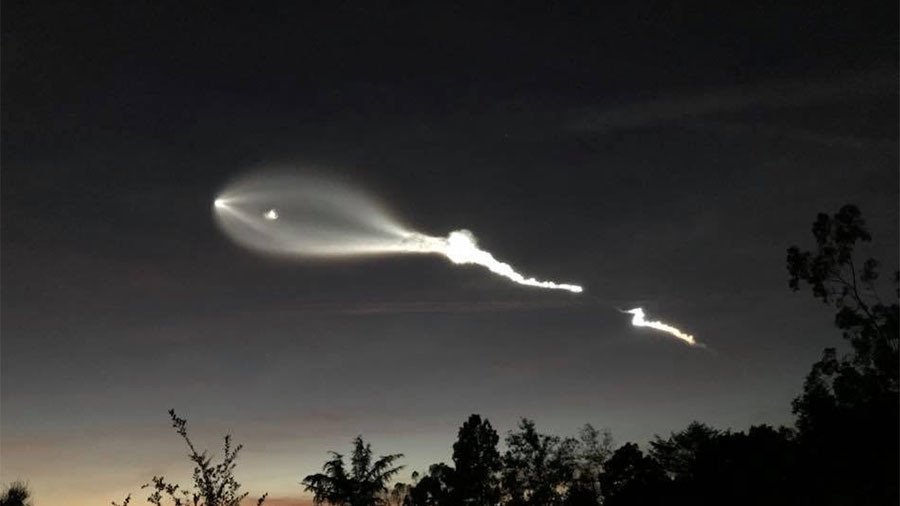 Space X's rocket launch caused a social media frenzy Friday night as it left an unusually shaped plume in its wake, sparking claims of UFO sightings – a feverish reaction that has become commonplace in the space age.
As the stunning sight lit up the sky and social media, even SpaceX founder and CEO Elon Musk joined in on the hype, suggesting his rocket launch was a "Nuclear alien UFO from North Korea." RT takes a look at five other times that the world freaked out, crying "aliens" in the aftermath of rocket launches.
READ MORE: SpaceX launch stirs alien UFO fears in California, Arizona (VIDEOS)
Atlas V launch, 2015
The Atlas V launch from Cape Canaveral in Florida in September 2015 produced a similar elongated shaped white plume, amplifying UFO hysteria. Some onlookers reported the bright trail as an unexplained flying object with the alien hunting community quick to claim it as proof of extraterrestrial life.
Falcon 9 launch, 2013
A Falcon 9 launch was previously the subject of UFO hype in 2013. Space X's first launch from California, triggered reports of UFO sightings as far afield as Mauritius.
Video from the Indian Ocean island nation showed a glowing orb illuminating the dark sky. A South African astronomer dismissed the extraterrestrial reports, explaining the orb was created by fuel released by the rocket's second stage.
Russian military rocket tests, 2017
Siberians were left stunned last October when a giant glowing ball was spotted looming over several locations in the vast Russian province. Images of the astonishing sight were posted across social media with many using the #UFO hashtag.
The phenomenon was caused by the test launch of Russia's Topol-M rocket from the Plesetsk Cosmodrome in the north-west of Russia, aimed at the Kura testing range in the Far East.
Space shuttle Endeavour launch, 2011
Space shuttle Endeavour blasted off on its final mission in May 2011, but years later, eagle eyed alien hunters became convinced all was not as it seemed.
Just last month, UFO Today pointed out that as the space shuttle's extra fuel tank falls back towards Earth, a mysterious white object glides past. The publication suggested the sighting could be the White Knight Satellite – an alien conspiracy referring to a spacecraft orbiting Earth.
Terrier Improved Malemute rocket launch, 2017
A NASA Terrier-Improved Malemute sounding rocket was successfully launched in June, testing a new multi-canister ejection system for deploying vapors in ionosphere or aurora sounding rocket missions.
The launch from Nasa's Wallops Flight Facility in Virginia resulted in a burst of colorful clouds creating a kaleidoscopic wonder, leaving a trail of mystified onlookers from New York to North Carolina.
You can share this story on social media: