Plane scatters mail packages on snowy Russian airfield & other delivery disasters (VIDEOS)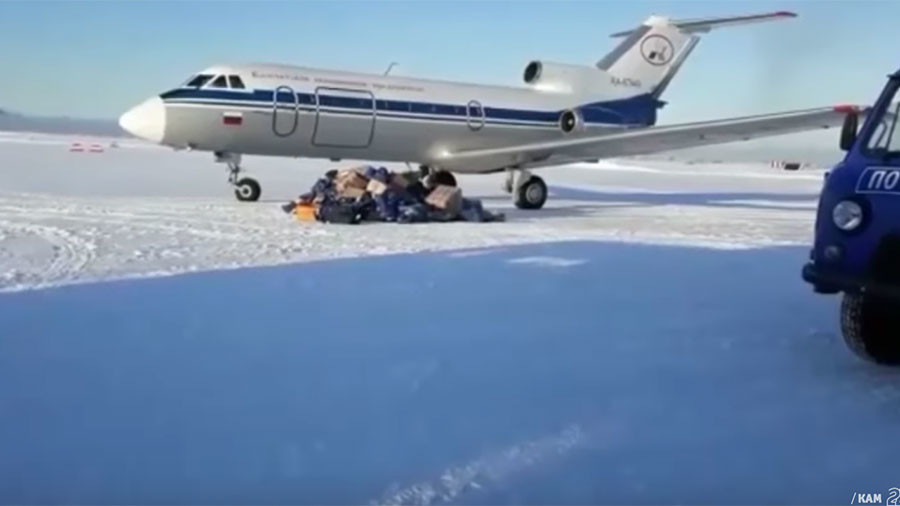 A video of Russian Post packages, piled on a snowy airfield and being scattered by a plane's jet stream, has emerged online, adding to the Post's notoriety for outrageously mishandling packages.
A large heap of mail, apparently just unloaded from a plane, can be seen on the runway of a snow-covered local airport in Kamchatka. A jet then starts moving nearby with its engines kicking into gear, scattering the packages in all directions and landing in the snow. While workers are heard swearing, a man's voice behind the camera comments: "That's the Russian Post."
"Your parcel is already flying to you," a user commented online. "They should have opened the doors of the postal van, then the packages would have flown right into it," quipped another.
"Why are you complaining, they'll just kick it back into a pile in a moment," another comment read – which they just might do.
Russian Post doesn't exactly boast a stellar record for delivering packages safely and on time, with a series of online videos documenting the Post workers' negligence.
READ MORE: Horse-riding Russian postwoman becomes face of AliExpress in China (PHOTOS)
A video showing packages being thrown from a moving train onto a snow-covered platform, without even stopping at the station, gives credence to the claims of Russian Post being negligent. Whether the operator was running late or just couldn't care less, remains unclear.
Russian Post released a statement following the Kamchatka airfield incident, saying all the packages had been collected undamaged, according to Russian media. The Post blamed the incident on airport workers and the pilot, who, it said, launched the plane before making sure all cargo was removed from the field.