'Drugs & arms trafficking not as profitable': Bitcoin miners tell RT why they bet on crypto profits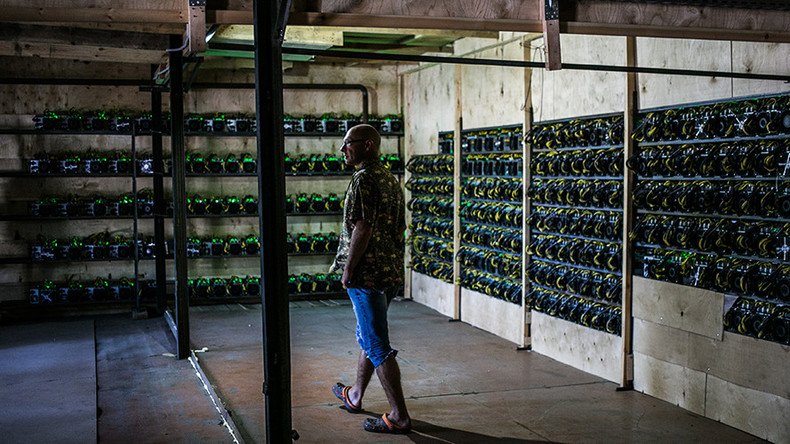 A businessman from Siberia's Bitcoin "mining capital" says he regrets not starting earlier, as it saved him from a "terrible crisis." Others say they gained "freedom," as well as profits. RT explores the rising popularity of cryptocurrency mining in Russia.
With every day the cryptocurrencies, with Bitcoin and Ethereum (ether) being most popular of them, are gaining momentum. You may either trade these currencies or just "mine" them – give your hardware and power to maintain the cryptocurrency system and take a certain amount of digital currency in exchange. The more operations the hardware does, the more money your get.
Many Russians do not go around like a horse in a mill, as many people across the country rushed to join the mining business. In the wake of the ether boom, Russians were sweeping clean electronics stores, where people tried to buy mining hardware – graphics processing units (GPU) – necessary to mine Ethereum and other cryptocurrencies.
Some choose to trade as well as mine, despite the risks involved.
"I began in April and now, before the [Bitcoin] fall, I had $3,000 on the account," said 72-year-old Valeriya Klyoz. An agricultural engineer by training and a former businesswoman, she made around $1,200 by betting on cryptocurrency.
"A year ago, it was a complete mystery to me," she said, laughing. As all her family is in the business and her granddaughter hosts news shows on the topic, she was willing to find out what is all about.
"Why not try it too, it's so interesting. I have never gambled on the stock exchange," Valeriya told RT.
She asked her son to buy the necessary equipment to mine Bitcoin, the so-called miner (which is basically a powerful hardware called ASIC) and she began enjoying the process. Now she reads all the news about it and follows the exchange rates. Even on vacation the woman could not help checking it, as Bitcoin was rapidly rising. She even thought to take out her miner in case it suddenly fell.
Valeriya said that her friends are also interested in the topic, but not everybody is ready for it yet or "to lose some money."
"I think they'll be ready for it. They are curious how much I have in my [electronic] purse and count my earnings."
Also, she noted that not everybody has enough money to start, as she spent 130,000 rubles (more than $2,200) to buy the hardware. But the investment has paid off and even gave profits.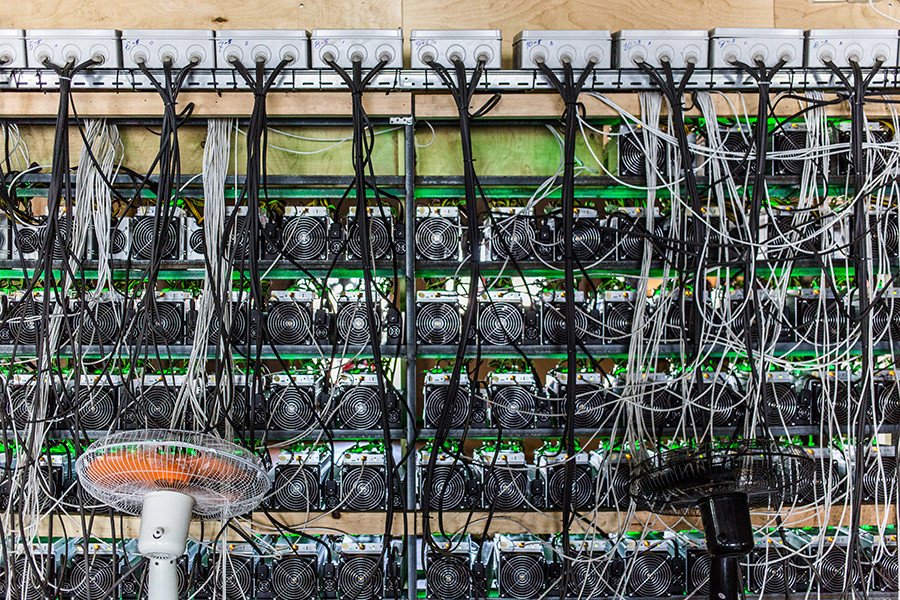 READ MORE: North Korea suspected of hacking into bitcoin exchanges to get around sanctions
Although the technology may seem difficult, cryptocurrencies have gathered a rather heterogeneous audience, comprised of people of different ages, aims and ways of life.
"[The mining 'target audience' is large]: from schoolchildren to pensioners, but the most active core audience is from 20 to 50 years old. Currently, the economic situation is far from good, and it's a real means of earning one's living very well, even on the European level I'd say," said Valentina's son, Ilya, a miner from the Siberian city of Irkutsk.
"Our pensioners come to their grandchildren, and give them gadgets for mining as presents. They hold competitions among their grandchildren who will earn most Bitcoins! Essentially, pensioners get their grandkids hooked on mining!"
Cryptokids mine up for the future
While some universities are introducing cryptocurrency technology courses, some sharp-minded Russian kids have already explored this world and started to earn money, even when their parents are suspicious about it.
RT spoke to one of those young businessmen, a 15-year-old schoolboy from Moscow. He has been fond of mining since this summer and chose Bitcoin for himself.
While it was just a hobby at the beginning, Dmitry wants to continue after graduation. "Although cryptocurrency mining has high profitability, big income requires big investments," he said.
"I believe that mining technologies are very promising. An increasing number of people get involved in this, get new skills and improving old practices."
The teen noted that many people are still skeptical of mining and nobody from his close circle is involved in it. Even his parents are not excited about it. "Although I have vividly described to them the mining process and the opportunities of mining, they feel suspicious about it. That's why I have to do this alone," Dmitry said.
Some Russian kids have already taken part in a quiz on the technology in Moscow. Many officials came to the event and joined the quiz panel, including Herman Gref, CEO of Russia's Sberbank.
The participants later shared their experience with Russian media. They have just looked up the necessary information in the Internet and decided to take their chance. Some of them have already made a small fortune.
"I invested 1,000 rubles ($17) in February. Seven months have passed, and now I have 127,000 ($2,200) in cryptocurrency equivalent," said 16-year-old Yaroslav, from the Russian city of Voronezh.
However, he is also alone in this interest, as his friends and parents are reluctant to use it.
"I wanted to hook up my friends on it, but no, nobody wants it. They're just lazy," he said. "My father is afraid that I'm trading some cryptocurrencies, he thinks that it is illegal and that a juvenile offender lives at home."
'Nobody can steal your money'
"As I was told, even drug and arms trafficking don't give such profitability," Russian businessman and Bitcoin miner Yuriy Dromashko joked, speaking to RT.
He is also from the Siberian city of Irkutsk, which has sometimes called the Russian mining capital. The city has some huge advantages making mining business more profitable – cheap energy and a cold climate. Dromashko started mining Bitcoin around one year ago as "the terrible crisis did not let me live" and regrets he had not done it earlier.
"This currency will take the place comparable to the mass capitalization of the dollar and the euro. It means that it will be a very meaningful financial tool," Dromashko told RT.
The businessman believes that Bitcoin's price will only rise, as Russian authorities as well as other countries are talking about it and adopting laws to give it legal status.
"If it wasn't worth it, [Russian President] Vladimir Putin wouldn't talk about it, laws wouldn't be adopted at the state level by such countries as Japan and Russia," Dromashko said. Japan was a pioneer in legalizing cryptocurrencies, as it recognized Bitcoin as a legal payment method in April.
Meanwhile, Russia has not still given legal status to cryptocurrencies, despite some companies attempting to take payments.While the government is set to discuss the issue, President Putin has paid great attention to the rapidly growing industry and met with the founder of the second largest cryptocurrency, Ethereum (ether), Russian-born Vitalik Buterin, in June. Putin "supported the idea of establishing ties with possible Russian partners" as Buterin described possible opportunities, according to the Kremlin.
READ MORE: Kremlin considers crypto-ruble & use of blockchain in public service
The government will "definitely feel the threat from cryptocurrencies, but simultaneously will feel the profits," Dromashko believes, adding that Russians are involved in many cryptocurrency projects and the country has cheap electricity. The state can also have taxes from those involved in this business when it properly regulates the sphere.
However, Russian officials are split over the cryptocurrency issue. The Central Bank wants tougher regulation, and its chief, Elvira Nabiulina, has described cryptocurrencies as "financial pyramids" and warned of its danger as their anonymity allows to use them for illegal actions and terrorism.
Russia's former finance minister, Aleksey Kudrin, who currently heads an influential think tank, compared the currencies with a casino,where you can both win and lose.
Meanwhile, the Russia's Sberbank CEO Herman Gref has warned that it is necessary to be careful with cryptocurrency regulation, so as not to "stifle" the perspective technology.
Russian miners are apparently optimistic on the cryptocurrencies' future in the world and in Russia in particular.
"Things turned to legalization [of cryptocurrencies in Russia], after countries like Japan, South Korea and Vietnam started to legalize Bitcoin. Taking into account Herman Gref's attitude to Bitcoin, one shouldn't worry. Also, Putin's meeting with [the co-founder of Blockchain and Ethereum cryptocurrency] Vitalik Buterin is also significant," Ilya Klyoz told RT.
"We also welcome imposing taxes [on Bitcoin operations], nothing bad about that. Those who mine in their basements will continue to do so, and no one will ever catch them."
READ MORE: Bitcoin crashes as Beijing orders cryptocurrency exchange shutdown
Even if Russia follows China's path and cracks down on the technology or fully bans it, the miners are not going to give up.
"If they ban it in Russia, it will be possible to legally obtain or use your money in another country," a 28-year old IT specialist from Moscow, who preferred to remain anonymous, told RT.
"This is the advantage of cryptocurrency, if you observe elementary precautionary measures, nobody can take away and steal your money. Cryptocurrency erases boundaries and gives the freedom that public authorities of a country steal from us from time to time."
You can share this story on social media: