Death penalty calls spell end of current EU-Turkey relations – German FM
Published time: 3 Aug, 2017 18:17
Edited time: 3 Aug, 2017 18:20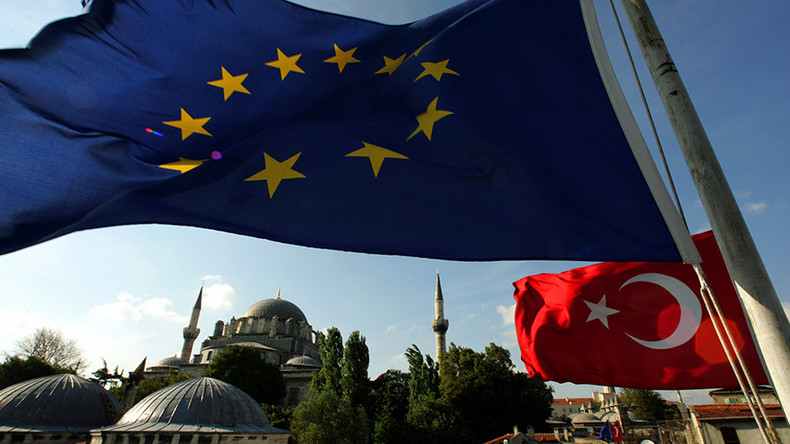 Claims of the possible reinstatement of capital punishment in Turkey signal an end to the existing relations between Ankara and Europe, German Foreign Minister Sigmar Gabriel said.
"The core problem is that Turkey is distant from democracy," Gabriel said in an interview with Stern magazine, adding that "innocent people are imprisoned there."
The minister noted the crackdown on the media and shakeup in the police and judicial system in Turkey, which followed the failed coup attempt last summer.
In April, the Turkish people supported the switch from a parliamentary to presidential system in a controversial referendum, vastly expanding the powers of leader Recep Tayyip Erdogan.
Following the victory, Erdogan frequently spoke of staging another vote on the return of the death penalty in Turkey, which he said is needed to punish the coup plotters and restore order.
"Repeated statements on reinstating the death penalty are the end of the existing relations between Europe and Turkey. It's quite obvious," Gabriel stressed.
Turkey has been seeking to join the EU for years, but the accession talks were frozen last year amid a sharp deterioration of relations between Ankara and Brussels.
Following the arrest of German human rights activist Peter Steudtner in mid-July, Gabriel warned that Berlin will reevaluate its economic policy and investment programs regarding Ankara.
The tension between the two countries began after Germany provided asylum to Turkish officers, whom Ankara suspected of participating in the 2016 coup.
READ MORE: Turks spew vitriol at Eurowings amid reports 'fearful' German pilot refused flight to Ankara
Erdogan blasted the German authorities as "Nazis" after several cities and towns forbade Ankara from staging rallies for Turks living in Germany in support of the April constitutional referendum.
Ankara has also blocked German MPs from visiting Bundeswehr bases on its territory, which resulted in a June decision to relocate German troops from Incirlik base in Turkey to nearby Jordan.
READ MORE: Germany wants EU commission to suspend Turkey trade talks – report
A draft paper obtained by Reuters earlier this week revealed German calls to suspend negotiations on updating the EU-Turkey Customs Union deal and apply more financial pressure on Ankara.