Turks spew vitriol at Eurowings amid reports 'fearful' German pilot refused flight to Ankara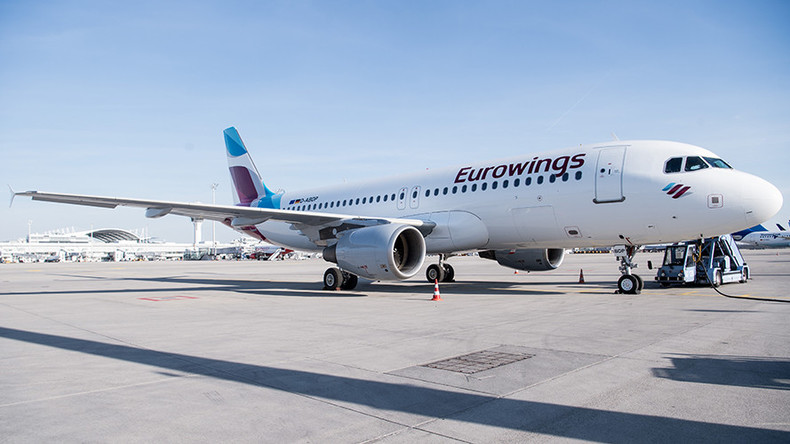 Social media users lashed out at Eurowings after reports alleged that one of its pilots refused to fly to Ankara out of fear for his life, forcing the German carrier to cancel the flight. It comes just days after Germany updated its travel advice for Turkey.
Ankara-bound Eurowings flight 4U 2904 was scheduled to depart from Stuttgart last Saturday, Die Welt reports. However, the low-cost carrier unexpectedly canceled the evening flight, offering no alternative for passengers waiting at the gate.
Some of the passengers asserted the flight's cancellation had to do with its destination.
A Turkish passenger by the name of Ilhami Dede posted on Facebook that the pilot did not feel ill, but simply refused to fly to Ankara due to safety concerns.
"The reason was such – the pilot was afraid of flying to Turkey, he suddenly decided not to fly to Ankara!" he wrote.
"There is understandably heated discussion with the airline, and the police had to intervene," he added, posting a photo showing what appeared to be a check-in counter near a gate.
"We will not book your flights from now on since we are afraid that one of your pilots has depression again and causes the plane to crash," the passenger wrote, referring to Germanwings flight 9525 which crashed in March 2015, after the pilot intentionally slammed the plane into the French Alps.
Andreas Lubitz, the co-pilot on the ill-fated Germanwings flight, waited until the aircraft reached cruising altitude and the captain left the cockpit before locking the door and initiating a deliberate descent that continued until the plane rammed into a mountainside, killing all 144 passengers and six crew members on board.
READ MORE: Germanwings crash pilot was 'not depressive,' father claims (VIDEO)
Another passenger on the Ankara-bound flight reportedly told ARD-Factfinder that staff at the counter explained in Turkish and German that the pilot did not want to go to Turkey "on political reasons," as he would not feel safe there out of fear for his life.
Eurowings wrote in a brief tweet that "the flight has been canceled due to a temporary illness of a crew member." The airline reimbursed passengers' tickets and apologized to those affected.
Flug 4U2904 von Stuttgart nach Ankara musste wegen einer kurzfristigen Krankmeldung eines Crewmitglieds annulliert werden. ➡️

— Eurowings (@eurowings) July 24, 2017
The low-cost carrier, which is a subsidiary of Lufthansa, later told WAZ news outlet that "passengers had the option of getting their costs reimbursed. We apologize for the inconvenience."
The news sparked outrage among Turkish social media users.
A man by the name of Martin Lejeune wrote that passengers were told by ground staff that the pilot claimed "he won't be safe in Turkey." The man included a photo of a written invoice from Eurowings confirming the Ankara flight had been canceled.
Commenting on Lejeune's post, some on social media accused the German airline of "fascism" and being "descendants of Adolf Hitler." Others wondered "how many enemies we have."
"The pilot confused Turkey with Iraq or Syria. What an idiot!" another social media user wrote.
Others, however, questioned the reliability of the reports. "If it's true, what are you talking about? Poor Germany, you're not even going to laugh," one person wrote.
READ MORE: 'It takes 2 to tango': Germany threatens Turkey with major policy overhaul
The story occurred several days after German Foreign Minister Sigmar Gabriel stated that "German citizens are no longer safe from arbitrary arrests in Turkey," citing the examples of detained human rights activist Peter Steudtner and Die Welt reporter Deniz Yucel.
The Foreign Ministry later updated its travel advice for Turkey, urging German visitors to "exercise elevated caution" and register with Germany's consulate, even for short stays.