Germany wants EU commission to suspend Turkey trade talks – report
Published time: 1 Aug, 2017 15:31
Edited time: 2 Aug, 2017 08:10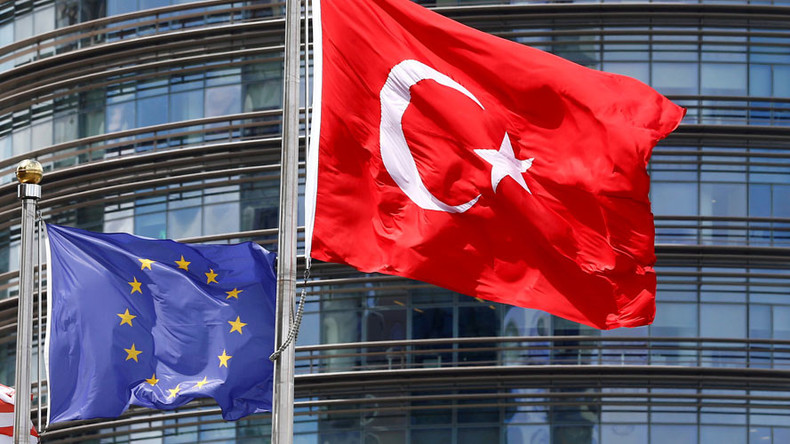 Germany wants the European Commission to suspend negotiations to update the EU-Turkey Customs Union, claiming that continuing the process would send the "wrong signal," according to a draft paper obtained by Reuters.
The paper, seen by the news agency on Monday, also states that Berlin would like to see additional measures implemented by Brussels to raise financial pressure on Turkey.
The document states that Turkey's pre-accession assistance (IPA) should be targeted "even more towards supporting democracy and the rule of law," given recent developments in the country.
It notes that Berlin expects the European Commission to "shift funding away from Turkey in a way that is meaningful compared to the overall funding Turkey receives under the IPA schemes."
IPA is aimed at supporting Turkey's EU accession process and underlying reforms. For the 2014-2020 period, €4.45 billion (US$5.25 billion) has been allocated, of which €186 million has been paid out, the European Court of Auditors reported in May.
Germany's desire to suspend Customs Union negotiations comes after Turkish President Recep Tayyip Erdogan demanded the agreement be updated in October 2015, in response to the refugee deal between Ankara and the bloc. The existing trade agreement was signed in 1995.
Ankara hopes the negotiations will pave the way for Turkey to export agricultural, dairy and industrial products to the EU without customs restrictions.
Berlin's suggestions for the European Commission come amid simmering tensions between Germany and Turkey, including the arrest of a German human rights activist last month. Ankara charged the man with "supporting a terrorist organization," despite Berlin stating that he had merely traveled to Turkey to speak at a local human rights workshop.
The arrest prompted German Foreign Minister Sigmar Gabriel to issue a travel warning for citizens, saying that "German citizens in Turkey are no longer safe from arbitrary arrest."
Relations between the two nations took a major turn following the botched military coup of 2016, when Ankara accused Berlin of harboring alleged supporters of US-based cleric Fethullah Gulen, who Ankara believes was the mastermind behind the coup attempt. Gulen denies those accusations.
Turkey was also angered when Berlin provided asylum to Turkish officers allegedly linked to the coup, according to Tagesspiegel.
In March, the German government was among those who infuriated Erdogan, after several states refused to host rallies in support of Turkey's constitutional referendum which eventually granted the leader sweeping powers.
He was angered once again this summer, when he was denied permission to stage a rally on the sidelines of the G20 summit in Hamburg.
In mid-July, Ankara withdrew permission granted to German lawmakers to check on troops stationed at a NATO base in Konya, in Turkey's southwest. Ankara cited the poor state of German-Turkish relations as the reason.
Turkey also previously blocked access to German MPs at NATO's base in Incirlik, which was once home to some 300 Bundeswehr soldiers and several reconnaissance jets. The move prompted Berlin to authorize the withdrawal of troops and equipment from Turkey in June, opting to relocate them to Jordan.