Turkey withdraws list of German firms 'suspected of terrorism' - Berlin
Published time: 24 Jul, 2017 16:04
Edited time: 25 Jul, 2017 08:42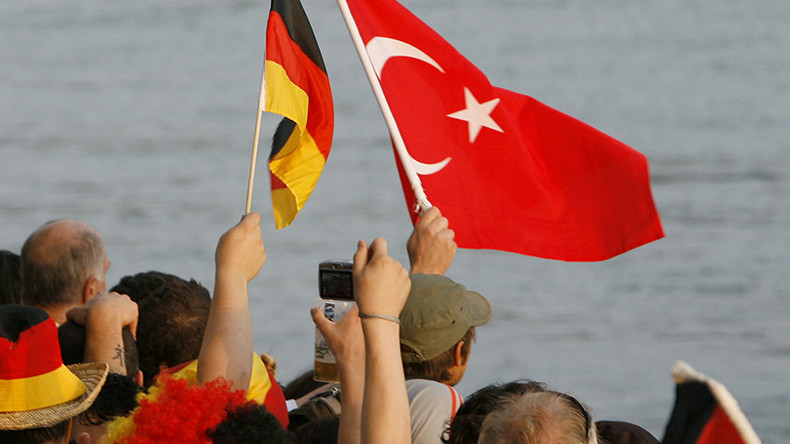 Ankara has withdrawn a request which asked Berlin for information on nearly 700 German firms suspected of backing terrorism, a German interior ministry spokesman said. Turkey said the request was submitted due to a "communications problem."
Turkey's interior minister told his German counterpart during a Monday telephone call that Ankara's submission of the list in May, via Interpol, had stemmed from a "communications problem," German Interior Ministry spokesman Tobias Plate said.
"(The interior minister) underscored that there were no investigations against German firms by Turkish authorities in Turkey or in Germany," Plate said, as quoted by Reuters.
Reports on the "black list" emerged last week. Turkish President Recep Tayyip Erdogan dismissed those reports.
"I strongly condemn Germany's statements," Erdogan said in Istanbul on Friday.
"There is no investigation about any German company, it's all lies. German friends, I want to remind the whole world, you cannot besmear Turkey. You can never scare us with such things," Erdogan said, calling on Germany to "pull itself together."
It comes amid increased tensions between Berlin and Ankara, after Turkey jailed German human rights activist Peter Steudtner on Thursday.
Ankara charged him with supporting a "terrorist organization," although German Foreign Minister Sigmar Gabriel stated that Steudtner merely went to Turkey to speak at a local human rights workshop, and had no contacts among the opposition or Turkish nationals.
One day after Steudtner's arrest, German Foreign Minister Sigmar Gabriel wrote in an open letter that it is not possible for Berlin to "remain without a response" when "innocent German citizens are arrested."
He went on to state that Germany's policies towards Turkey will be changing as a result.
"We will re-examine our cooperation and especially the economic aid to Turkey," says the letter, which was published by Bild in both German and Turkish.
Berlin has condemned the arrest of Steudtner and demanded his release.
Following the arrest, Germany also warned its citizens traveling to Turkey to exercise caution, and threatened to withhold backing for German investments in the country.
Relations between the two countries have been simmering for some time.
After the botched military coup of 2016, Ankara accused Berlin of harboring alleged supporters of US-based cleric Fethullah Gulen, who Ankara believes was the mastermind behind the coup attempt. Gulen denies those accusations.
Ankara was also angered when Berlin provided asylum to Turkish officers allegedly linked to the coup.
Earlier this month, Ankara withdrew permission granted to German lawmakers to check on troops stationed at a NATO base in Konya, in Turkey's southwest. Ankara cited the poor state of German-Turkish relations as the cause.
Turkey also previously blocked access for German MPs to NATO's air base at Incirlik, which was once home to some 300 Bundeswehr soldiers and several reconnaissance jets. Berlin ultimately authorized troop withdrawal in June, relocating its troops and equipment to Jordan.