S. Korea, US in talks to resume THAAD units deployment after Pyongyang missile launch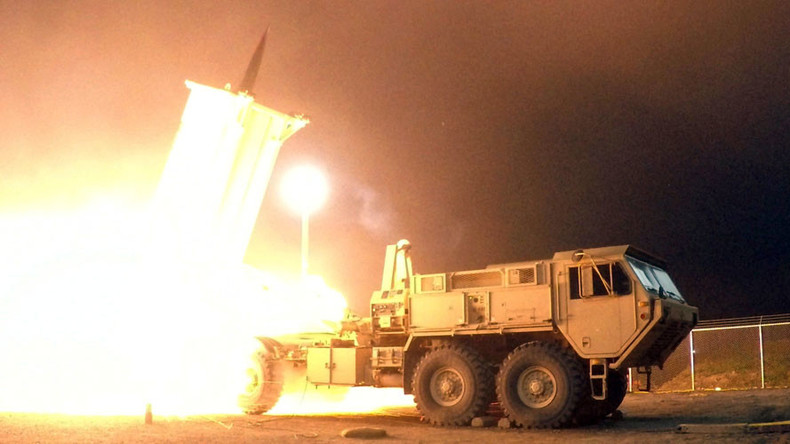 Seoul has begun talks with the US to resume the deployment of Terminal High Altitude Area Defense (THAAD) units, according to South Korea's Defense Ministry. It comes days after Pyongyang launched a missile which Washington and Seoul believe was an ICBM.
"As for the deployment of six (THAAD) launchers, South Korea and the US will make a decision after consultations," Ministry of National Defense spokesman Moon Sang-gyun said during a Monday press briefing, as quoted by Yonhap news agency.
"Such discussion is currently going on, but further consultations are needed for the specific issues of when and how," he added.
It comes after North Korea's Friday test launch of a missile which Seoul and Washington believe was an intercontinental ballistic missile (ICBM).
South Korean President Moon Jae-in ordered that four remaining interception missile launchers be "temporarily" deployed while environmental assessments continue to take place.
That order reversed a previous decision to stall the deployment of the remaining launchers, after concerns were raised about their environmental impact. Two THAAD launchers are already operational at a new United States Forces Korea (USFK) base in Seongji, some 300km (186 miles) southeast of Seoul.
"Full-swing discussions with the US will also start soon for the deployment of additional launchers," Moon said.
While Seoul and Washington continue to aggressively respond to North Korean missile launches, Russia's Defense Ministry said its tracking of the Friday launch showed that it was not an ICBM, but rather a "medium-range ballistic missile."
On Saturday, Russian Deputy Foreign Minister Sergey Ryabkov said Pyongyang was "years and years away" from obtaining a viable nuclear device.
Russia and China have long voiced their opposition to deploying the THAAD missile defense system in South Korea, with Moscow saying it would merely serve as an "additional destabilizing factor for the region." Beijing considers the system a threat to its own security, and also maintains it will not contribute to the easing of tensions with Pyongyang.
The US and Seoul have maintained that the system – which is designed to intercept short, medium, and intermediate-range ballistic missiles during their terminal flight phase – is purely for defense purposes and poses no threat to China.
Meanwhile, Washington appears to have no intention of changing its rhetoric against North Korea, with Vice President Mike Pence stating on Sunday that "all options are on the table" when it comes to countering the threat posed by Pyongyang.
"The era of strategic patience is over. The president of the United States is leading a coalition of nations to bring pressure to bear until that time that North Korea will permanently abandon its nuclear and ballistic missile program," Pence said.
The US ambassador to the United Nations echoed Pence's words on Sunday, saying"the time for talk is over" when it comes to North Korea.
The comments came after the US flew two B-1B bombers over the Korean Peninsula on Sunday, in a show of force following the Friday missile launch.
You can share this story on social media: