US 'successfully' tests THAAD by launching ballistic missile over Pacific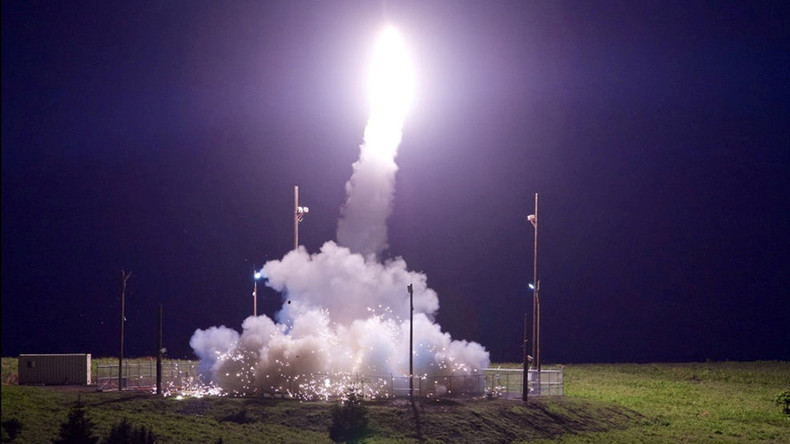 The US military has successfully tested the Terminal High Altitude Area Defense (THAAD) system over the Pacific Ocean, the country's Missile Defense Agency (MDA) chief said in a statement.
"The U.S. Missile Defense Agency and U.S. Army soldiers of the 11th Air Defense Artillery Brigade from Fort Bliss, Texas, conducted a successful missile defense test today using the Terminal High Altitude Area Defense (THAAD) system," the statement reads, as cited by NBC.
"A medium-range target ballistic missile (MRBM) was air-launched by a U.S. Air Force C-17 over the Pacific Ocean," the announcement says further, adding that part of the THAAD system stationed in Alaska pinpointed and intercepted the target.
The 'Flight Experiment THAAD' test was aimed at gathering "threat data from a THAAD interceptor in flight," according to the US military.
READ MORE: North Korea missile launch was ICBM – Pentagon, S. Korea military
The launch also allowed necessary data to be collected to "enhance the THAAD weapon system" and ensured the "ability to stay ahead of the evolving threat," Greaves is quoted as saying.
The THAAD test was conducted just two days after North Korea fired an intercontinental ballistic missile (ICBM). Following the launch, the US and South Korean militaries responded by firing surface-to-surface missiles amid increasing tensions on the peninsula.
Earlier this month, the THAAD system for the first time shot down an IRBM target launched from the Pacific Spaceport Complex in Kodiak, Alaska.
South Korea wants to deploy four additional THAAD launchers after the North's latest test, causing serious concern in Beijing. China opposes the positioning of the system, considering it a security threat and urging for a peaceful solution to the Korean crisis to be found.
The THAAD system deployment, which started April, was previously delayed after South Korean President Moon Jae-in ordered an environmental probe.