Baghdad seeking 'substantial' Russian military & political presence in Iraq – vice-president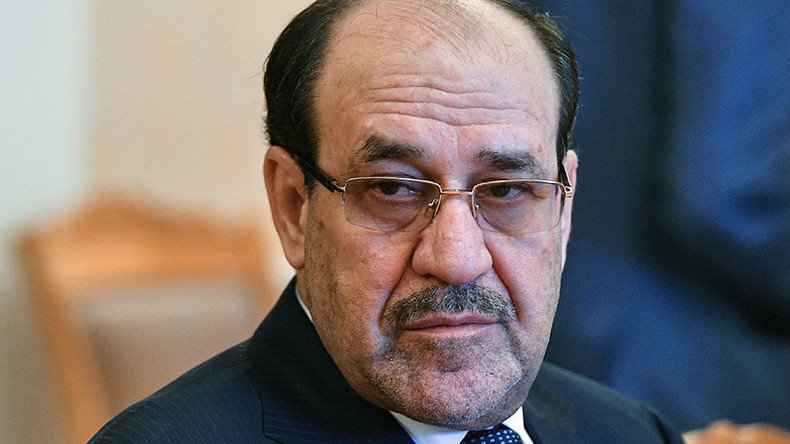 Russian military and political presence in Iraq would bring balance to the whole Middle Eastern and North African region, Nouri al-Maliki, the Iraqi vice-president, said during his visit to Moscow.
"It's well known that Russia has historically strong relations with Iraq, therefore we would like Russia to have a substantial presence in our country, both politically and militarily," al-Maliki said during his meeting with the speaker of Russia's upper house of parliament, Valentina Matviyenko.
"This way, a balance would be established that would benefit the region, its peoples and its countries," he added.
The vice president said that Baghdad wants to boost relations with Moscow as it believes "in Russia's role in solving most of the key international issues as well as improving stability and balance in our region and worldwide."
Matviyenko, in turn, praised the commitment of the current Iraqi authorities to widening their cooperation with Moscow.
"Russia is also determined to expand its interaction with Iraq both politically and economically as well as in the military-technical sphere, and, of course, on the parliamentary level," she said.
In his talks with Russia's Foreign Minister, Sergey Lavrov, earlier Monday, al-Maliki stressed that a Russian presence in Iraq would bring the balance which couldn't be "undermined in a political sense in favor of any external party."
"Today we need Russia's greater involvement in Iraqi affairs, especially in the energy field. Now when we are done with Islamic State (IS, formerly ISIS/ISIL), Iraq needs investments in energy and trade," he said.
Earlier in July, the Iraqi authorities announced that the last IS stronghold in the country, Mosul, had been fully liberated from the terrorists, following an eight-months-long campaign backed by the US-led coalition.
Al-Maliki told Lavrov that Moscow and Baghdad "should enhance… cooperation in countering terrorism in the region."

"We believe that both our countries are targets for terrorists and those who stand behind them," al-Maliki said.
READ MORE: 'The liberation of Mosul has come at an incredibly high cost' - Human Rights Watch
Moscow supports the efforts of the Iraqi authorities to "normalize the situation in the country, first of all aiming at eradicating the terrorist threat," Lavrov said.
It's vital that Baghdad's struggle isn't carried out in isolation, but is carried on in the context of international efforts to eradicate the terrorist threat across the globe, including in Iraq, Syria, Libya, Yemen and other countries, the Russian FM added.
READ MORE: Iraqi PM congratulates military on 'victory' over ISIS in Mosul
Al-Maliki is also travelling to St. Petersburg, where he's expected to meet with Russian President Vladimir Putin on Tuesday.
You can share this story on social media: