'The liberation of Mosul has come at an incredibly high cost' - Human Rights Watch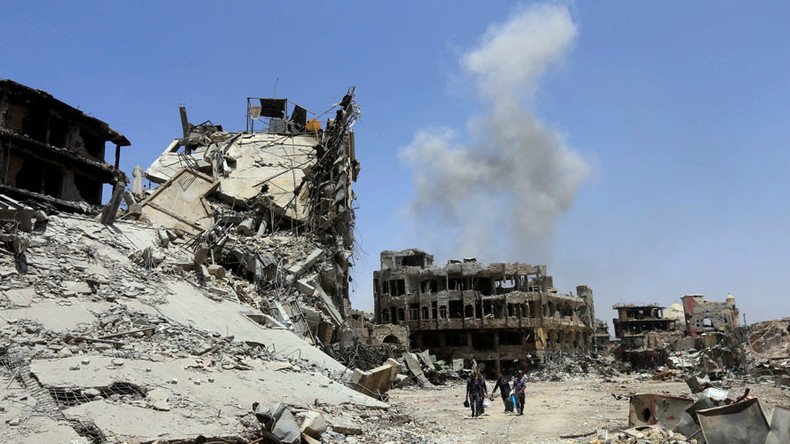 The Human Rights Watch report called for the coalition to take more care in conducting its bombing campaign, particularly with regards to the types and size of bombs it is dropping, explains the organization's senior Iraq researcher Belkis Wille.
The Iraqi Prime Minister Haider al-Abadi traveled to the city of Mosul to declare victory over ISIS on Sunday. After the terror group's former stronghold had been recaptured celebrations sprang up nationwide to mark the victory.
The Iraqi military, along with US support, started the campaign to liberate Mosul from ISIS terrorists in October 2016.
Since then, human rights groups such as Human Rights Watch and Amnesty International have raised grave concerns about the civilian casualties being caused by coalition forces.
RT: Could you tell us more about the operation? What are the consequences of it?
Belkis Wille: The operation to retake Mosul, particularly the west of the city that has been raging since February, has come at an incredibly high cost. We've seen much of the west of the city destroyed by ground fire and by airstrikes, and we saw a mass spike in civilian casualties – thousands of civilians being wounded and killed in the fighting. The city has paid the price for this operation.
RT: Could you tell us about the recent joint HRW and Amnesty International reports?
BW: Human Rights Watch [HRW] and Amnesty International issued a joint report only about a month ago. In that report, we were calling particularly on the US-led coalition to take more care in the way it is conducting its bombing campaign, and particularly the types and size of bombs that it is choosing to drop. Because of those big bombs that are being dropped more and more frequently, we've seen a massive increase in civilian casualties on the ground.
RT: What is the general feeling among the coalition and the Iraqi government?
BW: Unfortunately, the general feeling among the coalition and the Iraqi government is that because the momentum to finish the operation has been on their side, they have wanted to use all means to get it done as quickly as possible. As a result we haven't seen them willing to, for example, take certain types of weapons completely off the table so as to better protect civilians.
RT: What is being done now to improve the situation in Mosul? What are the main difficulties?
BW: The humanitarian community is trying to very quickly jump-start reconstruction efforts in Mosul. This includes making sure that there is water, electricity, marketplaces, medical facilities. But what we're talking about is a big part of the city that is completely flattened to the ground. That destruction will take months if not years to rebuild, and at a very, very high cost. Until then, many of the civilians in Mosul, who have now been displaced to camps are going to have to remain in those camps because they have no homes to go to.
RT: What was the costs the operation? Apparently, the death toll is very high…
BW: This operation has displaced over 700,000 civilians, who are from Mosul, who had to leave because of the fighting. Some have been able to return, many though have not yet been able to return, and because of the level of destruction, it will take much longer for them to be able to go home. In terms of the number that have been killed or wounded by this operation, nobody really knows what that number is, because if you were wounded as a civilian living on the side of ISIS, or killed in an airstrike on your home and ended up in the rubble, nobody has been able to count those deaths. So we really don't know what the civilian toll has been to this operation.
Hala Jaber, International Organization for Migration in Iraq
RT: What about internally displaced persons [IDPs]? Is the Iraqi government interested in returning them back to normal conditions? Have there been any successful attempts to do that?
Hala Jaber: No I don't think anybody has in mind, in particular, the Iraqi government, for the IDPs to remain internally displaced for the rest of their lives. Iraq is a rich country in its own right, and Mosul is an important city. Between the government and the people of Mosul and with the help of donor countries, there is no reason why they will not start repairing and reintroducing services and the rebuilding process [in Mosul.] There are examples, if you want, of areas that were liberated a few months ago earlier on in East Mosul, or toward the end of last year – some of them were liberated earlier this year. If you go to these neighborhoods now, you would not recognize the difference between two-three months ago and now. Services have been provided – electricity. There are shops reopening, people returning. Mosul itself is an old city with a lot of the buildings also that are very, very old and historic, so it was easier for them to collapse or become damaged. How much of the archeology itself can be repaired, that is another story. But obviously, like any other country that has been at war, there will be attempts to rebuild the city.
RT: How long do you think it will take time to rebuild the city?
HJ: I don't think anybody has a timescale exactly as to how long it will take. This is a war that has been going on for nine months with a lot of weapons being used. ISIS has destroyed a lot, as did the airstrikes and the military battles. There is no magic wand; the city will not be rebuilt in 24 hours. Whatever time it takes as in other countries in the world, or other cities in the world that have endured a war situation, things usually take time. There will be serious attempts here probably to rebuild it.
The statements, views and opinions expressed in this column are solely those of the author and do not necessarily represent those of RT.
You can share this story on social media: