US contributed to ISIS creation, now tries to claim victory over it – Iraqi VP talks tough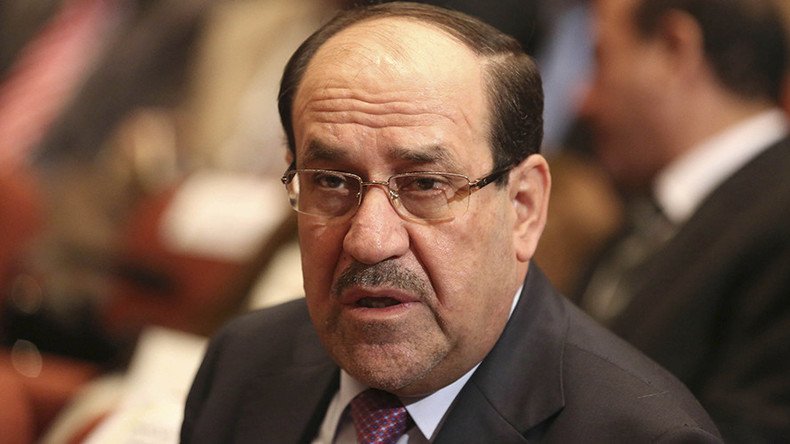 The recapture of Mosul is an achievement of the Iraqi people while the US is trying to highjack it and claims it was them who "led that war," Iraq's Vice President Nouri al-Maliki has told the RIA Novosti news agency.
"Yes, they supported us with aviation, but the main credit goes to the Iraqi soldiers, people's militia, Iraqi air force," al-Maliki stated in his interview with the Russian news agency.
He added that he "regrets and denies [Americans] claiming the victory [in Mosul] is their achievement."
"In reality, this is the victory of the Iraqi army," al-Maliki said, revealing that the victory came a high cost, with some 20,000 Iraqi soldiers and police officers having been either killed or wounded.
The Iraqi military did everything possible "not to destroy the city more than it was necessary in the circumstances of war," he said, adding, that as a result, the battle for Mosul lasted for nine months.
"We could have surrounded the city, but then its residents would have suffered from famine."
There were some 5,000 terrorists in Iraq, with between 2,000 and 3,000 of them having been killed. Others are still hiding or have fled with the refugees, according to the Iraqi vice-president.
"The victory is yet not final," the top Iraqi official said, explaining that there are "still small terrorist hubs in the city," as well as terrorist "sleeper cells" across the country.
READ MORE: General blasts activists who claim Mosul retaken from ISIS with excessive force
"There are sleeper cells in Baghdad, from time to time they take action and perform bombings... That's not worrying in a military sense. Islamic State [IS, formerly ISIS/ISIL] is unable to advance or capture territories, they will not be able to hold the occupied regions, but from the security point of view there are still sleeper cells and lone wolves, used by IS," al-Maliki said.
While the US has provided support to the Iraqi army and allied forces, it has contributed to the emergence of IS in the first place, al-Maliki claimed, adding that Washington now seeks to establish military bases on Iraqi territory in order to maintain influence in the region.
"IS resembles the Taliban which was created by the US administration to counter the USSR in Afghanistan. The same way, IS was created to counter the Iraqi stance, which did not agree to blockade Syria, was against no-fly zones in Syria and against American military bases," he stated.
"The Iraqi society is against foreign military bases on the country's territory," al-Maliki told RIA, adding that he has already warned the Americans against "coming back to Iraq and setting up bases here."
You can share this story on social media: