General blasts activists who claim Mosul retaken from ISIS with excessive force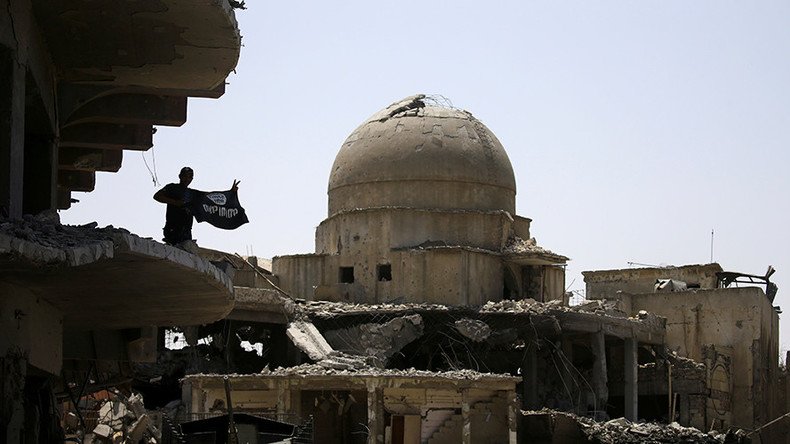 A senior British general has slammed Amnesty International's claims alleging that coalition and local forces used "excessive force" to retake the Iraqi city of Mosul from Islamic State (IS, formerly ISIS/ISIL).
General Rupert Smith was blunt in his condemnation of a report from human rights group Amnesty International that lamented the high civilian casualties and argued that disproportionate force had been employed.
"It strikes me as being written by people who simply have no understanding of the brutality of warfare. But we should be absolutely clear who were deliberately killing civilians," Jones told the Telegraph.
"It wasn't the government of Iraq, it wasn't the coalition, it was ISIS – everybody should be entirely clear what they were doing with the civilians. It went way beyond human shields: they were out and out murdering civilians left, right and center," he said.
British civilian casualty monitor Air Wars estimates that over 5,000 people may have been killed in the assault, and Iraqi authorities think 4,000 could still be buried under rubble.
The Iraqi army, which does not publish casualty figures, may have lost thousands of troops in what has been described as the most critical urban warfare battle since World War II.
Jones also defended the conduct of the Iraqi troops, telling the paper: "The Iraqi security forces have put the safety of civilians as the absolute centerpiece of the liberation of the city over the last nine months – that is beyond question.
"Does that mean there have been no violations? No, of course there have, but whenever those are presented to the government of Iraq, they are taken very, very seriously."
Amnesty has called for a full inquiry into the tactics used, saying they fell short of the required standards for an assault on a heavily populated city.
Large parts of Mosul, including the historic Old City, were leveled during the siege.
You can share this story on social media: