Failure-port: In Berlin's unfinished air hub, only half the doors work & sprinklers still a problem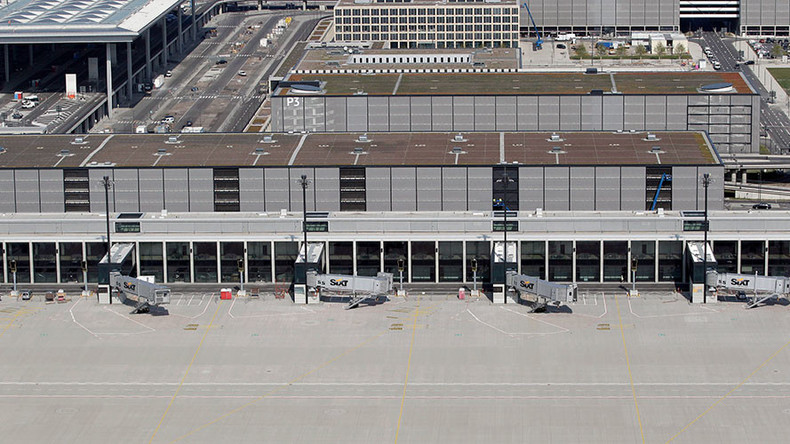 Germany's seemingly unending construction project, Berlin's troubled international airport in Brandenburg, faces yet another delay as the airport's head says that the construction will not be finished in 2017 due to problems with safety regulations.
The modification of the currently malfunctioning sprinkler systems, problems with which were identified in December 2016, would be completed no sooner than by early 2018 on the most optimistic estimate, Engelbert Luetke Daldrup, the chief executive of the infamous Berlin-Brandenburg airport (BER), told the Berlin regional parliament on Wednesday.
Luetke Daldrup added that creation of a special 3D model of the airport is necessary to work out a detailed plan of the modification of some 78,000 fire extinguisher cartridges scattered across the airport building. He also said that the computer modeling phase is expected to be finished by late September.
The director also refused to say anything specific concerning the end of the airport construction. "I will make a statement on deadlines in the building construction schedule in due [course]," he said in response to questions concerning this issue.
However, Luetke Daldrup also had an opportunity to brag about a small victory in the airport's 11-year long struggle with various misfortunes, as the automatic doors, problems with which were also identified in December 2016, are "no longer causing problems" for construction efforts.
READ MORE: Berlin airport gobbles $16 million a month, no opening in sight
Currently, 51 percent of the airport doors are fully functional and the problems with the rest will be "fully resolved by autumn," the airport boss said, as reported by Germany's Tagesspiegel daily. He also added that he is determined to bring the construction to a "successful end."
The airport is a laughing stock for many Germans, who say their taxpayers' euros was spent on a project plagued with technical hurdles and alterations. It was initially supposed to open in 2012, but later estimates placed the opening date in late 2017.
It was intended to provide Berlin with a new modern transport hub and to replace two smaller airports located in the Berlin suburb of Tegel and the neighboring town of Schoenefeld.
Now, it is five years behind schedule and several times over its initial budget. In 2015, some politicians mockingly suggested that the airport building should be demolished and a new one built from scratch.
BER may not be able to serve its intended purpose yet, but at least its humiliating history of delays made it a sort of tourist attraction. Two-hour tours to the facility branded a "ghost airport" by the German media let the curious visit the much-awaited facility.