Tear down those walls: Overdue Brandenburg airport may be demolished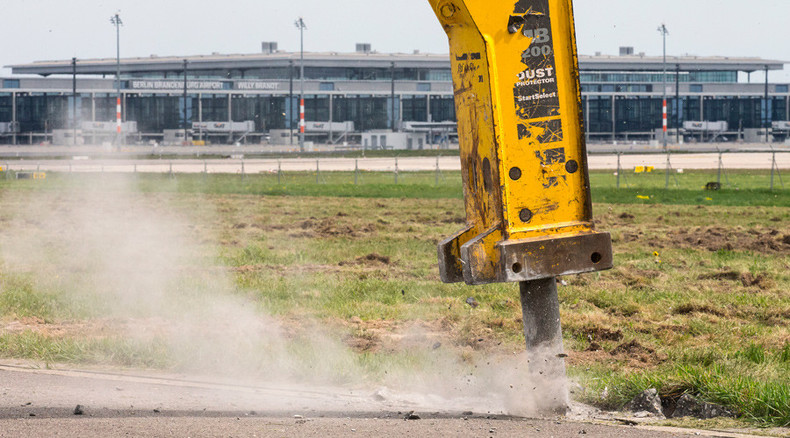 Berlin's troubled international airport in Brandenburg faces yet another delay, as some 600 walls proved to be noncompliant with fire safety regulations. Some politicians say demolishing the building and starting from scratch is a good option.
The BER airport is already three years behind schedule and three times over initial budget, and it faces yet another delay, director Karsten Mühlenfeld told a meeting of the Brandenburg parliament on Monday.
"We have found a large number of walls which are defined as fire safety walls, but have not been built in such a way," the airport boss said as cited by Tagesspiegel.
The airport is a laughing stock for Germans, who say their taxpayer money was spent on a project plagued with technical hurdles and alterations. It was supposed to open in 2012, but not optimistic estimates place the date in late 2017.
Responding to the news, a group of ruling Christian Democratic Union members mockingly suggested that the terminal building should be demolished and a new one built from scratch. Mühlenfeld called the notion "nonsense."
It comes just days after workers were told to stay out of the terminal, after an inspection revealed that the load on roof sections had been exceeded and were in danger of collapsing. This was caused by industrial fans mounted on the roof for the terminal's smoke removal system.
Originally, architects wanted smoke to be evacuated through underground tunnels because they didn't want funnels to spoil the streamlined shape of the building, but the scheme was deemed unworkable. Huge fans weighting two tons each were added to fix the problem.
The fix, however, had a hidden flaw, as at least three sections of the roof received a bigger load than they could safely bear, including one twice over the limit.
"If such a device crashed down, it has the impact of a bomb," the former planner of the smoke extraction system, Alfredo di Mauro, told the German newspaper Berliner Zeitung.
Mühlenfeld told MPs that the struts supporting the ventilators would be provisionally reinforced before a more permanent solution could be found.
BER may not be able to serve its intended purpose, but at least its humiliating history of delays made it a sort of tourist attraction. In 2007, two-hour tours to the facility branded a "ghost airport" by the German media began. Since then more than a million people have visited it, paying about $15 for the privilege.