Berlin airport gobbles $16 million a month, no opening in sight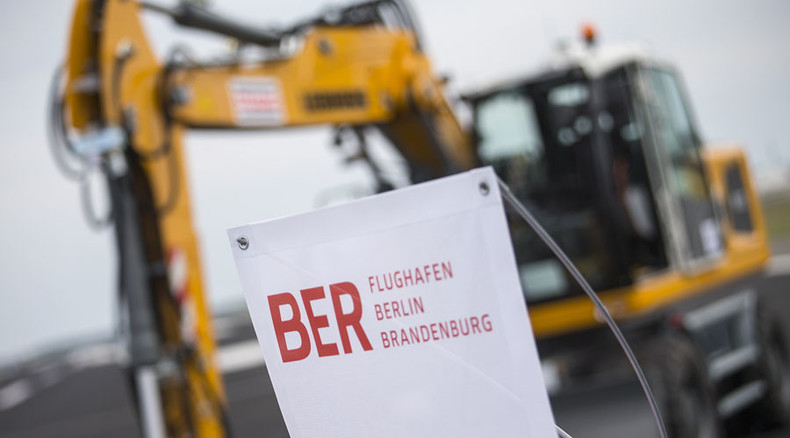 German media has dubbed Berlin's $6.8 billion Brandenburg Airport "the building site of horror." It's costing $16 million a month and no end is in sight. Construction errors and poor management have led to several failed deadlines.
Originally, the airport was scheduled to open in 2010, but the launch of the double-decker Airbus A380 resulted in a decision to enlarge the airport.
During construction, engineers and architects were ordered to redesign the airport, which necessitated rebuilding walls, exits, emergency lights, ventilation systems, windows, elevators, and staircases.
In 2009, controllers urged the then CEO of the Flughafen Berlin Brandenburg company, Rainer Schwarz, to halt construction for six months to give contractors and architect a chance to coordinate their efforts. But their calls went unheeded.
The site increased from 200,000 to 350,000 square meters. Works were divided between seven contractors and hundreds of subcontractors.
READ MORE: No passengers, no planes: 'Ghost' airports of Europe
One of the major complications in the process was organizing adequate fire protection.
The engineering team was led by Siemens and Bosch. They introduced a system, which involved 3,000 fire doors, 65,000 sprinklers, thousands of smoke detectors, a labyrinth of smoke evacuation ducts, and almost 100 kilometers of cables.
However, live tests revealed glaring failures in the system, with malfunctioning alarms, misplaced wiring and hazardous smoke ducts.
Failures to meet deadlines resulted in massive finger-pointing.
"Our part, the detection of hot air or smoke is functioning. The responsibility for the dysfunction lies with somebody else," Thilo Resenhoeft, a Bosch spokesman, said.
Siemens spokesman Oliver Santen confirmed the company was originally in charge of building the "automated fire protection facility" and "the control unit for fresh-air circulation."
READ MORE: Berlin airport hired fake engineer to design fire system
Facing this and trying to meet the looming opening deadline, CEO Rainer Schwarz downplayed the plight of the facility, saying the situation was under control. He set up a special commission to ensure the airport would open on time.
In March 2012, the group came up with a stopgap solution: 800 low-paid workers with cell phones would stand across the terminal, and if anyone smelled smoke or saw a fire, he would alert the airport fire station and direct passengers toward the exits.
The plan was branded "idiotic" by Martin Delius, a physicist and member of Berlin's parliament, who carried out an extensive probe of the facility's infrastructure.
"They thought this would at least eliminate the need for wiring because [the spotters] could see with their own eyes if there is a mass of smoke lower than 6 feet above the ground," he told Bloomberg.
In April 2012, media headlines were heralding the airport's imminent opening. A glitzy, red-carpet inauguration featuring Angela Merkel was planned.
However, commissioners denied the facility a license after hearing about "human fire detectors."
As a result, Schwarz was dismissed as CEO and replaced by Hartmut Mehdorn, ex-CEO of Deutsche Bann and Air Berlin.
Several deadlines have been set and canceled for the airport opening, and now it is scheduled to see its first passengers no earlier than 2018-2019. The costs of construction have tripled since its start in 2008.
You can share this story on social media: