ISIS tried to recruit refugees from Danish migration center – report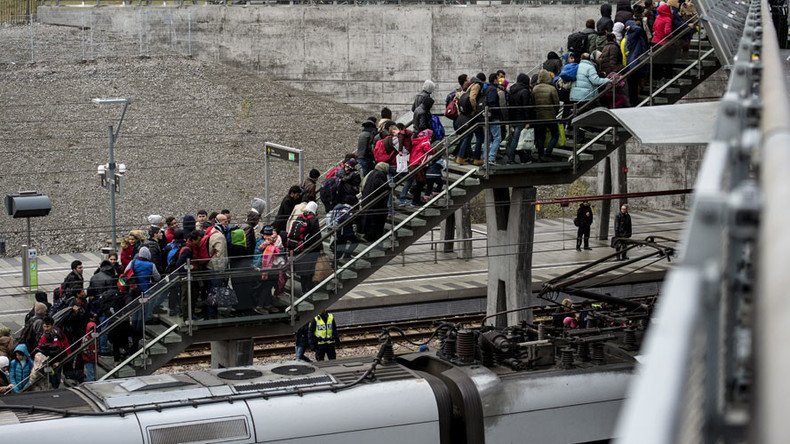 A member of the Islamic State terrorist group is alleged to have made a daring visit to a remote Danish refugee center in the hope of finding new recruits for the jihadist extremists, according to a report obtained by a Danish TV station.
READ MORE: Risk of 'lone wolf' terror attacks increasing – EU police agency
According to broadcaster DR, the Danish Red Cross reported the incident to the Danish Immigration Service. The episode is said to have taken place in April at the Slottet asylum center, which is located on the remote island of Bornholm in the Baltic Sea.
The Red Cross says that some of the 234 residents at the center told the shelter's management that they had been approached by a man who claimed to be a representative of Islamic State (IS, formerly ISIS/ISIL). Their claims were deemed to be credible by those who run the center.
The refugee center accommodates people from 13 different countries, including a number of asylum seekers from areas affected by IS.
The Red Cross has not yet replied to RT's request for comment on the report.
READ MORE: Bavarian police confirm incident, 'not explosion' near migrant center
Some 21,000 refugees entered Denmark in 2015 and local authorities expect the same number to apply for asylum in 2016. The number of migrants arriving in Denmark has, in fact, nearly tripled compared to three years ago. The country lays on the route between the two most popular destinations for refugees in Europe – Germany and Sweden. In the wake of migrant influx, Danish officials have tried to make the state less attractive for the newcomers by cutting social benefits for refugees by 45%.
Meanwhile, Islamic State is being increasingly linked to attacks committed by migrants in Europe.
In Germany, a knife- and axe-wielding refugee believed to be from Afghanistan or Pakistan injured five people in a train near the city of Wurzburg on July 17. IS then released a video, allegedly showing the perpetrator claiming "I am a soldier of the caliphate and I am going to carry out a suicide attack in Germany."
READ MORE: Terrorized state: The week of attacks that shocked Germany (PHOTOS)
An Islamist video was also found in the phone of a Syrian refugee who carried out a suicide bomb attack in the German city of Ansbach last week, killing nine. Investigators said the man had "pledged allegiance" to IS in the footage.
One of Paris attackers that killed 130 people last November had apparently made his way into Europe with a Syrian passport pretending to be a refugee. IS claimed responsibility for the assault as well.
READ MORE: 'European leaders in denial over religiously motivated violence' (OP-ED)
You can share this story on social media: