'European leaders in denial over religiously motivated violence'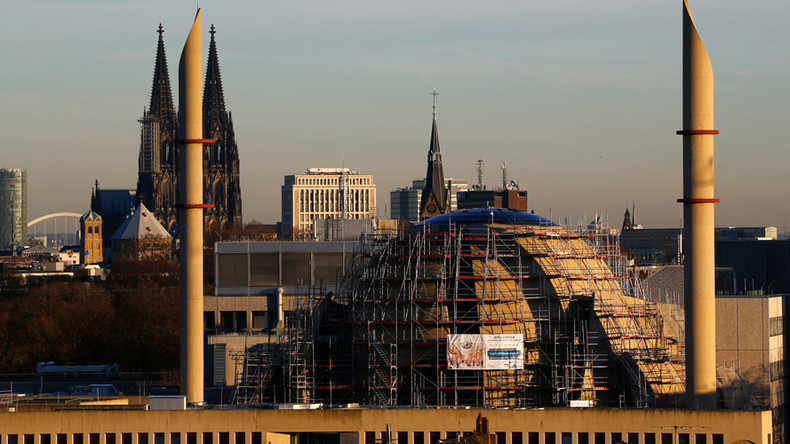 The biggest problem in Europe is the de-Christianization. We have this loss of faith and we have not been able to identify that this is a spiritual problem, says journalist Iben Thranholm. Political commentator, Mo Ansar, shares a differing point of view.
Europe seems to be waking to the new reality that acts of terrorism can be expected at any time with the tactics used by the terrorists evolving.
Yesterday, a church in Normandy, France was attacked by two jihadists; one of them was on the terror watch list and was wearing a surveillance tag; 19-year-old Adel Kermiche was known to police for twice trying to join the terror group in Syria.
Read more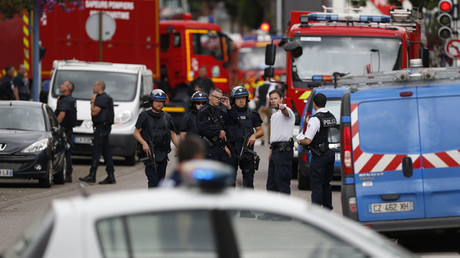 RT: Acts of terror have become tragically commonplace in Europe. But do you think this assault on a church has crossed a new line?
Iben Thranholm: Let me start by saying as a practicing Catholic, I am very concerned about the situation and I am really deeply affected by this. I knew this would come to Europe sooner or later because when you look at the extreme brutal methods that ISIS has used against Christians where they are controlling the caliphate in Syria and Iraq it was evident that they would start doing the same thing in Europe. And now it is here.
I think it is extremely alarming and I think it is even more alarming that our political leaders are in a kind of denial. They do not want to acknowledge that there is this religiously motivated violence going on, and I think that is really the problem. And we heard President Hollande says this is not a religious war, this is what they want us to believe or to start even. And I think that is a huge problem that neither the church nor political leaders in Europe want to identify this evil as a spiritual battle because it is not only a political battle. It is also spiritual battle. And nobody here wants to talk about that. And that is even more alarming. If we can't identify the enemy, we cannot fight it either.
RT: One of the Rouen killers, Adele Kermiche, was twice arrested while trying to cross into Syria, to join Islamic State (IS, formerly ISIS/ISIL). Why was he not in jail? Who should be blame for that?
IT: I think there is a problem that we are far too naïve in Europe. We think if we just continue a sort of dialogue and we try to help Muslims getting a job and education, everything will be alright. It comes back to what I said before, we have not been able to identify that this is a spiritual problem. I think the biggest problem here in Europe is the de-Christianization. We have this loss of faith because it means that we don't even understand that people today are spiritual beings and they can be motivated by their faith. Every time that there is a terror attack which is happening here in Europe, you hear commentators and politicians try and explain that this was a kind of psychologically disturbed person or it was a criminal, but none of them suggest this person was driven by his belief in God that tells him to go and kill other people, infidels like we saw.
The West does not want to acknowledge this because for some reason, they don't want to face a religious war, but it is a religious war. And the sooner the better we acknowledge that we will be able to fight it more effectively. And that is the problem. France is a secular country, and they really state this. And the problem is that they have lost even faith in their own values. This is a war of values. And nobody wants to talk about it. If you listen to the news shows in Europe, nobody is addressing this, and I think it is really a deep problem because without that we will see much more of these attacks.
'This isn't just about religion'
RT: In the past we've seen attacks targeting bars, restaurants, theaters, a lot of social gathering areas. This time it was particularly religious. Do you think this is going to hit the public in a different way?
Mo Ansar, political commentator: All key world leaders have condemned this attack as a heinous and horrific barbaric attack. As do I and as do many other people. I think the most important thing that we see now is that communities are trying to find a way forward. The Archbishop of Rouen, who I think is in Krakow at a summit for Catholic leaders, had asked for people and young people in particular not to give up hope, to be apostles for love and a civilization of love, which I think is important. I think that the nature of the attack, the barbarity, the fact that they attacked an 84-year-old man who had been serving his community peacefully for a common good, for faithfulness for over 60 years is a key sign of the level of barbarity and inhumanity that these people show. I think this will have a profound effect. I think the important thing it should unite communities, not divide them.
After the Nice attacks, Francois Hollande came out very clearly and said: "All of France is under attack from Islamic terrorism." He didn't say extremism. At least, Marine Le Pen said Islamist extremism… People are not making a distinction between extremists who are not following Islam, radical threats, and Islam generally. And so people who align themselves with PEGIDA, the EDL, Pamela Geller, Robert Spenser, the far-right across Europe and then attack Islam generally, we know that people are using this as an agenda to attack Muslims, migration, Islam and multiculturalism. This isn't just about religion. This is about a wider civilizational issue.
The statements, views and opinions expressed in this column are solely those of the author and do not necessarily represent those of RT.