Bavarian police confirm incident, 'not explosion' near migrant center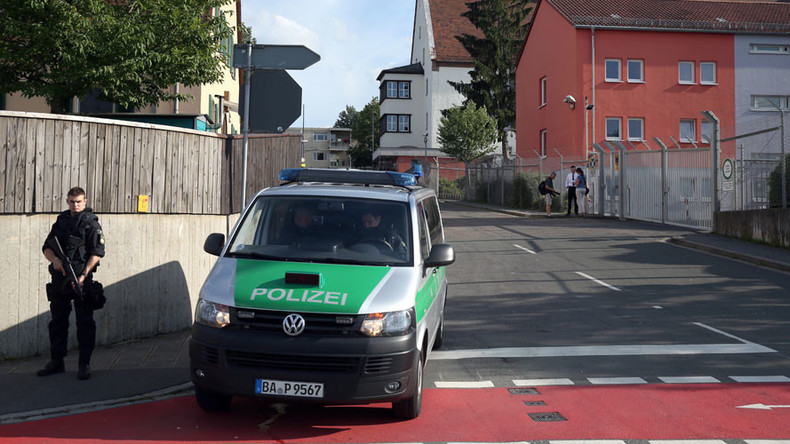 German police have denied reports of an explosion near a migrant center in northern Bavaria. They said that smoke came from a suitcase filled with aerosols, but there was no blast and no one was injured.
The incident took place in the small town of Zindorf, which is to the west of Nuremberg. Police have confirmed that there were no explosives in the suitcase and it only contained aerosol cans.
"No explosion, no injuries," police said on an official Twitter account.
Police said in a statement that they are currently searching for the owners of the suitcase, who are believed to be a man of Mediterranean appearance, who is in his early 30s, and a woman in her mid-20s.
Nuremberg is located in the state of Bavaria, which has been rocked recently by a spate of terrorist attacks, two of which were carried out by migrants.
On Sunday, a 27-year-old Syrian refugee who was facing deportation to Bulgaria blew himself up after being refused access to a music festival. The explosion injured 15 passersby, but did not cause any deaths.
A 17-year-old who had sought asylum in Germany was shot dead by police last week after wounding five people with an ax near Wurzburg.
Meanwhile on Friday, an 18-year-old German-Iranian gunman killed nine people in Munich after going on a shooting spree in an attack he had planned for a year.
The rest of Germany has also been affected by an increase in terrorist activity. On Sunday, a 21-year-old Syrian refugee was arrested after killing a pregnant woman and wounding two people with a machete in the city of Reutlingen, near Stuttgart.
On Tuesday, a man killed a doctor at a university clinic in Berlin, however the police said the incident was not related to terrorism.