Risk of 'lone wolf' terror attacks increasing – EU police agency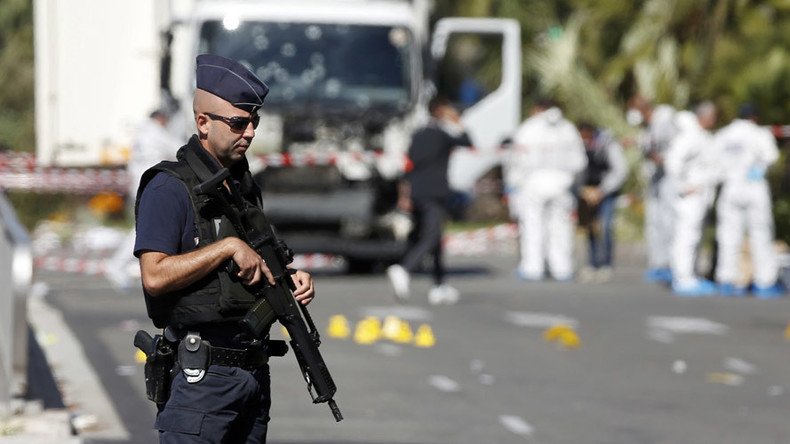 European security agencies are facing ever-harder challenges to try and prevent 'lone wolf' terror attacks, according to the continent's policing agency. Europol says recent attacks have shown how hard it is to "detect and disrupt suspects."
Islamic State (IS, formerly ISIS/ISIL) claimed responsibility for the attacks carried out by Mohamed Lahouaiej Bouhlel in Nice and a 17-year-old migrant who attacked passengers with an ax on a train at Wuerzburg in the south of Germany.
However the organization says that the attacks do not "seem to have been planned, logistically supported or executed directly by IS." Despite IS claiming responsibility for both attacks, "their actual involvement… cannot be established."
"There is currently no evidence to suggest that the Nice attacker considered himself a member of IS. He is reported to have radicalized in a very short time frame and to have consumed jihadist propaganda in the days preceding the attack. In the case of Wuerzburg, media report that a handmade IS flag has been found in the perpetrator's room," a statement from Europe's police agency read.
Europol also notes how Al-Qaeda and IS have been calling on Muslims living in the West to carry out lone attacks where they are living, which is done by communication over the internet.
"IS leadership has defined that there are two options for Muslims living in the West: either migrate to Islamic State territory or carry out a terrorist attack in their places of residence," the statement continued.
Europol also released its 2015 "EU Terrorism and Trend Report," which did not take into account the attacks in Nice or in Brussels in March. Last year was a bleak one for the EU with Europol saying there were 211 attacks, which is the highest since records began in 2006.
The organization revealed that 1,077 arrests were made across the EU last year for terrorism-related offenses, of which 424 were in France. A staggering 94 percent of the 687 put on trial for jihadist terrorism were found guilty and ultimately prosecuted.
In 2015, the report stated that 151 people died and 350 others were injured in terror attacks in the EU. The Paris attacks in November claimed the lives of 130 people.
"In 2015 the EU experienced a massive number of casualties caused by terrorist attacks," Europol chief Rob Wainwright said in a statement.
"The carefully planned attacks demonstrate the elevated threat to the EU from a fanatical minority... based in the Middle East, combined with a network of people born and raised in the EU," he added.
The report states that the threat posed by extremists is unlikely to decrease any time soon, while there is a growing concern that IS may "put more emphasis on operations abroad" as it suffers further losses in Syria and Iraq.
"It is a highly challenging task for the security services and law enforcement to prevent every terrorist attack by keeping track of the ever-increasing numbers of people suspected of being, in one way, or another sympathetic to IS ideology," Europol stated.
The threat of another terrorist attack was enough for the French government to vote early on Wednesday to extend its ongoing state of emergency for another six months.
French authorities have been given the power to make house arrests without a court order, as well as conduct searches without court authorization. Police can also carry out "follow-on searches" if the original search produced material which could be related to terrorist activity.
Germany's Interior Minister, Thomas de Maiziere, also painted a gloomy picture, saying that he expected more lone wolf attacks to take place and this would lead to an increase in video surveillance to try and prevent it.
"Like several EU countries, like the whole EU, Germany is also in the target area of international terrorism ... the situation is serious," he said.
You can share this story on social media: