A heap of hate: People spit, throw garbage onto spot where Nice attacker was shot (VIDEOS, PHOTOS)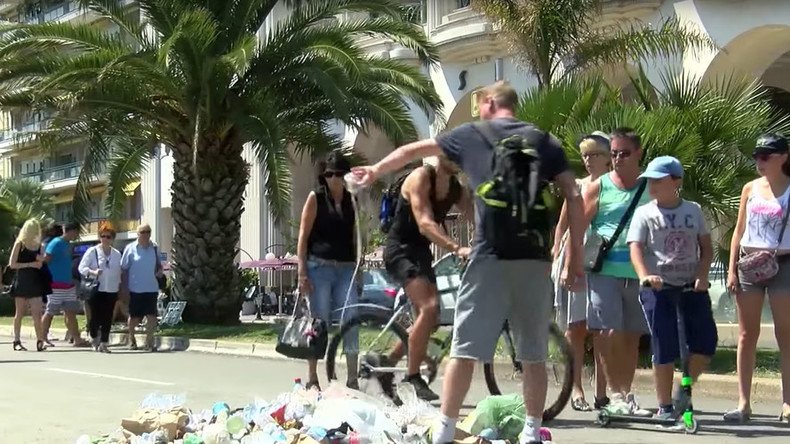 People in Nice have been giving vent to their anger over the deadly truck attack, which saw 84 killed, by piling up a heap of stones and rubbish at the place where the massacre ended on the Promenade des Anglais.
People come to the heap to express their grief and outrage, spitting at the pile, throwing cigarette butts, plastic bottles, and other rubbish at the spot where the attacker Mohamed Lahouaiej Bouhlel was shot dead by the security forces almost a week ago.
Somebody wrote "Coward!", "Murderer", and "F**k Daesh" at the spot.
"We put rubbish there, because it's garbage," a local resident in her fifties told 20 Minutes.
"It feels good to see this," someone said in the crowd.
"Love is all fine and good, but what the world really thinks lies there," a young woman passer-by told Le Monde.
Some kids asked their parents what the pile meant, though.
"And for him, we don't need to lay flowers?" a girl said to her father, who replied, embarrassed, "It's complicated", Le Monde reported.
Not all the adults welcomed the practice, too, with some saying it reminded them of the Middle Ages.
"And suddenly, just like that, you wake up in the Middle Ages. Let's light ritual fires, it will happen quicker," one Twitter user posted.
The pile is situated near the memorial for the victims of the deadly attack, with the locals laying flowers, candles, teddy bears there, and writing messages full of love and grief.
The horrifying truck attack on Bastille Day in the French city of Nice last Thursday left at least 84 people dead and up to 200 wounded.
The tragedy, the third major terror act to target France in less than two years, led to the state of emergency imposed across the country after last November's Paris terror attacks being extended by three months.
You can share this story on social media: