Merkel to confront Erdogan over Turkish democracy concerns after MPs stripped of immunity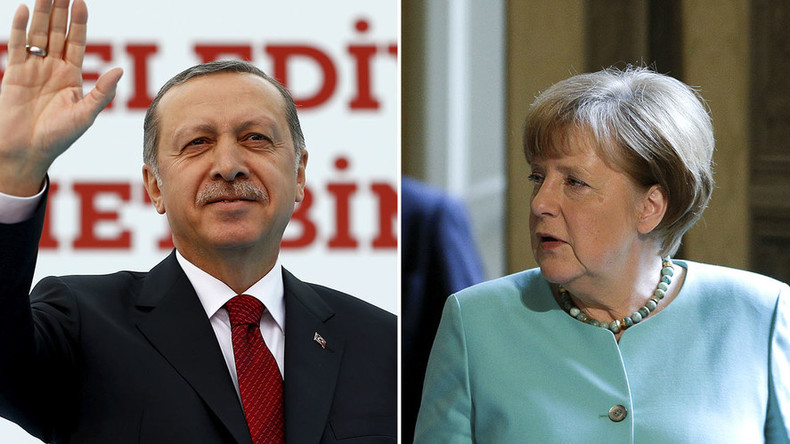 Germany is worried about the "increasing polarization" of Turkey's political situation, and the German Chancellor intends to "raise concern" over the country's slide from democracy with Turkey's President after a decision to strip MPs of legal immunity.
READ MORE: Turkish parliament approves lifting lawmakers' legal immunity
While commenting on the move, which would subject Turkish lawmakers to possible prosecution, German government spokesman Steffen Seibert told journalists on Friday that "the German government has just taken note of the result of this vote."
He went on to say that "For the domestic stability of every democracy, it is important for every relevant group in society to be also represented in parliament. The situation will certainly be raised by the chancellor on the sidelines of the humanitarian summit with Turkey's president."
In addition, Seibert announced that Angela Merkel will meet with Turkish civil society activists in Istanbul on Sunday prior to her meeting with President Recep Tayyip Erdogan on Monday

He also stressed that the German government believes freedom of press and freedom of expression play a central role in every modern democracy.

"It refers not only to the press; it refers to every expression of the public will by citizens that are willing to take part in the public discourse, and it particularly refers to the people's elected representatives, who should be able to exercise their mandate freely and independently," Seibert said, as quoted by Reuters.
He also asserted that all relevant social groups had to be represented in a parliament if a democracy was to be internally stable.
Federica Mogherini, the EU's High Representative for Foreign Affairs and Vice-President of the European Commission, also criticized Ankara's decision on Friday.

In a joint statement with European Commissioner for Neighborhood Policy and Enlargement Johannes Hahn, Mogherini said that subjecting all MP's to the possibility of prosecution was "a matter of serious concern."

"Immunity must apply to all on a non-discriminatory basis, and decisions on lifting immunity must be based on the merits of each specific case," the two EU high officials said, stressing that such decisions should not be "subject to any political considerations."

"A restrictive interpretation of the legal framework and the Constitution in particular continue to pose a risk to the freedom of expression of Members of Parliament in Turkey," the statement adds.
Meanwhile, the US State Department said the law will have a "chilling effect" on freedom of speech in Turkey.

"[We] firmly believe that the freedom to engage in political speech – even speech which many find controversial or uncomfortable – should and must be protected for everyone. This is especially important when it involves speech by elected representatives of a country's citizens," deputy spokesperson Mark Toner said in a statement.
Earlier on Friday, Turkey's parliament passed a bill aimed at amending the constitution in order to strip MPs of their legal immunity from prosecution. In the third and final vote, 376 out of 550 legislators supported the bill. This move potentially clears the way to put pro-Kurdish and other opposition lawmakers on trial and expel them from the parliament.

After their immunity is lifted, up to 138 lawmakers, mostly from pro-Kurdish Peoples' Democratic Party (HDP) and other opposition parties, could face charges for "support of terrorism" because of their attitudes towards pro-Kurdish groups, which they do not always see in the same harsh light as Erdogan.
EU must 'strongly react' to Turkey's attack on democracy – German MPs
The move was also harshly criticized by a number of German politicians. Germany's Justice Minister Heiko Maas, a member of the Social Democratic Party (SPD), said that such moves are incompatible with Turkey's aspiration to become an EU member.
"If Turkey wants to become a member of the European Union, it should not eviscerate its rule of law," he said, as quoted by Reuters. "Opposition MPs should not be arbitrary subjected to prosecution," he added.

The head of the German parliament's Foreign Affairs Committee, Norbert Rottgen, who is a member of Angela Merkel's Christian Democratic Union (CDU), demanded that the EU and NATO issue a tough and explicit response.

The EU and NATO should "most strongly and definitely react to this attack on democracy," he told Tagesspiegel, stressing that Erdogan is leading his country away from Western values into isolation.

Rottgen also warned that Erdogan could now prosecute MPs in order to shift the balance of power in the parliament and secure authoritarian rule.

Cem Ozdemir, the head of Germany's Green Party, called the vote a dark day for the Turkish democracy.
"Lifting MPs' immunity is directed primarily against Kurdish lawmakers," he said, adding that Erdogan is using all means to exacerbate the Kurdish issue rather than seeking a peaceful solution to prevent bloodshed.

Even before the final vote took place, Norbert Lammert, president of the Bundestag, had blasted Erdogan's "autocratic ambitions," saying that stripping lawmakers of their legal immunity was just another step moving Turkey away from European values.
Lammert also pointed out that by supporting Ergodan, the Turkish legislators were paving "the way to [their] own self-disempowerment."
This latest move comes amid a government crackdown on freedom of speech and press in Turkey, which has banned entry to a number of foreign journalists without explanation and prosecuted several Turkish journalists for "anti-governmental activities."

In one case, the editor-in-chief of Turkey's Cumhuriyet newspaper, Can Dündar, and his colleague Erdem Gul, the chief of Cumhuriyet's Ankara bureau, were accused of trying to stage a coup after they published a video that they claimed showed truckloads of arms being shipped to Syria in May of 2015 with the help of Turkish intelligence.
Turkey's crackdown on the media has been a hot topic in Germany since Merkel failed to oppose the prosecution of a German comedian who had recited a crude poem criticizing Turkish President Recep Tayyip Erdogan. Ankara complained that the poem was insulting. Some 2,000 libel cases have been filed in Turkey against people accused of insulting the thin-skinned president.
You can share this story on social media: